Dell Latitude E6400 Specification & Price In Nigeria
Reliance, mobility, and security – These are the three main focuses of the Dell Latitude E3400. Even though it offers a well efficient Quadro NVS 160M graphics support, the Dell Notebook concentrates on these three pillars to offer a good selling price and quality. The Dell Latitude E6400 is a laptop for both business and casual purposes as it comes with a solid design, good performance, and quality specs to wrap it up.
Following its other 15.4-inches model – Latitude E6500, the slightly smaller but more compact Dell Latitude E6400 with a 14-inches display is our review point of today. Due to its small factor, and working rate, the Dell Notebook has already attracted interest among top businesses, traveling business people, and mobile users.
This Notebook has proven to be a great rival to HP Elitebook 6930p and Fujitsu LifeBook S7220. The Dell Notebook E6400 brings forth a wide range of configuration options, along with Solid State Drives (SSDs), and ranks slightly behind the bigger E6500 on graphics performance. Is the Latitude E6400 worth your cash? Take a closer look as we reviewed the full specifications, features, and current price in Nigeria of the Dell Latitude E6400.
Dell Latitude E6400 Key Features
Display: 14-inches matte display
Resolution: 1280×800 pixels
Processor: Intel Core 2 Duo P9500
Camera: Integrated 2-megapixel webcam
RAM: 4GB 800MHz DDR2
Storage: 120GB HDD
Battery Capacity: 9 Cell Battery
OS: Windows 7
Dell Latitude E6400: Design and Build-up
On the design side, we have slightly different aesthetics, unlike previous Dell Latitude Notebooks that sport rounded curves and edges. The Dell Latitude E6400 offers an industrial-like laptop design, with plenty of 90° edges and angles. One thing we like about the Latitude E6400 design is that it's kind of old school with its edges and sharp angles. By merely looking at this laptop, you'll easily lose interest without seeing the internal features. However, the design and build-up quality are very durable.
The entire chassis of this Notebook is made from magnesium alloy, and you'll experience zero plastic creaks or squeaks. This magnesium alloy structure is undoubtedly the best for industrial Notebooks as it'll give the laptop enough resistance to bending in case you hold the system by the edge. However, the only downside of this magnesium alloy is that when typing on an unbalanced surface, the base plate will press against the corner of the Notebook thereby producing an unpleasant metal tapping noise.
The use of the magnesium alloy covers both the shell and lid of the Latitude E6400 which gives it an attractive brush metal design that's not it but rather, a painted surface. This laptop metal surface is available in red, blue, or black color options which gives customers a wide range of choices that'll best suit their taste. Dell made some pleasant changes this time around by adding a docking station that'll allow employees to connect an external monitor for another display. In addition to that, there's an external USB port on the side that'll help to provide new DisplayPort connections for the already added external display.
Dell Latitude E6400: Display
The 14-inches matte display on the E6400 is nothing less than beautiful. During our testing, we experienced no dead pixels nor backlight bleed, while there are minimal dark screens. The color reproduction is vibrant, and one of the benefits of matte screens is zero reflection notwithstanding the environment. The backlight adjustments were great, giving you more than enough backlight settings no matter the office's condition.
Dell Latitude E6400: Keyboard and Touchpad
The keyboard and wrist-rest structure on the E6400 is solid and a nice approach from Dell, though the thin alloy applied on the wrist-rest use to flex when pressed against. When typing, the keyboard responds fast and there's no flex which is a smart and nice improvement over the older Latitude D630. The key travel is similar or even faster than most top Notebooks with a little clicking sound and the keyboard backlighting allowed for working and typing even in a dark environment.
The Alps touchpad is large enough for comfortable control and has a smooth texture that's also responsive. The dual touchpad buttons traversed the full length of the touchpad and it's reasonably responsive. On the right side of the touchpad is a SmartCard contact reader for easier and quick security checks of employees' SmartCards without having to insert it inside the laptop.
Dell Latitude E6400: Processor, Storage options, and Connection ports
More to say, the E6400 has more than enough storage capacity and speed to handle all tasks. The first-class Intel Core 2 Duo P9500 that's paired with nVidia Quadro NVS 160M graphics, and the fast hard drive works together to deliver an excellent performance to both lightweight and heavyweight users.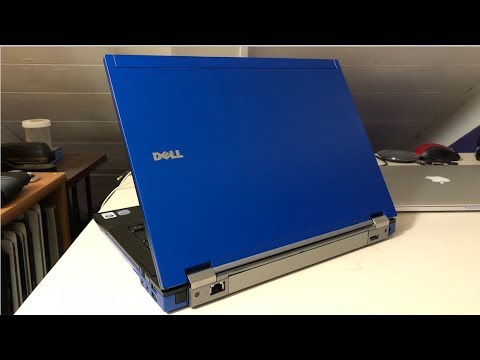 There's also an option to replace and expand the standard hard disk on the Dell Latitude E6400 with another SSD that could reach up to 128GB SSDs, though you'll have to pay extra for it.
Like we earlier mentioned, there's an inclusion of a DisplayPort, though the inclusion of an HDMI port would have been welcomed. Going around the E6400, we found numerous connection ports that'll serve all your laptop needs. Upfront, there's an SDcard reader, and Screen latches release, while on the rear, we found a LAN, Modem, DisplayPort, battery, and power connector.
On the left side, you'll notice a VGA out, Smart card reader, hard drive bay, heat exhaust, powered USB port, USB/eSATA, and Kensington lock slot. Beyond that, we've two USB ports, a PC card slot, optical drive, wireless switches, FireWire, and Headphone/MC jack on the right side.
Dell Latitude E6400: Battery
The Dell Latitude E6400 is powered by a 9-cell battery that's housed on the rear side of the Notebook. The battery performed decently and lasted for 4 hours, 22 minutes on our web browsing battery test with the screen brightness turned to the maximum. This will give you more than enough time to do your office works, watch movies, play games, respond to emails, etc without worrying about your battery life. Dell claimed the Notebook can last up to 19 hours of battery life on normal usage with the screen brightness turned down.
How much is Dell Latitude E3400 Price in Nigeria and Availability
The Dell Latitude E6400 is a reliable laptop and a great performer too. With amazing features and qualities that are well enough to offer at this price tag, it's vividly clear that Dell is embracing affordability in its Latitude line. The Dell Latitude E6400 is available for a retail price of NGN73,000 in every Nigerian gadget market, slot, or shop.