The Best Cheap Gaming Laptops In Nigeria Specification & Price
If you love playing games and want a dedicated device to run your games, you may be thinking of consoles or desktop gaming PCs. However, these devices can get you to stay put in one place to play games because of their power needs. Gaming laptops exist to solve this problem.
With them, you can move around playing your favorite AAA titles and not worry much about power since a battery is available. The only issue is that the best gaming laptops are hugely expensive. What if you prefer a cheap laptop? Well, they are very much open. In this guide, we'll explore 5 of them.
1. Dell G5 15 SE (2020) – Best Overall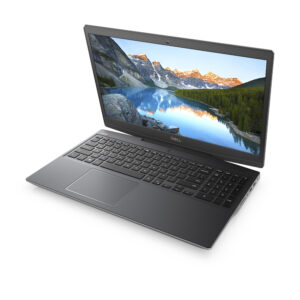 The Dell G5 15 SE (2020) is an early adopter of AMD hardware. It boasts an AMD R7 4800H CPU, delivering stellar performance. The 15.6-inch display is vivid, and its commendable battery life adds to its appeal. It boasts an AMD Radeon RX 5600M GPU capable of handling top titles.
Regarding specs, the tested model sports a Ryzen R7 4800H, 16GB RAM, 512GB SSD, and a 144Hz 1080p display.
The design is visually appealing with its iridescent finish. The keyboard is comfortable, though the touchpad's texture and clickers could be improved. Audio quality is also decent.
Gaming performance with the AMD Radeon RX 5600M GPU is good but doesn't surpass Nvidia competitors. The laptop's AMD Ryzen R7 4800H processor and 16GB RAM handle multitasking and demanding tasks effectively.
The standout feature is its exceptional battery life, lasting 7 hours and 14 minutes in web-surfing tests. The Alienware Command Center provides valuable customization options.
The Dell G5 15 SE (2020) impresses with its AMD hardware and competitive pricing. It's a strong contender in the gaming laptop market, particularly for those prioritizing CPU performance and battery life. Nevertheless, there's room for improvement in GPU performance and design.
2. Gigabyte Aorus 15 (2023 model) – Best for Most Buyers
The Gigabyte Aorus 15 (2023 model) conceals formidable gaming power within an unassuming exterior. Armed with a 13th-Gen Intel Core i7 and Nvidia's RTX 4070 mobile GPU, it leverages Nvidia's Frame Generation technology for a substantial frame rate boost. The laptop provides an impressive performance for its price. However, using it as a daily laptop reveals some drawbacks.
The Aorus 15 maintains a discreet appearance for a gaming laptop, featuring per-key RGB and a customizable light bar. It offers an option to tone down the gamer aesthetic. Sturdy build quality and well-positioned ports mark notable improvements. The 2560×1440 display is impressive, though the webcam's performance in suboptimal lighting is a drawback.
The gaming laptop showcases exceptional gaming prowess, consistently delivering 60+fps on Ultra settings. The QHD display offers vivid colors and a smooth 165Hz refresh rate, enhancing the gaming experience. However, fan noise becomes pronounced during gameplay, necessitating adjustments through Gigabyte's Control Center.
Despite its gaming prowess, the Aorus 15 faces challenges as a daily driver. The keyboard feels somewhat mushy, and the touchpad's reliability is inconsistent, demanding a deep press for responsiveness. Flimsy speakers struggle to overcome fan noise. Battery life is short-lived, especially during gaming sessions.
3. HP Pavilion Gaming 15 – Best Performance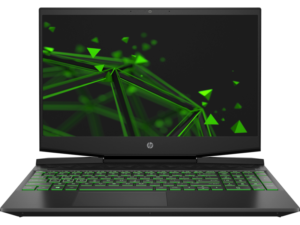 The HP Pavilion Gaming 15 offers an affordable entry into the gaming laptop arena. It houses a potent 2.6-GHz Intel Core i7-6700HQ processor, supported by an Nvidia GeForce GTX 950M/Intel HD Graphics 530, providing commendable gaming performance. With 8GB RAM (upgradable to 16GB), it handles productivity tasks smoothly. The 15.6-inch display, while serviceable, presents a drawback with its dimness.
In terms of storage, a 1TB hard drive with 5,400rpm ensures ample space for games and files. However, transfer speeds are on the slower side. The laptop boasts a comprehensive selection of ports, including USB 3.0, USB 2.0, HDMI, and an SD card slot, catering to various connectivity needs.
The Pavilion's build is functional, measuring 15.14 x 10.44 x 1.14 inches and weighing 5.12 pounds. While not the lightest, it strikes a balance between portability and performance. On the downside, the battery life is relatively short, limiting extended gaming sessions.
While the Pavilion provides solid gaming capabilities, its dim display, sluggish transfer speeds, and limited battery life are notable limitations. However, the HP Pavilion Gaming Laptop presents a viable option for those seeking an affordable gaming laptop with competent productivity capabilities.
4. Acer Nitro 5 – Great All-rounder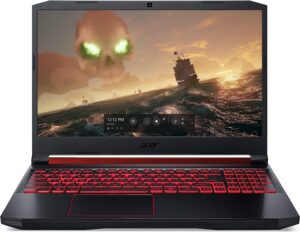 The Acer Nitro 5 emerges as a formidable contender in budget gaming laptops. Sporting 12th-generation Intel chips and 2022 Nvidia GPUs, it's well-equipped for running AAA titles with aplomb. Combining a 12th Gen Core i7-12700H CPU and a GeForce RTX 3070 Ti GPU delivers impressive Full HD gaming frame rates.
Acer has notably elevated the Nitro 5's build quality, shedding its predecessors' "cheap" feel. While not constructed from premium materials, it exudes a more polished aesthetic. The redesign includes enhanced airflow, minimizing fan noise for a more pleasant gaming experience.
In terms of pricing, the Nitro lineup offers a range of options. The reviewed model, equipped, boasts an Intel Core i7-12700H CPU, 16GB RAM, 3070 Ti GPU, and a 1TB SSD. Alternatives are available with varying specifications, ensuring an option for different budget constraints.
While the Nitro 5 excels in gaming performance and keyboard quality, it does fall short in certain areas. It lacks per-key RGB lighting, and its battery life is relatively brief. However, given its outstanding price-to-performance ratio, these drawbacks may be worth the compromise for avid gamers seeking an affordable yet potent gaming laptop.
5. MSI GF63 Thin – Best Design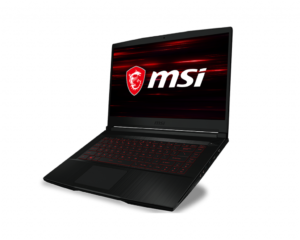 The MSI GF63 Thin is one of the best budget gaming laptops available. It offers commendable 1080p gaming performance without breaking the bank. Fueled by an Intel Core i7 processor and an Nvidia RTX 3050 Ti GPU, it balances affordability and capable gaming. While it may not hit 60fps at Ultra settings in all titles, adjusting texture details ensures smooth gameplay on its 15.6-inch 1080p display. Remarkably, it maintains a quieter operation even at full fan speed.
The design leans towards understated, with minimal 'gamer' aesthetics. The laptop's black chassis, complemented by red trims and keyboard backlighting, transitions seamlessly from gaming to professional settings. Weighing just 1.86kg, it's notably lighter than many 15.6-inch laptops, enhancing portability. The display impresses with vibrant colors and satisfactory brightness, excelling for both work and play.
In terms of performance, the RTX 3050 Ti delivers solid 1080p gaming. The laptop handles CPU-bound tasks capably, showcasing its gaming prowess. Thermal management remains effective, ensuring components stay within safe temperatures. However, the base model's 8GB RAM may experience occasional latency in memory-intensive applications.
While the battery life reaches around 5 hours for general tasks, it falls short during gaming sessions. Charging, although not rapid, suffices for overnight charging habits. Overall, the MSI GF63 Thin strikes an excellent balance between cost and performance, making it an ideal choice for budget-conscious gamers seeking versatility and portability.
In Conclusion
You will have to make some compromises and sacrifices if you are going for a cheap Gaming laptop because most of the premium features in a top-tier gaming laptop make them really expensive. That said, enjoying your games on a budget is still possible. We hope you found this helpful. If you did, kindly leave a comment, and don't forget to share