Sun King Home 600 Specification & Price in Nigeria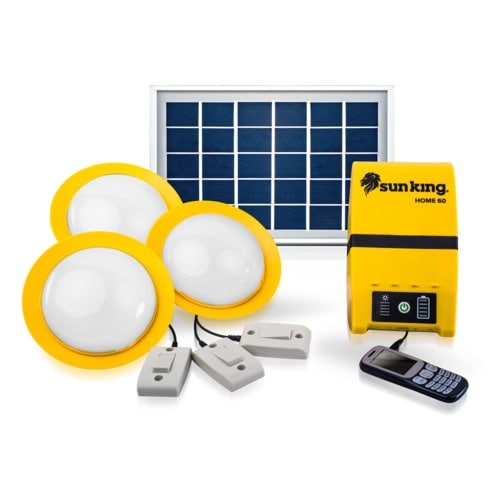 Sun King distributes and designs solar energy for the nearly 1.8 billion people without reliable electricity. With over 82,000,000 customers in 40 countries, they are the largest off-grid solar provider in Africa and Asia.
Sun King Home Value Solar lighting system, the cheapest home power supply option, allows you to enjoy off-grid lighting. 
Sun King Home System provides modern solar lighting and energy for businesses and homes off the grid. 
The Sun King Home Solar Light provides high-quality, Give room lighting in three rooms once installed.
Sun king Home includes wall-mounted light switches for modern convenience. The central power hub has standard 5.5V USB, 12V, and 5.5V power outputs for powering your mobile phones or DC appliances.
What is Sun King 600?
This is the bigger version of the Sun King Home 400. This package includes a more lasting battery unit that can provide power retention and a larger solar panel (60W). All bulbs are set to medium, and the runtime is 10 hours. The 32-inch Sun King digital TV has an integrated decoder that allows you to view broadcast content.
Sun King Home Value Solar Lighting: Key Features
Power LEDs that produce 600 lumens of total flux (200 lumens per bulb)
There are three light modes: Normal (100 lumens), Turbo (200 lumens), and Low (40 lumens).
360-degree ambient wide-angle spread
5-year battery life, 12000 mAh Lithium Ferrophosphorate (LFP),
12 W polycrystalline panel, detachable and with aluminum frame. 5-meter wire
A day's charge can provide up to 24 hours of running time
12V power output is designed to power 12V DC appliances
The USB power output of 5.5V is designed to charge any USB device.
Included are a USB cable and standard adapters for phones
To optimize panel placement, the LED charging indicator shows charging efficiency on a scale from 1 to 5.
An LED indicator shows the remaining battery life
Active battery management switches to low power automatically when the battery is low. This gives users 5 hours of extra light.
Sun King Home 600: Advantages
BEST USE: For emergency lighting, reading at night, charging your phone, and working during power outages.

Ideal for: Power cuts, lighting up a room/garden/balcony in the dark, emergency lights, study lamps, table lamps, Decorative lights, Home Improvement, Eco-friendly lights, Travel, and Adventure lighting accessory.

ULTRA-BRIGHT LED LIGHT: This ultra-bright solar light is highly efficient and emits 400 lumens of luminosity, allowing you to work in darkness easily. It can provide up to 72 hours of the morning from a single charge and is the perfect companion for unexpected power cuts.

MULTI-UTILITY AMP: This lamp is lightweight, has 360-degree rotation, and has a multipurpose metal stand. It can be used indoors or out. The USB charging port is built-in and allows you to charge your phone anytime without relying on electricity.

Flexible: You can choose from three power modes to adjust the brightness level that suits your needs. High durability is a vital feature of this product. It can withstand minor falls and drops and is water-resistant.
Sun King Home 600 Solar Lamp: In the Box
Three ceiling-mounted fixed lamps with wall-mounted switches.

Energy hub

Solar panel with 5-meter cord

Charger kit with a USB cable, adapters for phones

Warranty card and User Manual
What is the Sun King Home 600 price in Nigeria?
The product can be yours with an N45,000 down payment. It is available at Jumia, Slot, and other offline shops across Nigeria.