Haier Thermocool Generator Specification & Price in Nigeria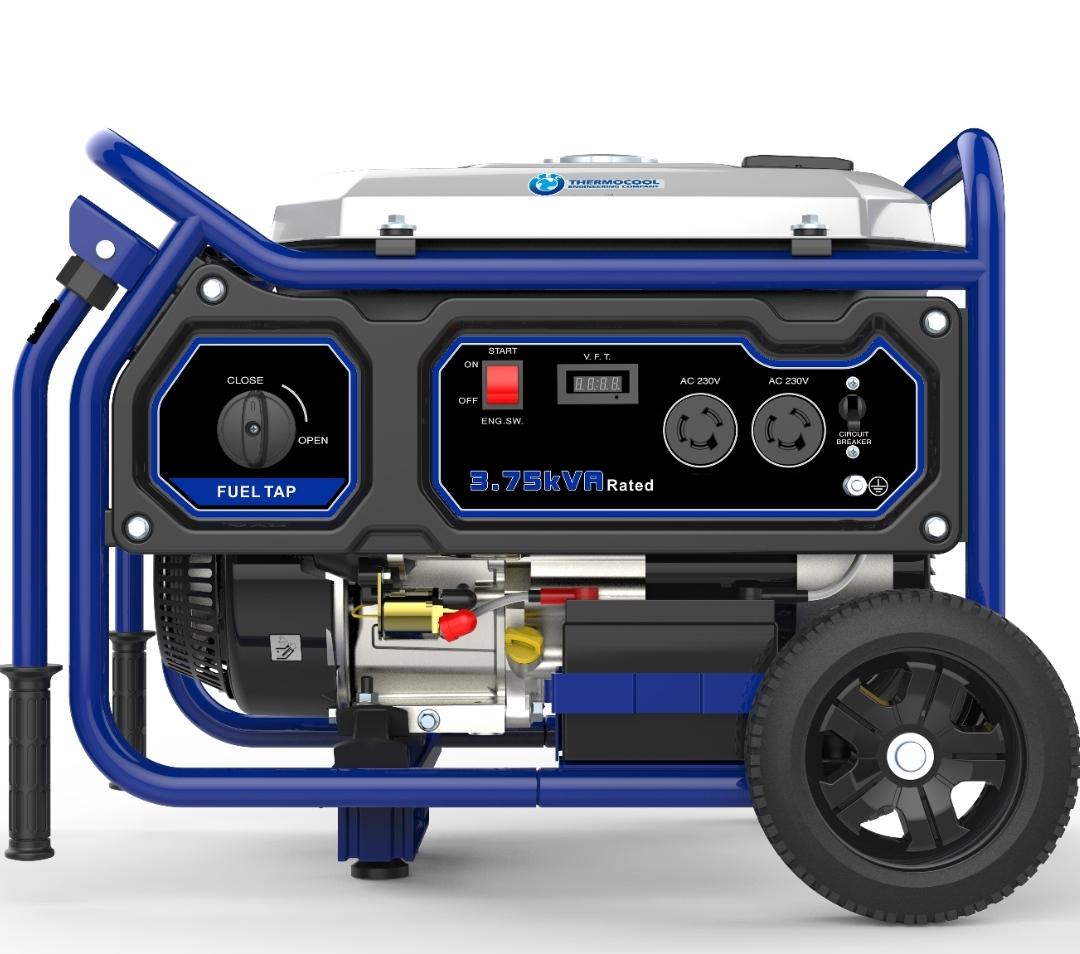 Nigeria's power supply has diminished and been quite unstable over the last couple of years. Due to this, many people and businesses are turning to generators to satisfy their electricity needs.
The search for a good generator can be challenging as there are so many options that are available from a variety of brands. One of these brands is Haier Thermocool. The brand is more well-known for producing appliances for homes and home use, such as televisions, refrigerators, and similar. But it also makes generators.
What is the cost of buying the Thermocool generator for Nigeria? This article will answer this question as well as many other questions. Let's get started.
How much is Thermocool Generators Prices in Nigeria?
Haier Thermocool has been one of the brands in the market for a considerable period. There are various reasons this brand has earned such massive recognition. A few of them are excellent quality, durability, and appealing designs, to name some.
Before you buy the Thermocool generator, it is essential to research the cost of the various products. This will allow you to determine the amount you'll need to shell out for the purchase. It also assists you in planning for the purchase, among other items.
We've looked at the market to discover the price of the various Haier Thermocool generators available in Nigeria. Take a look at the following list to see the cost.
Haier Thermocool 2.0kw/2.5KvA TEC (Max Rated) Bobo Recoil Generator Set (BF15): N46,990 – N66,000

Haier Thermocool 2.5KVA Generator (BOBO 2800ES): N198,900 – N270,000

Haier Thermocool GEN WITH REMOTE MAX 8.45KVA/6.75KW: N638,500 – N664,000

Haier Thermocool Generator SML JUNIOR 1500MS: 1.25KVA/1KW: N130,900 – N175,300

Haier Thermocool Junior Max1500 Generator: N108,900 – N160,000

Haier Thermocool MED HUSTLER 4800ES-4.1KVA/3.3KW: N370,000

Haier Thermocool Optima 4000ES 3.75KVA: N258,000 – N290,000

Haier Thermocool TEC GEN 0PT 2800ES 2.5KVA/2.0KW: N238,900 -N225,000

Haier Thermocool TEC GEN PETROL MAJOR ELECTRIC START: 3.0KW/3.3KW + ENGINE FREE OIL N240,999 – N298,500

Haier Thermocool TEC Gen Ptr Sml Bobo 2500ES 2.5KVA/2KW: N210,999 – N220,000

Haier Thermocool TEC Generator (6.5kW/7.5kVA) Igwe Max: 8100 Electric Start N579,900 – N705,000
Specifications of Thermocool Generators in Nigeria
Knowing what specifications your generator has is vital. It will show you the power and power of your generator, as well as how you can keep it running. We've looked over the specifications of several models of Thermocool generators we have on our list within this category. See them below:
Haier Thermocool 2.5KVA Generator (BOBO 2800ES)
Power Output (Rated) | KW: 2.00

Power Output (Max) | KW: 2.20

Rated Kva: 2.50

Max Kva: 2.75

Voltage | V: 230

Frequency | Hz: 50

Noise Level (7m From Front Side) | DB(A): 69

Start Method: Recoil

Battery Type: No

Remote Controller: No

One Touch Start: No

Fuel Tank Capacity | L: 15

Full Load Continuous Running Time | Hours: 11.2

Half Load Continuous Running Time | Hours: 16.4

Warranty: 1 Month
Essential characteristics of this generator are:
100 100% Copper Coil The coil does not get burned when it's in use, thus prolonging your generator's life and ensuring longevity.
Low noise The generator doesn't generate much noise because of the feature. Due to this, it is ideal to use in areas that require generators with low noise.
Energy efficient The generator can be very efficient in fuel usage. You won't need to shell out a lot of money for gasoline for the generator.
Automated Voltage Regulator This feature will ensure that your generator can maintain constant power output. It does this by reducing fluctuations in power. This way, it shields all your appliances.
Haier Thermocool TEC Generator (6.5kW/7.5kVA) Igwe Max Specifications
Product Description: IGWE8100ES

Warranty: 3 months

Load required: 5 pcs 60W bulb, 4 pcs 100W fan, 2 pcs 200W TV, 1 piece 75W Home Theatre, 1 piece 100W DVD, 1 piece 50W DSTV Decoder, 2 pcs 1.0hp AC, 1 piece 1.5hp AC, 1 piece 270W large size fridge/freezer

Power Output (Rated): 6000

Power Output (Max): 6500

Voltage: 230

Current: 26.1

Frequency: 50

Voltage DC: 12

Current DC: 8.3

Design life ***: 1000

Power factor 1.

Consumption of fuel (rated output): 3.36

Oil consumption: 0.91

The noise level (7m from the front): 0.90

Lifetime: 1000

Start method: Electric + Recoil

Socket: Locking, 2

Type of battery 14 Ah

Plug: Locking Plug

Digit AVR: No

Remote controller Remote controller

ATS: Yes

Model: 190FE/P-F

Supplier: ZONGSHEN

Material: Aluminum

Cooling style: Forced Air cooling

Cylinder Qty: Single

Bore: 90

Stroke: 66

Displacement: 420

Max Power: 9.2

Smart throttle No

The ratio of compression: is 8.4:1

Oil capacity: 1.1

Carburetor automatic fuel shut-off: Yes

Low oil shut-down Yes

Recoil starter handle direction: 2 O'clock

Fuel Recommended: 90#/93#

Gasket-Asbestos Free: Yes

Safety Standard: SONCAP

Standard that conforms with ISO9001

Evaporative: N/A

Emission level: Euroll

Alternator Rotor Windings: Copper

Stator Windings: Copper

Stack Length: Ph190x140

Excitation: Carbon brush

Temperature Rise (Rated Load): <=110K

THD: <=25%

Main Circuit Breaker: 26

Voltmeter, VFT 3 in 1: Yes

Sockets: Locking

Engine Switch: Push

DC output DC output: Yes

Material: Steel

Label: IGWE8100ES

Parts certified as genuine: No

Frame tube diameter: 25

Paint-lead content: <90PPM

Color of the paint: Black

Vibration absorber: 4

Wheel number 2

Type of wheel: 9.5"

Wheel color Wheel color: Yellow

Supporting foot Supporting foot: Single

Colour of the foot that supports: Black

Handlebar: 2

Color of the handlebar Handlebar color: Black

Sheath for the handlebar PVC

Tank Cap: Buckle

Ventilation Mode: Tank cap

The direction of the spill of fuel is toward the Recoil.

Frame color: Black

Fuel tank color: Yellow

Color of the Recoil's starter color The color of the star is yellow.

Color of the cover at the end of the Alternator The color of the end cover is yellow.

Control panel color: Black

Dimension (W*H*D): 680 x 510 x 564

Packing (W*H*D): 700 x 530 x 585

Net/Gross weight: 91/93.5

Carton: 5 fluting paper

Recommended stack height of five layers

Qty per /40″ HQ: 288

Oil: No

Oil Funnel: Yes

DC wire: Yes

Plug: Yes

Warranty Card: Yes

Manual: Yes

Hardware Tooling: Yes
Main Features
Here are the key advantages of this particular generator.
1000 Hours Continuous Running Design.

3-In-1 Digital Meter.

Better Fuel Efficiency and Engine Vibration.

Optimized Alternator Design – Loads 4ACs as well as other appliances.

Smart Choke for Simple Remote Start.
In Conclusion
The most important thing to remember here is that if you imagine a multi-functional and efficient, high-performance, low-noise, energy-efficient generator for backup located in Nigeria to meet your everyday energy needs and requirements, you cannot get it wrong using Thermocool generators.
It is important to note that the prices of these items may change based on factors such as the naira-dollar change rate and customs duties. It is also possible that prices can vary based on your location and the retailer you're buying from.