Wireless Microphone Specification & Price In Nigeria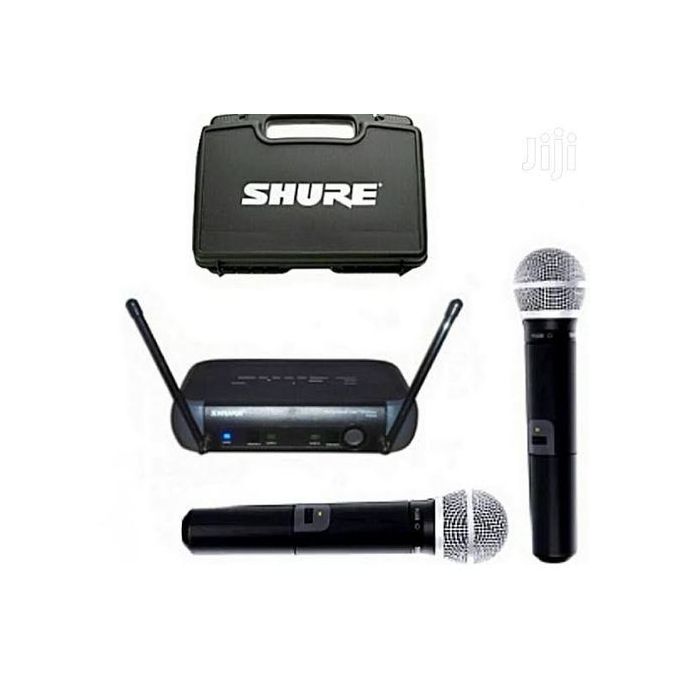 The evolution of microphones has been evident through the years. One of the most significant developments is the shift from the old microphones with physical cables to wireless models.
The wireless microphone is called a radio microphone because it has a tiny battery-powered radio transmitter to transmit audio signals through radio waves into a receiver unit.
The type of microphone used is commonly employed in the entertainment industry, TV broadcasting, and public speaking. In essence, the idea behind wireless microphones is to let performers, public speakers, and entertainers freely move using the microphone.
In this article, we'll look at different brands of wireless microphones and the costs of their various models. In general, the models differ in a variety of ways. For example, the primary wireless models run with a fixed frequency, while more sophisticated models run with a user-defined frequency that blocks any interference while using the gadget.
There are also wireless microphones using infrared light. They tend to be low cost. They require a clear connection between both the mic and the receiver. However, the more expensive microphone doesn't need that the receiver is in the same level of view as the microphone.
How much are Wireless Microphones Price In Nigeria
Let's now examine the various microphone brands and their costs. We'll look at the most well-known brands that are described below:
Yamaha

Shure

Sennheiser
Lavalier Wireless Microphone Specification & Price In Nigeria
Also known as the mics for lavs, this mic is small and connects to a small and discreet wire, which connects via clips on your clothing or some other method to hide it.
This kind of microphone is used explicitly for speeches by those who do not want to utilize a handheld or headset microphone. The lav microphone isn't suited for performance on stage because the size and sound quality aren't suitable for actual lyrics or instruments since the music could disrupt the microphone.
There is also an analog microphone, as well as a digital model. Digital microphones are typically more expensive than analog, but analog microphones are better designed for smaller settings.
Now you can pick your favorite from the options provided and begin to enjoy your microphone.
Yamaha Microphones & Prices in Nigeria (Wireless)
Yamaha has been a part of the sound world for more than 40 years, and the company has produced high-quality microphones. The wireless options offered by Yamaha include a headset, handheld, and lavalier models. Some of the most popular models include
A. Yamaha YM 288
This model is priced between NGN10,000 and NGN30,000. It's a professional VHF Wireless microphone. It's more sophisticated when it is compared to the earlier model that was which was the Yamaha YM-188.
The YM 288 has two wireless VHF handheld microphones and a VHF receiver.
B. Yamaha GM 7000
The price IS NGN30,000. It's a high-end UHF-quality microphone and has a range of 100 meters.
C. Yamaha VHF DX288
The wireless microphone costs N18000. The microphone is top-quality and has a long-lasting build.
D. Yamaha 70S and DM-50S
Yamaha 50s and 70S series cost between N4000 to N7000. Yamaha Series of the 50s 70S and range in price between N4000 to N7000.
How much is Shure Microphones and Price for Nigeria (Wireless)
Shure microphones are world-famous microphones, particularly in terms of performance. The most popular comes from that the SLX series. The model is a wireless microphone specifically designed for teaching broadcasting, radio, and TV teaching. It is the Shure SLX series cost between N20000 and N150000, dependent upon the type of model.
It is possible to purchase a Shure wireless microphone for as little as N19000. Below is a listing of prices for the various models available from Shure.
PG4 | NGN25,000 – NGN40,000

ULX Series | NGN90,000 – NGN130,000

PGX242 | NGN32,900 – NGN56,000
The PGX and ULX series are among the priciest Shure models. They are top-quality microphones with two sets and 200-meter feet of range. They are simple to set up and use.
Sennheiser Microphones & Prices in Nigeria (Wireless)
Its Sennheiser wireless microphone functions as a completely wireless system that can be used for theatre, music, and public speaking. It combines simple operation with high-quality transmission and professional live audio.
One of the more pricey models can be found in the Sennheiser SKM 9300 Wireless Mic N290,000. It is of top quality and is also highly durable.
Other models that are less expensive include:
Sennheiser Pro Wireless Microphone | N 50,000 – N 60,000

Sennheiser EW900 Double Wireless Microphone | N33,000 – N 45,000

Sennheiser SKM-95 | N30,000 – N 65,000

Sennheiser – S – 777 Wireless Microphone | N25,000 – N35,000

Sennheiser UHF Wireless Microphone System – EW-400 | N 25,000 – N 45,000
In the end, selecting the best microphone to meet your particular needs depends on a few factors, and we've discussed these aspects before concluding this article.
Budget
This is among the most crucial aspects when choosing the right microphone. As you would expect, low-end mics cost thousands of naira, and high-end brands can cost thousands of dollars.
But the more you put into it, the better quality you get from your mic. The cost of your microphone is contingent on the part of the bundle. For instance, you can find standalone mics that don't include an integrated receiver. You may choose this option when you already own an acceptable transmitter.
However, on the flip side, you could purchase the entire package that includes a single wireless microphone with a transmitter, receiver, and mic. The box could also have several speakers or additional microphones.
Types
This is crucial in deciding on the appropriate wireless microphone to meet your needs. There are three main kinds of wireless microphones.
Handheld
This is the standard microphone that usually consists of the use of a dynamic microphone, with an integrated transmitter into the microphone. This kind of microphone is very versatile and is suitable for speeches, stage performances, or karaoke, as well as other forms of public performance.
Headset
It's comprised of a mechanism for the microphone supported by your head, with the microphone cable adjusted close to your head. The headset microphone is similar to the conventional computer headset.