Baby Walkers Specification & Price in Nigeria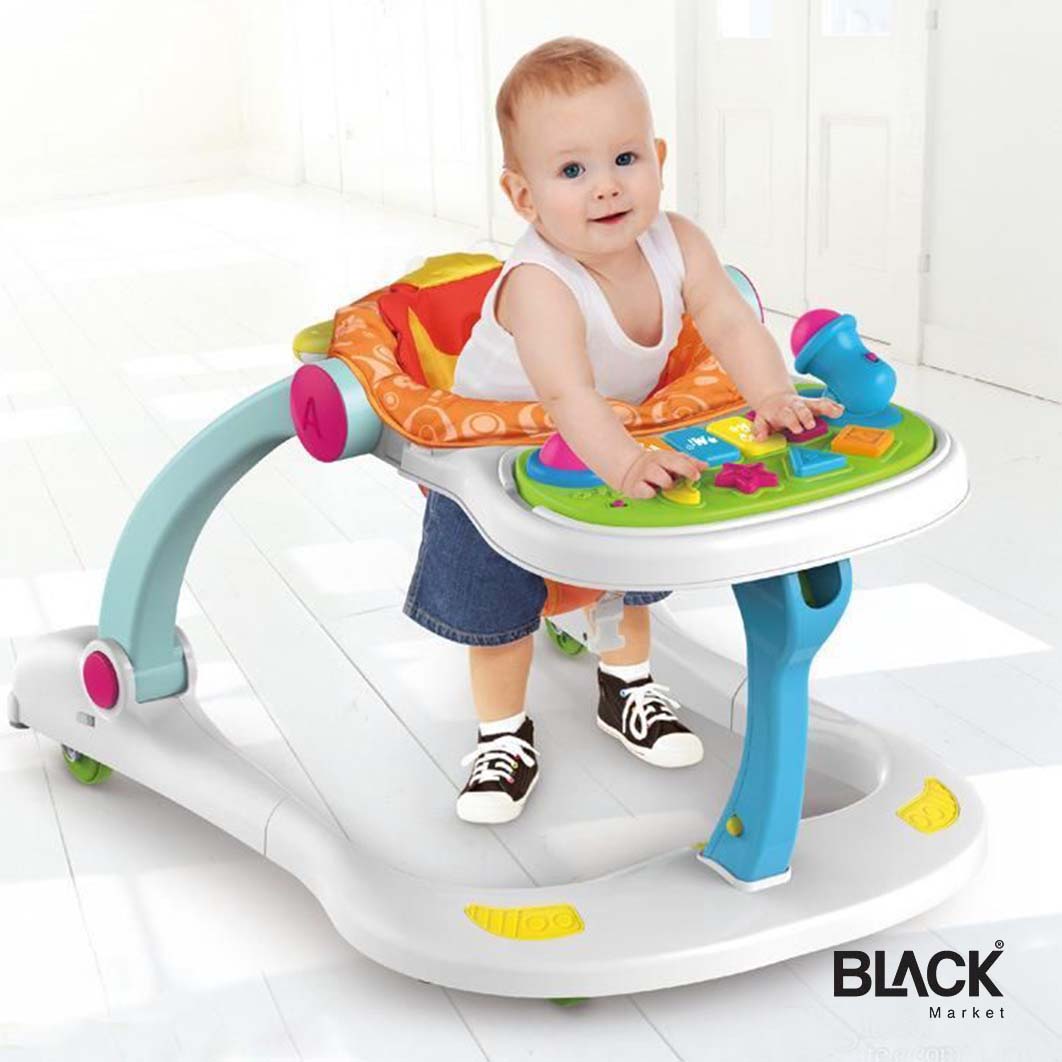 So you need to have those short evening moments with your crawling baby out of the yard. While a stroller is a great option for babies not walking, doctors advise that exercises are great for your little ones. What better way for babies to exercise than a walk, or at least make attempts to? And what better help can you get than a walker?
Babies have varying challenges when they start attempting to walk. While some babies find it easy to stand and attempt to walk without any help even if they fall, some other babies generally find it difficult to even stand on their own, thereby delaying their walking-growth process. While both situations can concern parents, the introduction of walkers has greatly eased the fear of falling while babies attempt to walk. A baby walker not only supports babies when they attempt to walk, some highly beautifully designed walkers even go a long way in helping babies build proper standing and walking posture in the long run.
Nigerian parents have gracefully embraced baby walkers since their introduction many decades ago. Apart from the ease of stress on the part of parents trying to train their little ones to walk, nicely built walkers support babies to walk even before expected periods in their growth. The introduction of baby walkers means parents can now concentrate on doing other house chores while their babies safely roam within the room with a walker.
Because of their utmost usefulness these days, baby walkers are essential baby products. You can hardly go to a baby store and not find different types of walkers. Its success in the baby product market has encouraged manufacturers to develop more eventful, creative, and supportive inventions. Till today, baby walkers remain one of the most sought after products in the market.
How Much is Baby Walkers Prices in Nigeria
Baby walkers are one of Nigeria's most sought-after baby products. They are also one of the most readily available products in the baby product market. They can be obtained from online baby products and contemporary stores. These products can also be obtained directly from manufacturers or local distributors in Nigeria.
Here, we will look at the prices of various baby walkers available today.
Baby Trend Walker – NGN39, 000 – NGN48, 000
Baby Einstein Baby Walker – NGN39, 000 – NGN57, 000
Baby Alive Baby Activity Walker – NGN19, 000 – NGN48, 000
LMV Baby Walker: N18, 000 – N39, 000
LMV 2 in 1 Baby Walker – NGN26, 000 – NGN39, 000
Bright Start 3-Way Baby walker – NGN52, 000 – N60, 000
Yayaya Multifunctional Baby Walker – NGN47,000 – N49,000
Safety First Baby Walker – N38, 000 – N61, 000
Disney Unisex Walker: N24, 000 – N45, 000
Graco Discovery Walker: N40,000 – N55, 500
Safety First Walker: N38, 000 – N61, 000
Universal Rain and Light Baby Walker: N25, 000 – N40, 000
Disney Music and Light Walker: N26, 000 – N35, 000
Hauck Activity Baby Walker: N35, 000 – N45, 000
Discovery Baby Walker: NGN40, 000 – NGN50, 000
Universal Activity Baby Walker: NGN25, 000 – NGN30, 000
Bravo Baby Walker: NGN40, 000 – NGN50, 000
Mastela Weeler Baby Ocean Explorer Walker: NGN23, 000 – NGN40, 000
Redkite Go Around 2 in 1 Baby Walker: NGN40,000 – NGN46, 000
Graceland baby Walker: NGN13,000 – NGN38, 000
It should be noted that the variation in prices of each product is a result of certain factors, including the product's year of production, place of purchase, and other similar factors.
What Are Baby Walkers?
In short, a wheeled baby walker is a piece of gear that babies who can't walk yet (generally between the ages of 6 and 15 months) can use to scoot around spaces on their own. Traditional baby walkers feature a seat for babies to sit in, a table, and a wide base with four wheels; babies' feet touch the ground, and they can use their legs to push off the ground. This is not to be confused with a push-toy baby walker, an upright toy that a standing baby can hold onto and push forward.
Are Walkers Bad for Babies?
So are baby walkers safe? By now, you probably realize that the short answer is no, they're not. Baby walkers with wheels risk a child's safety and development, says Paul Patterson, MD, Ph.D., a pediatrician in Seattle. He adds that baby walkers with seats have been outlawed in Canada, and the American Academy of Pediatrics (AAP) has also called for a ban on them.
But exactly why are walkers bad for babies? There are a few specific hazards to be concerned about, says Leah Alexander, MD, a pediatrician in Elizabeth, New Jersey. Below some of the more common issues associated with baby walkers with wheels:
Falling downstairs. According to the AAP, more than 230,676 children under 15 months old were treated for the baby walker–related injuries between 1990 and 2014. Of those injuries, a whopping 74 percent involved infants falling down the stairs while in a wheeled baby walker. If there's any good news, the number of injuries involving wheeled baby walkers has decreased in recent years due to parents becoming better informed about the risks involved.
Moving too quickly. Unfortunately, walkers for babies can pose a threat even when you're closely supervising. Once baby learns how to scoot around, they can pick up speed. "They can quickly get away from a parent or caregiver and into a dangerous situation," Alexander says. "What's more, baby can't get out of a walker if an injury occurs." Essentially, they're trapped.
Reaching for hazardous items. Alexander has seen multiple injuries in her practice from babies reaching for hazardous items while using a baby walker with wheels. "In one case, an infant reached up and swiped a soup pot handle while passing by a stove," she says. "The pot's contents fell on him, resulting in third-degree burns. Another infant 'walked' into the cord of a hot iron. It fell on him and caused a large second-degree burn." She adds that there have also been reports of drownings of infants who used a walker near a pool or body of water.
Improper leg development. From a developmental perspective, baby walkers place a child in an atypical standing position, inadvertently promoting external rotation and pointed toes, explains Patterson. "This can put unnecessary force on joints, creating an abnormal walking pattern and impacting typical muscle development," he says.
What Are Some Safe Alternatives to Baby Walkers?
Don't worry; we're not here to take away all of the baby's fun, especially at such an adorable age. Instead of a baby walker on wheels, the AAP recommends opting for an activity center with a stationary, rotating or bouncy seat.
Sturdy wagons or pushing walking toys are also acceptable, but you'll need to supervise closely when your child is using this item, as the wheels can increase the risk of injury. Make sure your toy of choice has a bar for baby to hold on to and check that it's weighted and won't tip over while in use.
Ready to help baby explore, play and move around in a safe way? We've rounded up developmentally appropriate alternatives to baby walkers for littles who are just beginning to use their legs and feet.
Things to Consider Before Buying a Baby Walker in Nigeria
Baby walkers are generally known to help support babies while attempting to walk or keep them from falling whenever they roam around the room. The device is believed to teach infants how to walk faster. However, this doesn't happen in all situations; while it makes some infants walk faster than the stipulated time, the device delays a few other babies from walking at the expected time.
With many different baby walking products paving their way into the market every day, it is essential to consider some basic factors before picking a baby walker for your little one. While it is known that most baby walkers in the market today are good and dependable, it is still essential to scrutinize the products, given that babies can be careless.
Here, we will look at basic factors before selecting a baby walker for your babies.
Safety: Babies need care, and the safety of your little one should come first. Baby walkers have been proven to be quite dangerous if not properly monitored. Walkers allow your babies sometimes move faster than they want, making them prone to accidents. It is always essential to pick walkers with a wide base that controls the movement of the walker, an anti-slipping pad, and a speed regulator.
Weight: Baby Walkers vary in weight. While some are particularly light for easy mobility, others are quite heavy. This makes it important to consider your baby's weight against the weight of the walker. A weak walker will make it hard for your child to walk.
Height: The porch the baby sits on should be the same height as your baby's feet. A lower or higher height walker will be uncomfortable and tiring for the baby.
Comfort: Babies are tender, and everything around them should be comfortable. It is always advisable to go for baby walkers whose seats are made from soft and comfortable materials. This will make the baby comfortable irrespective of the number of hours they will be in the walker.
Other factors to consider include the durability of the walker, additional entertainment features, length, and width, etc.