Blender Specification & Price In Nigeria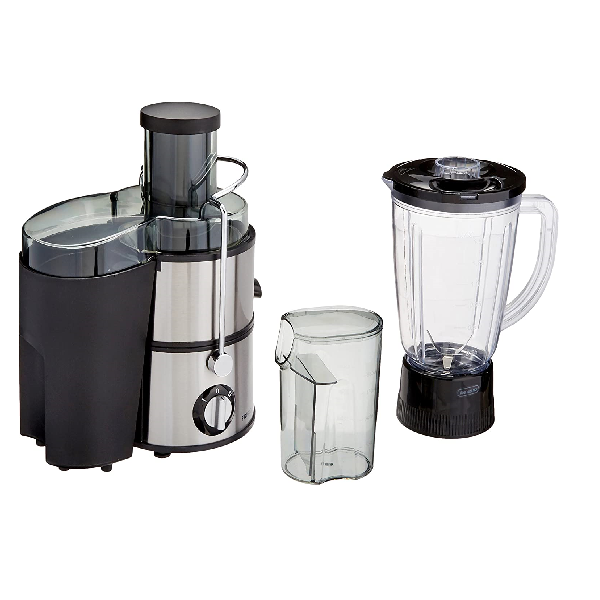 Blenders are the most frequently used kitchen appliances in many homes.
There are a variety of brands to choose from, and it can be challenging to decide which one to buy. It should not be difficult when you know what you're searching for and what you should be looking for.
This article will not just provide you with information on the cost for blenders Nigerians but will also tell you what is essential to look for and what brands to pick.
This article can help you, regardless of whether you've had blenders before or are planning to purchase your first.
How much is Blender Price In Nigeria?
These are the typical prices across Nigeria.
Binatone 1.5 Liter Blender and Grinder NGN9,000 – NGN13,000

Saisho 1.5 Liters Blender/Smoothie Blender with Mill: NGN7,000 – NGN9,000

Rechargeable Smoothie Blender: NGN6,000 – NGN8,000

Saisho 1.25 Litre 4-Speed Blender/Grinder: NGN5,000 – NGN6,000

Saisho 1 Litre 2-Speed Grinder: NGN3,500 – N7,000

QASA Multi-functional Blender NGN14,000 – N18,000

Master Chef 4-in-1 Juicer Blender, Grinder Mill, and Juicer from NGN13,000 to NGN15,000

Portable Rechargeable USB Juice Mixer: NGN7,000 – N9,000

Master Chef Multi-Speed Control Blender: NGN5,000 – NGN9,500

Philips Daily Blender Collection: The NG11,500-NG16,000 collection.

Pyramid Blender & Grinder – NGN6,500 to NGN7,500

Manual Tomatoes & Fruits Blender: NGN4,500 – NGN8,500

Russell Hobbs Food Collection: NGN7,000 – NGN9,000

VTCL Blender and Grinder Set from NGN15,500 up to NGN18,000

Kenwood Kitchen Blender: N16,000 – NGN19,000

Century Blender NGN6,000 – NGN9,000

Blender and Smoothie Makers for Binatone NGN9,000 – NGN15,000

Bulk Electric Blender With Mill Attachments: NGN6,000 – NGN8,000

NutriBullet Smoothie Blender, 900watts NGN34,000 – NGN39,000

Kenwood 3-in-1 Blender that has Smoothie: NGN19,000 – NGN23,000

Panasonic 2 in 1 Blender NGN13.500 – N15,000
Classification of Blenders
There are numerous kinds of blenders manufactured by various companies. They are divided into Countertop blenders (the most used) and Hand-held (the least used).
Countertop Blenders
They are among the most sought-after models that we can find. They are usually made of an enormous container with an electric motor, blade, and bowl. Once the contents are mixed, they're put inside the bowl.
There are a variety of models in this type of. Some are more low-powered, whereas others are more sophisticated and efficient. The ones with lower power might require liquids to help move the contents around. The ones with higher power don't typically need any help mixing the contents.
Hand-held (Immersion) Blenders
The motor and the rotating blades of immersion blenders can also be purchased. However, they do not include the container used to store blended material. The container that holds the ingredient to blend serves as the container within which the head is put.
This blender is ideal for large quantities that don't fit into a compact container. However, the drawback to this kind of blender is that the switch remains in the off position during the blending process.
Best Blenders in Nigeria
There are numerous kinds of blenders to choose from. Various brands are available, some of which are well-known while others are less well-known. Do not be shocked if you come across an item not sold under the company name or brand. It is possible that they are not top-quality. However, it's best to stay clear.
Here's a list of my top picks. They are readily accessible and are popular with Nigerians.
Kenwood Blenders

Panasonic Blenders

Lexus Blenders

Binatone Blenders

Philips Blenders

Vitamix Blenders
What to look for in the blender
These are a few of the primary things to think about when you purchase blenders. These specifications you should know about are crucially based on how and where you plan to utilize your mixer.
If you are using it often, say it is necessary to be more cautious about durability and quality than other elements.
1 Physical Build
It refers to the container, which is the substance that the body is made of. They can be found in various materials, such as glass, stainless steel, and plastic.
They are less heavy and less expensive than glasses with plastic bodies. They are also more hygiene-friendly and are in good eye health. They're fragile and could be broken if they strike the ground. They are suggested for hygiene reasons. However, they don't provide an easy view of the contents.
Two Simple Ways to Replace the Jar
Even if your blender is robust and of top quality, you may eventually require the replacement of parts or even the whole blender. If you are in the unfortunate position of having an accident, it's always a good idea to replace the blender. A blender that is quickly removed is a good idea.
In the event of prolonged use, it's common for containers to develop a distinct scent. It is usual for a jar to acquire an odor that is distinct after an extended usage period. This indicates that it's time to change it. It shouldn't be a problem replacing it if you plan and select one that is easy to replace.
3 Use of Electricity
Are you planning to utilize the blender in conjunction with the generator? Which generator would you choose?
These are the essential questions to ask before spending the money to purchase one. We are aware of the current power supply situation in the country.
Blenders usually have small power, with 600 Watts or less. They can be paired with the Tiger generator "I am passing my neighbor." Some models have 1000 watts or greater power. They should only be used with more powerful generators.
You'll notice it is an indicator of function. The lower the power, the less valuable it is.
4 Functionality
It is crucial to think about the capabilities the blender has. It is essential to consider this when you can afford it. The reason is that the increase in functionality could result in a higher cost.
Some blenders are only equipped with off and on buttons. These blenders are typically inexpensive and are available at affordable costs. Specific models include a variety of beneficial options.
Speed variability is a great illustration. A blender that permits you to alter speed is superior to one that isn't. This will allow you to lessen the load for your motor, beginning at a slower pace and then gradually increasing it. This will enable you to choose the amount of material you'd like to mix.