Sterling Bank Transfer Code – USSD Codes For Transaction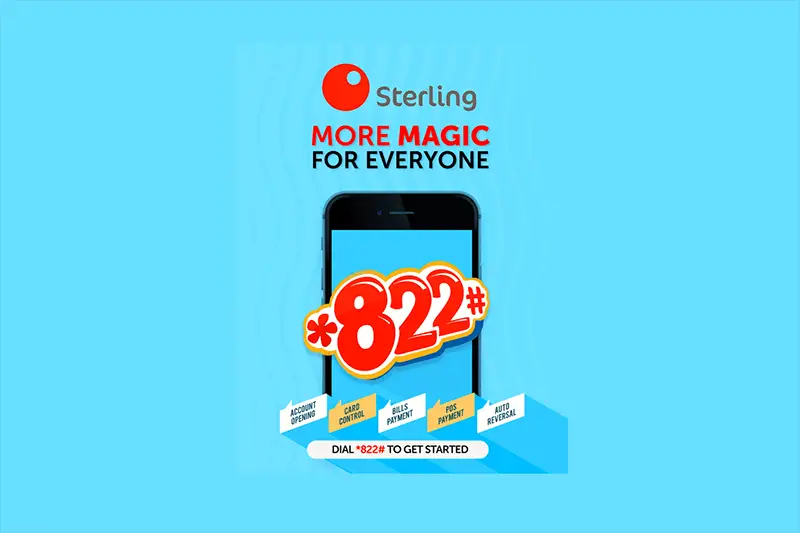 In this post, you'll discover all you need about STERLING. From Sterling simple banking codes to Sterling Branches, Codes, and Customer Care. I will also cut out time to go over a few details in Sterling mobile banking, Sterling online details, the owners of Sterling, and more.
How To Activate USSD Code For Your Sterling Bank Account On Your Phone
You can register your phone number for the Sterling bank USSD code service with the following steps:
Dial *822# on the phone number you used to register with STERLING Bank.
Choose Option 1 (i.e., Registration).
Next, enter your Account Number.
Enter the last four (4) digits of your ATM Card.
After that, you will need to create a 4-digit PIN.
Then, confirm your 4-digit PIN.
Finally, click Submit.
Not so hard, right? But guess what? It's also FREE!!!
List of All Sterling Bank USSD Codes
Here is a list of the Sterling Bank code:
| Transactions | USSD Codes |
| --- | --- |
| Check Balance | *822*6# |
| Transfer to Sterling Bank/Other Banks | *822*Amount*AccountNumber# |
| Airtime Top-Up for Self | *822*AMOUNT# |
| Airtime Top-Up for Others | *822*AMOUNT*Phone Number# |
| Pay Bills | *822*2# |
| Cardless Withdrawal | *822*42# |
| Open Account | *822*7# |
| Check Account Number | *822*8# |
| Card Management | *822*19# |
| Pay Merchant | *822*28*AMOUNT*MERCHANT CODE# |
| LCC Toll Payment | *822*15# |
| Retrieve BVN | *565*0# |
USSD Code For Sterling Bank Airtime Recharge and Data
You can also use the *822# self-service code for Airtime & Data Top-up. Dial *822*Airtime Amount# to purchase airtime for yourself
or
*822*Airtime Amount*Recipient's number# to send airtime to a friend or third party.
For example, if you want to buy ₦500 airtime for someone, simply dial *822*500*08012345678#.
How To Check Your Sterling Bank Account Balance On Sterling Bank Mobile
You can also check your Sterling Bank Account Balance by simply dialing *822*6# on your Sterling Bank registered phone number. Then follow the on-screen prompts (You will be charged ₦10 for this service). You do not need to stand in slow, long queues or go to the bank to check your account balance.
How To Check Your Sterling Bank Account Number On Sterling Bank Mobile
Someone asked for your account number, and you have forgotten it. Do not worry; dial *822*8# on your Sterling Bank registered phone, and it will show you your sterling bank account number. They will also send a text message just in case.
How To Update Your BVN
Dial *822*BVN# to update your Bank Verification Number (BVN) using the number you used to open your Sterling Bank account.
Suppose you want to check your BVN, dial *565*0# on your registered phone number. Do this If you have an adequate balance on your phone, at least N50.
How To Apply For A Loan On Sterling Bank Mobile
You can apply for a loan from STERLING BANK using *822# on your STERLING BANK phone number, answer all related questions, and see if you meet their requirements.
How To Reset Your Transaction Pin On Sterling Bank Mobile
If you ever feel someone has access to your transaction PIN or you forgot your PIN, you do not have to worry. You can reset your PIN and feel secure again. Dial *822# and select PIN reset.
How To Pay Bills On Sterling Bank Mobile
You can pay your bills by dialing:
To pay your Sterling Billers (DStv, GOTv, and PHCN bills, etc.), simply dial; *822*Biller code*Unique code*Amount# on your mobile phone and follow the on-screen prompts.
You can also dial *822*2# to see the different billers.
To make your LCC toll payments, dial *822*15#.
How to Reset Sterling Bank PIN
You can easily reset your PIN on your mobile device if you have forgotten it. To reset your PIN, dial *822# and select PIN reset among the options.
How To Activate Sterling Bank Transfer Code For Mobile Banking
Before you can carry out any transaction using sterling bank mobile banking, your phone number must be activated. As stated above, this phone number must be linked to the Sterling bank account. Follow the steps below to activate.
Dial *822# from the phone number registered with your account
Reply with 1 for registration
Enter the 10 digits of your bank account number
Enter the details of your debit card as requested
Create a 4-digit PIN
Re-enter your PIN for confirmation.
OR
Using the same number you used in opening your Sterling bank account, Dial *822# on your GSM phone.
Follow the on-screen prompt to create your four-digit security PIN.
You can now start enjoying the services.
Using Sterling bank's USSD services, you can transfer money to anybody anywhere by simply using your phone. Here we will guide you on how to send money to a fellow Sterling bank account and how to transfer to other banks.
How To Open A Sterling Bank Account
You can simply open a STERLING Bank account by dialing *822*7# on any network and phone (Nokia Torchlight, Android, or iPhone).
Follow the instructions, and your account number will be automatically generated and sent to you via SMS. Using this method, you don't need the airtime, data, form, or passport to open an account. Plus, it's easier to link with your BVN.
Sterling Bank Mobile Banking
Sterling Bank has a mobile app available to all android and iPhone users. It can be obtained from the Google Play Store, App Store, and Android and iOS devices, respectively.
Sterling Bank Customer Care Numbers, WhatsApp, and Contact Details
Sterling Bank customer care email, Sterling Bank WhatsApp number, Sterling Bank email address for complaints, Sterling Bank help desk, Sterling Bank customer care online chat & customer service number have been provided to help customers contact Sterling Bank through any available means.
CONNECT WITH STERLING BANK
Do you have a complaint or want to report an issue to Sterling bank? You can connect with them. They prioritize all e-mails and try to respond as quickly as possible. All you have to do is send them a mail at [email protected]
Sterling Bank Social Media Contact
You can drop your request or complaint messages on:
Facebook: www.facebook.com/SterlingBankNigeria
Twitter: www.twitter.com/Sterling_Bankng
Instagram: www.instagram.com/sterlingbank
WhatsApp: +234 906 000 6449
A customer care representative will reply as soon as possible, and all your queries and complaints will be solved ASAP.
You should know that no Sterling Bank customer care representative will ask for your personal information like ATM PIN, ATM card number, Mobile Banking PIN, CCV Number, or Token or OTP (Time Password) to complete your request. They have everything they need on their end; you have to say YES or No to authorize them to do what they must do.
Sterling Bank Customer Care Number
You can also reach them via their customer care line at (+234) 07008220000,  01-4484481,  01-8888822
Sterling Bank Live Chat
You can chat live with customer care representatives through the Live Chat option on their website.
Sterling Bank Swift Code
Swift Code – NAMENGLA.
Bank Name – STERLING BANK PLC.
Bank Address – Sterling Towers, 20 Marina, Lagos Island, Lagos.
City – Lagos.
Country – Nigeria.
Sort code – 232150016.
Sterling Bank Website
The website of Sterling Bank is www.sterling.ng.