FCMB Transfer Code, Mobile Banking USSD Code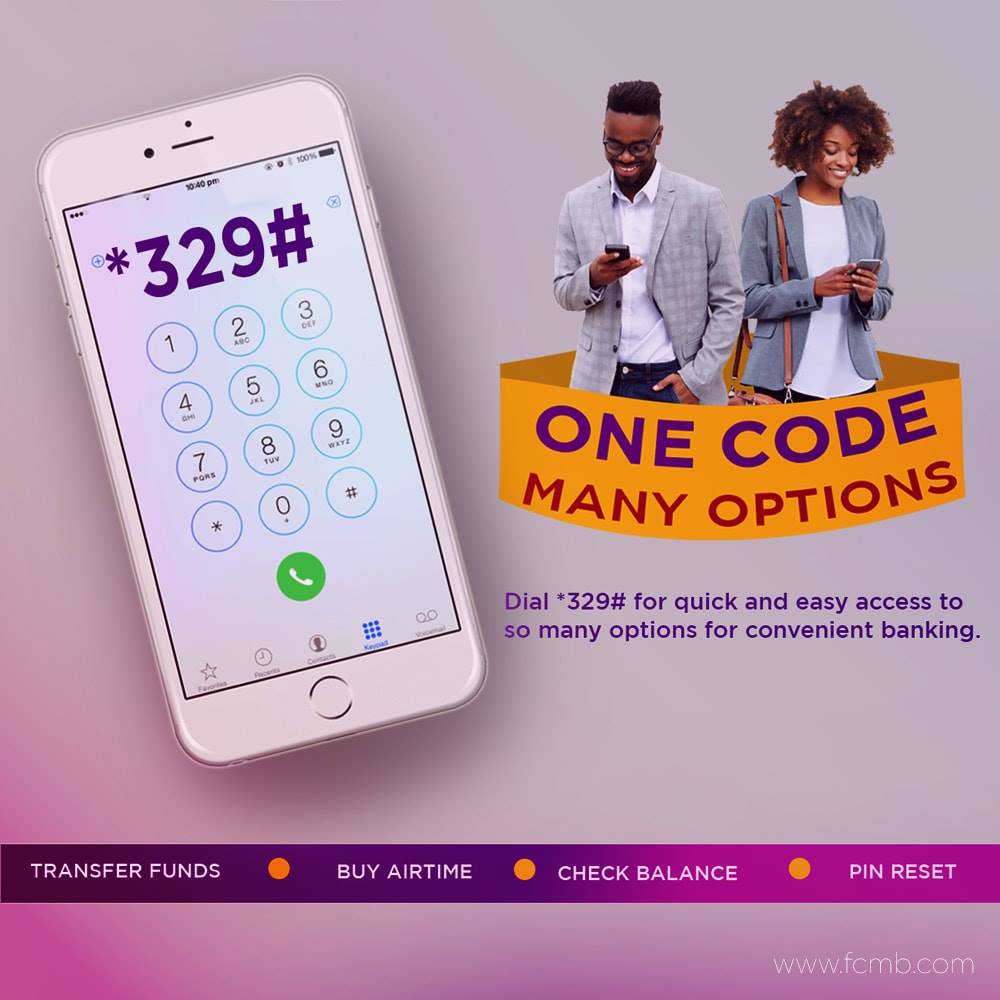 FCMB transfer code, or FCMB USSD code, is a unique code used to conduct transactions on your FCMB bank account using your mobile phone. In this post, we will show you how to use the FCMB USSD code to check your account balance, make transfers, and pay bills the same way you can do with other banks' transfer codes we have written about.
The FCMB Transfer Code is *329*3*1*AMOUNT*RECEIVER'S BANK ACCOUNT NUMBER#, or you can simply dial *329# and follow the prompt.
For example, if you want to transfer N5,000 to a friend's account, dial *329*3*1*5000*1234567890# on your phone.
How to register for FCMB transfer code
The process is self-explanatory; follow the steps below.
Step 1. Dial *329*214#
Step 2. Select /click "security"
Step 3. Change your pin
Step 4. Input default pin code
Step 5. Enter your 4-digit pin
Step 6. Re-enter your pin for confirmation
Step 7. Select "send"
Step 8. Wait for confirmation.
FCMB USSD Code
The USSD Code for FCMB is *329#. This code changes your whole banking system and makes your banking free and safe from any part of the world.
You can use the *329# self-service code to
Open an FCMB account.
Reactivate Your FCMB Account.
Transfer Funds.
Buy Data & Airtime.
Check Your FCMB Account Balance.
Create an OTP (Time Password)
Create a Transaction PIN.
Create Internet Banking Login Details.
Pay Bills.
How To Buy Airtime With Fcmb Ussd Code
You can also use the *329# self-service code for Airtime & Data Top-up. Simply dial *329*Airtime Amount# to purchase airtime for yourself or *329*Airtime Amount*Recipient's number# to send airtime to a friend or third party.
How To Open An Fcmb Account
You can simply open an FCMB account by dialling *329# on any network and phone (Nokia Torchlight, Andriod, or iPhone).
If you do not have an account, your BVN will be needed. After submitting this, follow the instructions, and your account number will be automatically generated and sent to you via SMS. Using this method, you don't need airtime, data, form, or passport to open an account.
You can also open an account at any FCMB branch close to you.
How To Register/Use The Fcmb Nigeria Transfer Code
You don't have to pay for the registration of the FCMB USSD service. It is FREE. To register for the FCMB Nigeria USSD service, you'd need the following:
A mobile phone.
An FCMB Account.
An FCMB debit card.
Your registered SIM card is inserted into the mobile phone you're using.
How to Register For FCMB USSD Banking
Here's what you should do to register for the FCMB USSD service:
Dial *329#.
Select Create a PIN.
Enter your FCMB Account as requested.
Enter your debit card details.
Create a 4-digit PIN.
Confirm your 4-digit PIN.
How To Transfer Funds With Fcmb Ussd Code
You can also use the FCMB self-service code to transfer up to N1,000,000 daily by dialling *329*Amount*Account number#. Using the phone number you registered with FCMB, follow the on-screen prompts to enter your pin and confirm the transaction.
How To Use FCMB USSD Code
To check your FCMB account balance, dial *329*00#.
To reset the PIN or reset/create a transaction code, dial *329*0#.
Dial *329*1*Mobile Number# to buy data on any phone.
To pay for DSTv or GOTv subscription, dial *329*2*Amount*Smartcard Number#.
To block your debit card, dial *329#, select self-service and then select block card.
To block your account, dial *329#, select self-service and then select block account.
To link your BVN to your FCMB account, dial *329#, select self-service and click link BVN.
Dial *329#, select statement, complete statement, then select duration (up to 6 months). Your statement will be sent to your registered email address instantly.
Dial *329#, select statement, and then select mini statement to view your last five (5) transactions instantly.
To make electricity bill payments, dial *329*3*Amount*Meter No# or *329*3*Amount*AccountID#.
To Block USSD Profile or Block Bank Account- *329*911# (Dial from either Registered or Unregistered number)
Dial *329*911#.
Select 1 for the USSD service.
Select 2 for Bank Account.
Enter your Mobile Number or Bank Account Number.
Confirm blocking of displayed Mobile Number/Bank Account and enter USSD 4-digit PIN.
FCMB Swift Code
A swift code can be said to be a string of 8 or 11 digits that represents a bank branch. If you wish to send money internationally, you'll need it. The swift code for FCMB is FCMBNGLA.
FCMB USSB code for loan
To get the loan on FCMB, dial *329*11#. To access loans from FCMB on your mobile phone. Use the above FCMB USSB code for a loan.