Qasa Solar Generator Specification & Price in Nigeria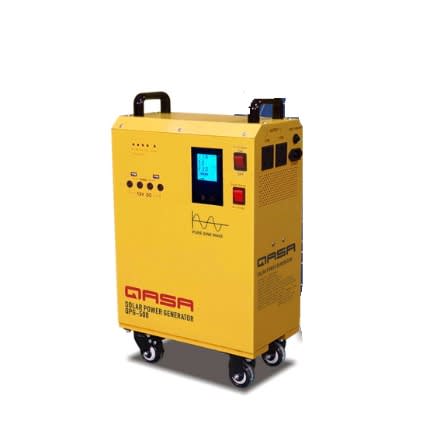 Qasa is a household name in home appliances and solar generators. Qasa's solar power generator can be used at home or in the office. Using the portable solar inverter generator, you can eliminate your monthly utility bills. The one-year warranty on the product ensures that it is reliable and affordable and will stand up to time. It's easy to use, requires minimal maintenance, and has a plug input to power a laptop, sound system, or TV.
Qasa's solar power bank has an in-built, high-capacity lithium battery with 500 lifecycles and 40000mAh/148Wh capacity. It also features a 100W inverter capability for longer-lasting loads. Qasa's portable solar power inverter type is a modified sinewave output type suitable for electronics with 230V 50Hz AC output, which is the same output as Nigeria's local power output.
Review on Qasa solar power generator is excellent with unique features like an LCD screen and bright LED flashlight, protection from over-discharge, charge, 3 USB chargers, 2 DC 12V outputs, and 18V25VDC inputs for solar charging.
The solar inverter can be used with 25W50W/18V25V solar panels with DC16.6V25V/1.5A maximum. Solar charging and DC19V/1.5 adapter recharge with a 7-hour recharging period. One bulb is included in the package.
Specifications
Inverter output: AC 230V 50Hz,

Output Type: Modified sine wave (good for electronics but not for appliances with electric motors).

Inverter capacity: 100W (150W at peak)

Recharging adapter: DC19V/1.5A

Solar charging: DC16.6V~25V/1.5A (max.)

Capacity: 40000mAh/148Wh

Recommend solar panel: 25W50W/18V25V

Charging time: 7 hours

Solar Panel: Yes
Portable Solar Power Generator with Solar Panel
The Key Features
Modified sine wave converter

Lithium-ion battery with high capacity and a life expectancy of 500 times

DC 18V~25V input available for solar charging

DC 12V outputs(x2)

USB chargers (x3)

Ultra-bright LED flashlight

LCD

Protection against over-discharges and over-charge
What is a portable solar power generator good at?
Bluetooth is built into your speakers.
You can connect to many electronic devices; Charge your phone.
For blackout, LED light
An MP3 player allows you to play your favorite songs.
Listen to the radio
You don't have to worry about NEPA anymore!
Multitasking solar power generators can improve your quality of life.
Qasa Solar Generator: Advantages
Get free fuel from the sun.
Gas-powered generators are expensive to fuel. A solar generator doesn't require you to pay for power. Set up your solar panel, and you can enjoy the sunshine.
Clean, renewable energy
Solar generators are entirely powered by clean, renewable energy. You don't need to worry about how much gasoline will cost to power your solar generator.
Solar generators don't emit any pollutants when they generate and store energy. Your camping and boating trips will be powered by clean energy.
Low maintenance and quiet
Solar generators are also quiet. Solar generators are more silent than gas generators. This dramatically reduces the noise they make while running.
Additionally, there are no moving parts, so the chance of solar generator parts falling apart is very low. This significantly reduces the maintenance required for a sunroof generator compared to a gas one.
Solar generators have their disadvantages.
High initial costs
The initial investment for solar generators is much more significant than that of traditional gas generators. A petrol generator's average cost is NGN120,000. The average price of a solar generator is NGN600,000.
Solar generators are much more affordable to operate. You'll also spend less over the life of your solar generator.
Slow charging
The sun can't recharge solar generator batteries. Even then, the solar panels take time to charge the battery. It would take more than 9 hours for a solar panel producing 100 watts to set most of the mid-sized solar generator batteries.
Generators powered by fossil fuels can be recharged at any moment, so you have more power when needed.
Limited power supply
Also, the size of the battery that powers the solar generator will affect how much power it can produce. The solar generator won't power your entire house. It can charge smartphones and laptops and keep small appliances running for short periods.
Gas generators can power a wide range of things and last a long time. They can also be recharged at any moment.