How to Make Money On OPay App – Earn Up to 2k Daily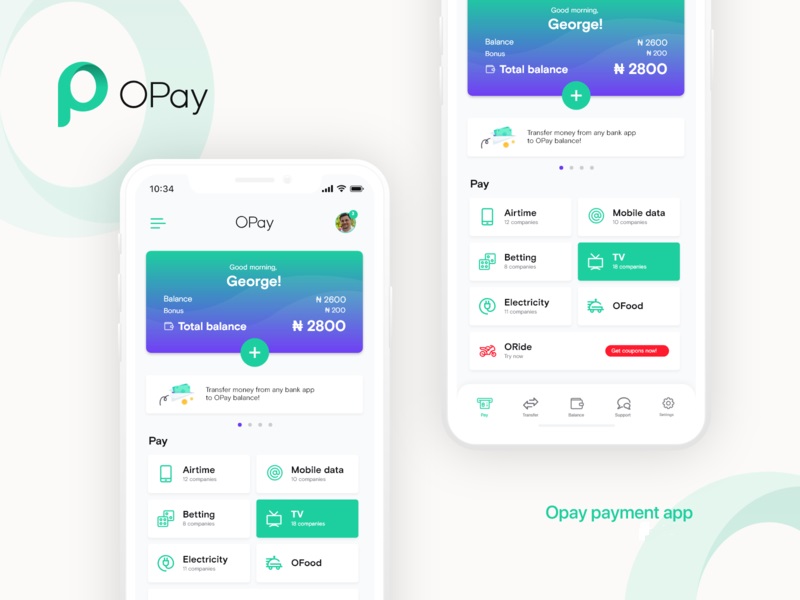 Are you a student, an entrepreneur, a corporate worker, or someone who loves making money online?
With Opay, you can earn up to ₦5,000 or even more, as the platform offers several fantastic opportunities to make money online without stress.
Whether you're a student or an entrepreneur, keep reading, for I'll show you how to earn money on Opay and make money online with Opay using just an Android phone from anywhere in Nigeria.
Making money with Opay
Opay is undoubtedly one of Nigeria's most popular, if not the most popular, fintech companies.
From saving and sending to lending, investing, paying bills, and buying airtime and data, you can do many things with Opay.
One super cool thing about the company is that they offer customers some amazing features that can be used to make money.
Yes, Opay has pioneered some features to make you earn as much as possible (up to ₦5,000 daily) both online and offline, with or without the Opay app.
Let's see how you can start making money with Opay fast.
How to Make Money with Opay App
Of course, all Opay customers know that they can save and send money without charges with Opay, but just a few people know that they can make money with the app just by inviting their friends to download and start using the Opay app.
That makes the Opay referral program the first way of making money with the Opay app.
To make money on Opay using this method, all you need to do is just open the Opay app on your phone, log in to your account, and copy your referral link, or your invitation code.
Afterward, share your link with your friends and family on WhatsApp, Facebook, Twitter, etc.
Once they sign up using your referral link or code and verify their account, you'll earn a commission of ₦600, and keep earning as the person you refer completes some tasks, including:
Funding their Opay account.
Buying airtime.
Paying bills.
Withdraw at least ₦5,000 from an Opay agent.
Taking a loan from Okash.
Investing at least ₦500 in Owealth.
One cool thing about the Opay referral program is that you're not the only one earning, the person you invite too can earn up to ₦8,150 as cashback on transactions they make on the app.
Regarding cashback, you can also earn money online with Opay by receiving cash back on some transactions you do on the app.
Let's see how.
How to Make Money Online with Opay App
We all know you can buy data and airtime from Opay, but do you know you can also make money by buying airtime?
The cashback feature that Opay offers lets customers earn while they buy airtime or data from Opay.
On every airtime or data you buy on the Opay app, you'll earn at least 3% cashback.
For example, if you buy ₦1,000 worth of data or airtime, you'll earn ₦30. In fact, some people have turned it into a daily business where they find people to recharge for and earn cashback.
Just imagine you recharge ₦500 airtime for about 20 people in a day:
You'll earn ₦15 per person.
Now, 15×20 = ₦300.
That means you'll earn ₦300 per day, which is not much. However, sometimes you can get considerable cashback (e.g., buy data of ₦200 and above and get ₦50 cashback).
After summing it up at the end of the month, you'll get (300×30) equivalent to ₦9,000. After adding the special cashback, you could be getting ₦12,000+ every month.
As a student, imagine what you could do with 12k in Nigeria.
How to Make Money on Opay App
If you have the money you saved in your bank account or elsewhere, and you're seeking how to make money on the Opay app, this is one perfect solution.
Instead of saving money in banks where the value keeps depreciating daily, why not invest your money in opay.
How? Opay offers amazing features that let you invest your money and get daily, weekly, and/or monthly interest.
The most popular example is Owealth. On Owealth, you can earn 15% interest per annum on the money you save.
For example, if you invest ₦50,000 on Opay, you can earn anywhere from ₦20+ per day, which is equivalent to ₦600+ per month, and about ₦7,500+ per year.
Not much, but if you're an investor, you should know it is better than keeping your money in a piggy bank, or a physical bank.
One cool thing about the Opay investing platform like Owealth on Opay is that you can withdraw your money anytime. And the higher your investment amount, the higher you'll earn.
How to Make Money with Opay
As I said earlier, Opay has offered numerous ways to make money with them, and not only with the Opay app.
So, if you're looking to make money with Opay offline, all you need to do is apply as an Opay agent.
This means starting a POS business, as many people call it.
Instead of applying for a POS machine at banks that could take months before you get one, you can get your Opay POS machine within just a few days.
After getting the machine, you can open a small shop and start your business.
If you're a student, you can take your POS to school, tell your coursemates about it and start making money from the charges as they patronize you.
Make Money with Opay – FAQs
How do I start a business with Opay?
You can start a business with Opay simply by applying as an Opay agent, getting a POS machine from Opay, and starting a POS business where you can earn money from charges.
How can I make money with Opay as a student?
You can make money With Opay as a student by simply referring your friends, coursemate, and schoolmates to download the Opay app and sign up with your referral code, where you'll earn ₦600+ per person.
Another way to earn money on Opay is to sell airtime and data to your friends, coursemates, and schoolmates from your Opay account, and you'll earn a 3% cashback.
How do I earn money on the Opay app online?
You can earn money online from Opay by inviting friends and buying airtime and data to earn cashback.