Wema Bank USSD Code for Mobile Banking Transactions, Transfer Codes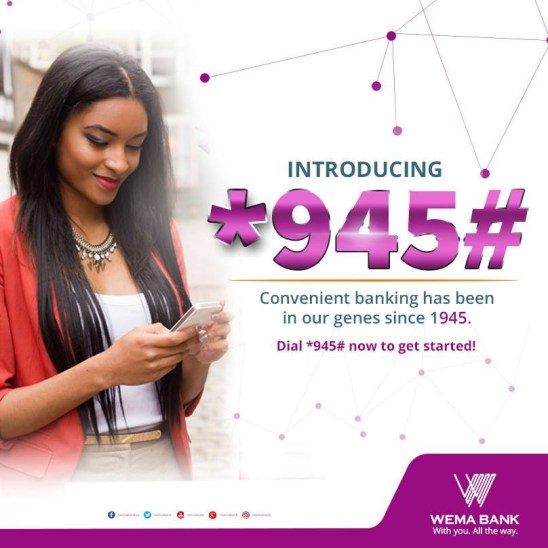 Wema Bank is the fastest-growing commercial bank in Nigeria. Wema Bank operates a network of over 149 branches and service stations backed by a robust ICT platform across Nigeria.
If you have ever checked your mobile network or account balance on your phone, you must have used a USSD code. A USSD code is a communication tool used by GSM phone users to have a dialogue with mobile network operators.
It contains a combination of characters on any mobile phone and can span up to 182 characters.
Mobile phone owners use it to send out various requests, from mobile network requests and financial transaction requests to customer service.
How to register a Wema bank transfer USSD code?
To register for the Wema Bank transfer USSD code, using the phone number you used when opening your account, dial *945#.
Next, select "0" to register for USSD banking.
How to create a pin for wema bank USSD transfer
Once you've clicked "0" to register, select "0" again, and you'll be prompted to create your 4-digit pin.
How to activate Wema bank transfer code?
To activate this service, say you want to make a transfer or recharge airtime; for the former, dial *945*Account Number*Amount#  from your now-registered Wema Bank phone number. Lastly, input your pin for confirmation.
To recharge for yourself, dial *945*amount#. For someone else, dial *945*Phone Number*Amount#. A popup to choose the network will appear, choose as appropriate and input your pin for confirmation.
Wema Bank transfer limit
Just how much can you transfer via the Wema Bank mobile banking service? What exactly is the transfer threshold limit?
You can transfer a maximum of N20,000 daily using the USSD service. If you need to transfer more, you'd need to either download the Wema Bank Mobile app or head over to a nearby branch for some over the counter transaction.
Airtime, Data, and Transfers Codes
Airtime (self): *945*amount#
Airtime (others): *945*phoneNo*amount#
Airtime/Data: *945*9#
Transfers: (Wema account and other banks) *945*accountNo*amount#
Wema Bank USSD Code for Quick Loan Code
Wema Bank USSD Code for Cable TV Codes
Cable TV menu: *945*10#
DSTV: *945*11# and *945*11*smartcardNO #
GOTV: *945*12# and *945*12*smartcardNO#
Startimes: *945*13# and *945*13*smartcardNO#
Wema Bank USSD Code for Internet Service Codes
Internet service menu: *945*15#
Smile: *945*16#
Spectranet: *945*18#
Wema Bank USSD Code for Electricity Bill Codes
Electricity bill: *945*24#
Eko: *945*25*meterno*amount#
Ikeja: *945*26*meterno*amount#
Ibadan: *945*27*meterno*amount#
Abuja: *945*28*meterno*amount#
Enugu: *945*29*meterno*amount#
Jos: *945*30*meterno*amount#
Kaduna: *945*31*meterno*amount#
Kano: *945*32*meterno*amount#
Portharcourt: *945*33*meterno*amount#
Wema Bank USSD Code for Schools and Exams Codes
WAEC (result checking): *945*70#
JAMB (result checking): *945*71#
Wema Bank USSD Code for State Collections
Lagos state collection: *945*40#
Wema Bank Swift Code information
A SWIFT code is a set of 8 or 11 digits representing a bank branch. You'll need to use one when sending money internationally.
| | |
| --- | --- |
| Swift Code | WEMANGLAXXX |
| Bank Name | Wema Bank Plc |
| Bank Address | Marina, 54, Wema Towers, Lagos, Nigeria |
| City | Lagos |
| Country | Nigeria |
Wema Bank customer care
If you have any complaints or inquiries, you can always contact Wema Bank. They have customer support staff that will attend to you.
Wema BankCustomer care number
+234-803-900-3700
+234-01-277-7700-9
WhatsApp: 09044411010
07000 PURPLE (07000787753)
Email
Wema Bank head office address
Wema Bank has a head office in Nigeria where they manage the banking services they offer. You can also visit the head office if you have any complaints or inquiries, wish to physically open a new bank account or obtain a loan.
Wema headquarters is at Wema Towers 54, Marina Lagos Island, Lagos, Nigeria.