How to Make Peanut for Sale in Nigeria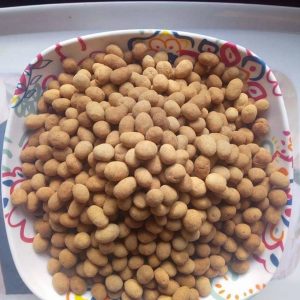 The Food industry. There is a common saying in Nigeria that goes like this; Man must 'Wack' (i.e. Man must eat). Food is highly important and it's among the three (3) basic needs, along with clothing and shelter. In times of scarcity, the hardest hit businesses are the luxury ones. It is often said that it is hard to go wrong in food business unless you fail in food quality, hygiene, service delivery and presentation, then you should not even be in that business in the first place.
I present to you the first start-up idea in this series.
Different flavoured Coated Peanut snacks In Nigeria
While you may not be so interested in this very business idea, you could still read through and get a feel of my thoughts, which may be useful to you in some other way
If you have stayed in Nigeria for a while, and also depending on your location, you may have come across this snack. It is probably the highest selling brand of coated peanuts in Nigeria. Something happened recently and I had to describe this product to a friend one funny way they could remember it was the amount of air that was used in packing it compared with the coated peanuts inside. The amount of air inside the pack is intentionally added to ensure that the packaged food product stays fresh and good for as long as possible.
However, this post is not about the Burger branded coated peanut, this is about something new that can be created in that space.
One can introduce a brand new coated peanut product with different flavors such as chocolate, Strawberry flavored coated peanut, etc. To spice it up one could add some pepper (chili). So this is the product we kick start this series with. An indigenous (made in Nigeria) well packed and branded flavored peppered (not-peppered) coated peanut.
Production
Here is a thread on Naira land on how to make coated peanut
http://www.nairaland.com/1369104/peanut-burger
Peanut coating machine as seen on alibaba.com
https://www.alibaba.com/showroom/peanut-coating-machine.html There are some videos on YouTube on how to prepare this snack as well.
https://www.youtube.com/watch?v=Zw4nyPlE4Hg&t=8s From the video, you can see how the Pot-like device is attached to a base and made to spin. You could show this to an engineer or a technically savvy person who will guide you on how best to locally construct your own peanut coating device.
https://www.youtube.com/watch?v=CUqtGUv970c
You should not go into this or any business if you are not ready to work, as it would also require your commitment and patience.
Why??? Is there a market for this?
There is a very large market for this business, depending on the scale a person desires to run it. The best part of the idea is that it can provide small and medium scale employment with a relatively moderate initial capital. It can also be a large employer of labor if the operations are carried out on a large scale (Capital intensive).
The existing popular 'burger' brand of coated peanut appears to be manufactured outside Nigeria and is being sold in different parts of the World.
As a result of the above, there is now an opportunity for a new-coated peanut product.
An example of a product not like the peanut but equally stepping up in popularity among Nigerians is the Mini-me chin-chin.
There was a year Nigerian female Singer Tiwa Savage took a break from her music career, and Chidinma (Miss Kedike) and Omawunmi as well were not really pushing out massive releases, A new female act emerged to fill the perceived vacuum. Her name is Yemi Alade (looking for my Johny). The same thoughts are applicable here and in other innovative pursuits. There are products in Nigeria that are not so popular or not doing so well, mainly because they are imported and their prices have in recent times doubled (fall in the naira value). This creates a market for a made in Nigeria products (alternatives) or substitutes.
This article suggests that there is probably a market for a substitute coated peanut product which could be given extra attractiveness by producing different flavors, and packing it in well printed and transparent packaging so that the customers can see through. This can effectively compete with the more popular brands if there are sufficient thought and effort given to the product with a good competitive advantage.
It is a call for as many who can, to consider this and carry out their own research and verifications.
The Business model Canvas
The following business model canvas will give a broad picture of aspects to consider in creating a business around coated peanut production. Could be adapted and interpreted by the intended business person, whether small time side hustler or small and medium scale enterprise operator. This may not be all encompassing but presents a starting point, which could be improved upon.
-The value proposition
The provision of healthy snacks could be very handy for consumers in those periods when they either just need something to snack on or really need something light to eat before they have a proper meal.
-Customer segment
There is hardly a defined customer segment for this product as it can cut across a wide spectrum of customers. The lower class, mid and upper classes could be prospective customers. the above statement is however important because it will play a part in how the product is packaged and the type of marketing strategy to employ. Good product branding (design and packaging) will influence how customers perceive the product and place value on it.
To further paint a picture of the customer segment
– Drivers and commuters who patronize roadside snack retailers
– Could be included in kids' lunch packs (schools & Churches)
– Those who normally buy the 'Burger' branded coated peanut.
-Customer Channels
– Direct sales
– Online Sales
– Marketers, distributors, and retailers
– Customer service centers
-Customer Relationship
Mass – as it relates to the general mass of end consumers. This depends on the scale and volume of units produced and pushed to market.
Mass/Direct – There could be a direct relationship as it relates to dealings with retailers and distributors that play the middlemen's role of delivering your product to the end consumers.
-Key Activities
– Manufacturing and Production
– Marketing and Sales promotion
– Logistics
– Financial Accounting
– Packaging
– Research and Development (New varieties & process improvements)
-Key Resources
– Financial (Start-Up &Working capital)
– Field sales force & Customer service reps
– Business developers
– Distributors
– Quality control personnel
– Nutritionist
– Legal consultants
– Logistics and Operations manager
-Key Partners
– 3rd party logistics
– Bank and other Investors
– Government regulatory agencies (NAFDAC)
– Cost structure
– Financial (Start-Up &Working capital)
– Marketing and promotions
– Salary and commissions
– Registrations, legal (copyrights), and other licenses
-Revenue streams
– Sale of product
Competition
There are substitute products in the market that could serve as stern competition to the New flavored coated peanut, some of them are
– There is a coated peanut product (selling for 50 nairas a piece)
– The Mini-me chin chin
– Gala (all the various types)
– Coconut crunchy
As of today, there are no strong barriers to entering this market, so it will be open for new competitors to arise and hustle for market share. With a population of over 210 million people, I would imagine that there is big room for all as long as you come to the market with a good competitive advantage and well-worked market strategy.
Risk
– Government policies and their effects on the prices of materials used. E.g flour, production equipment.
– This may not be appropriate as a main hustle business as the profit margin might not be enough for some people to live on.
– Competing against a stronger already brand will not be an easy task as they could easily diversify and start producing their own version of your own product variety.
– The bigger brands could penetrate in their marketing to reach the local environment you may be serving.
– Cash crunch and low spending power of the buying population
Financial estimates
The scale one decides to start with would largely determine the cost of operating this business.
But with as little as approximately NGN28,000 naira, one can start on a small scale.
Small scale
– Pots and other utensils
– Production materials (food items)
– Packaging
On a bigger scale,
– You will need more money, and also need to design some forms of an automated device that will help in the production (spinning the flour mixture)
– Automation should not scare you, as there are people in Nigeria that can design and manufacture the device you will need.
– A well designed and printed wrap (well-branded packaging)
– Distribution network (personal vans or 3PL)
The goal is to point some people in this direction on whatever scale they can afford so that we can at least help the unemployment situation we find ourselves in today. The same thoughts and processes can be applied in order sectors of the food industry. Where there is a scarcity of one product, there is an opportunity for another one.
The problem has never been the problem, but the way we perceive (our perception of) the problems we face.
Remember having the idea is just the beginning; there is a whole lot more work to be done.