Roofing Sheet Specification & Price In Nigeria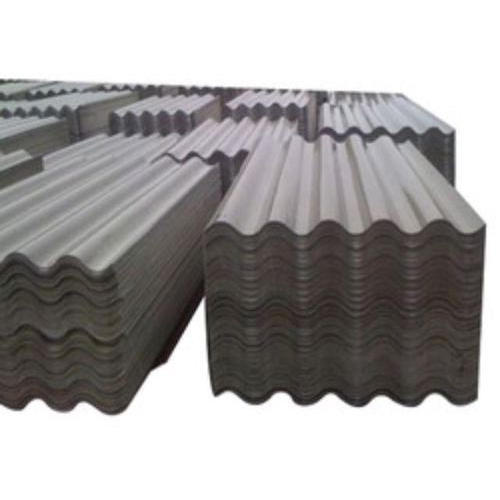 As a major cost component, the use of roofing sheets has transited from the old-fashioned Speargrass or Palm raffia that we used to know to modernized sheet types like Aluminium roofs, Stone coated roofs, Sumo roofs, Negerite Crete tiles/slate roofs, Corrugated Zinc roofs, and Toprite roofs, etc.
To understand which is best for your construction purpose, you may need to consult an Architect, Engineer, or any Builder, Quantity Surveyor who will recommend a suitable one for you. But in all, the choice to be made borders on cost per sheet along with other needs of your roof like aesthetics, durability, energy efficiency, Water & Soundproof qualities, ease of maintenance, the weight of the material, longevity, intended Slope or Pitch of your Rafter among other deciding factors that vary from one region to another.
There are various roof designs that affect the total cost of each roof style. Residential houses like homes, hotels, and hostels are usually designed to depict their function from the roof by a mere look. So also properties built for commercial purposes like Banks, Factories, Public offices, Restaurants, etc. In all, a roof with a steeply pitched truss usually takes more roofing sheets than roof trusses on low slopes. Meanwhile, a complicated/complex roof plan will result in the usage of more roofing sheets compared to what is obtainable in a simple roof plan and of course the more the area to be covered with sheets, the more the client incurs cost. These factors and some others seriously affect the total cost of roofing and the affordability of a particular style in Nigeria.
Aluminum Roofing Sheet Prices
Going by usage statistics, Aluminium roofing materials are currently the most used roofing sheet types in Nigeria. This reason is traceable to its affordability, lightness in weight, long-lasting qualities, enhanced corrosion resistance, fair insulation, and inability to burn during fire outbreaks. As expected, it has its shortcomings, one of which is the noise it makes under rainfall and the creaking sound it generates under the direct heat of sun rays.
As per specifications, you can install Aluminium roofs on any Purlin made of steel or woodwork. Below is the price list of the three kinds of Aluminum roofing sheets in the market now which are the Long span Aluminium, Step tile Aluminium, Metcoppo Aluminium, and Aluzinc.
| Sheet Type | 0.45mm price | 0.55mm price |
| --- | --- | --- |
| Long Span | ₦2,800 | ₦3,300 |
| Step Tile | ₦3,000 | ₦3,500 |
| Metcoppo | ₦3,200 | ₦3,650 |
Aluzinc costs about ₦25,000 per bundle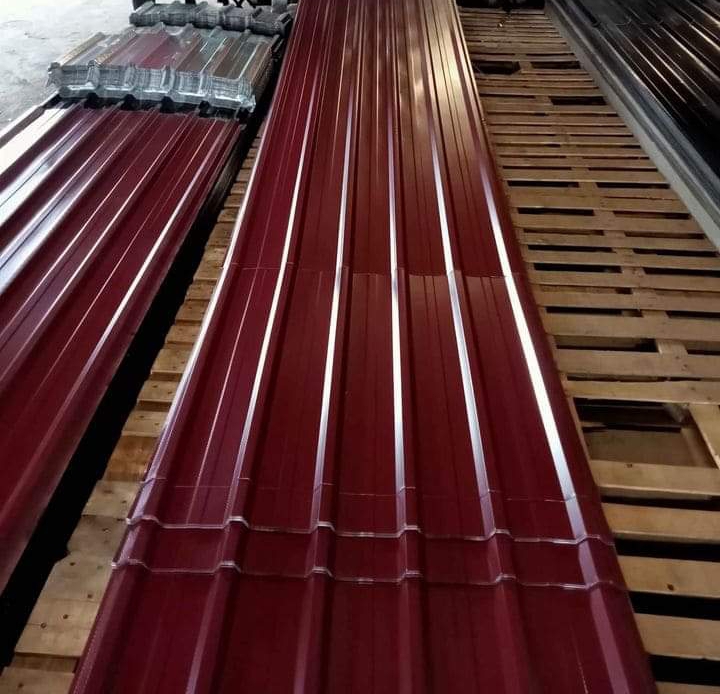 Longspan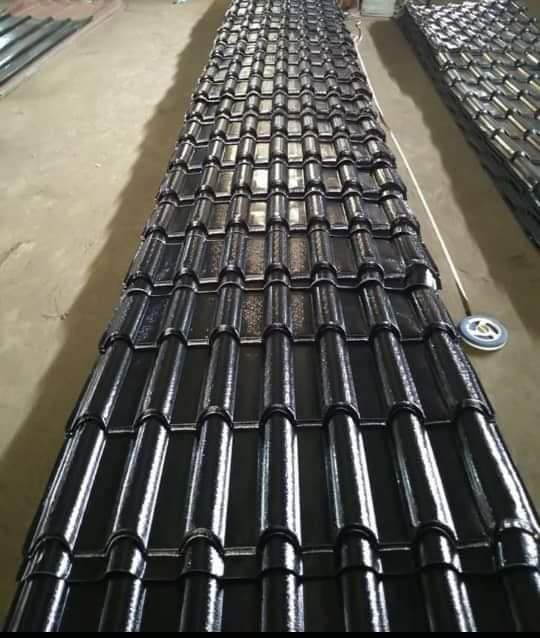 Metcoppo
Stone coated roofing sheet prices
Due to how durable, reliable, colorful, elegant, and environmentally friendly these Stone-coated roofing sheets are, there is an increased market demand for them in major cities across the country for use on high budget roof projects. This is because Stone-coated roof types have come to make up for the flaws of Aluminum roofing sheets and this, therefore, has made the price per piece pricey over time. As a matter of fact, Stone coated roofing sheets are one of the most expensive roofing materials available in market.
One major takeaway about this type is that they don't just come in varying beautiful colors only, they are long-lasting sound absorbers designed with anti-rust materials for energy efficiency. They also come in assorted kinds & designs and are usually accompanied by roof accessories like facial boards, Ridge caps, Valley gutters, Side Caps, Treated nails, B.B.C, and Repair kits. Below is the price list of the kinds you are likely going to see, which includes Bond or Classic designs, Shingles, Wooden shakes, and Roman and Milano designs.
| Sheet Type | 0.45mm price | 0.55mm price |
| --- | --- | --- |
| Milano design | ₦3,800 | ₦4,100 |
| Shingles | ₦3,700 | ₦4,000 |
| Classic design | ₦3,750 | ₦3,900 |
| Wooden Shake | ₦4,900 | ₦4,000 |
| Bond | ₦3,800 | ₦4,100 |
| Roman design | ₦3,650 | ₦3,900 |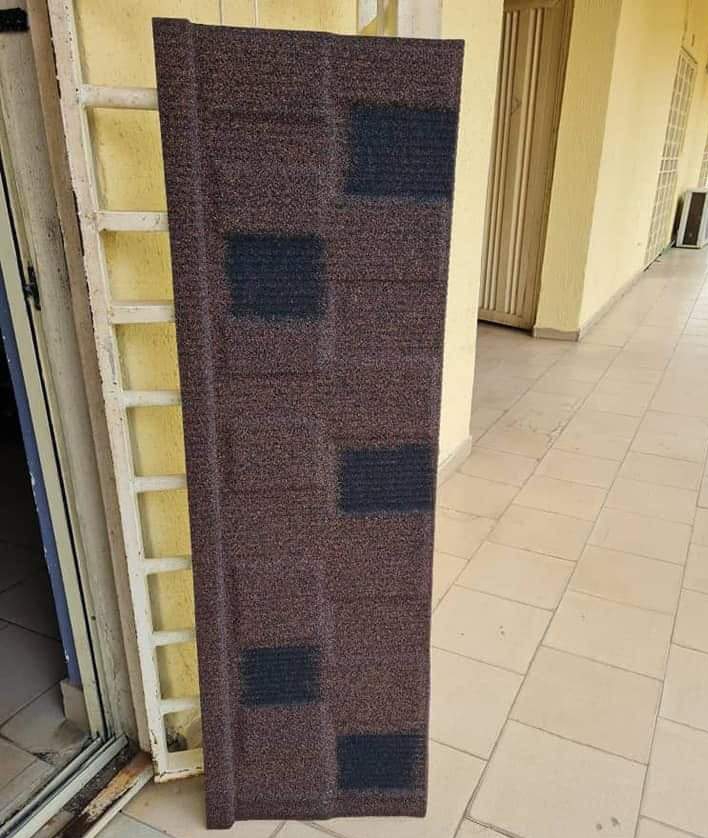 Shingles
Swiss Roofing Sheet Prices
This roofing sheet is one of the latest but underground yet most expensive roofing material types in the country just after metro tiles. It looks more like a Stone-coated variant but under a different brand name with its spectacularly unique color combination in terms of appearance that tends to conform with a traditional pattern. The average price of a Swiss roofing sheet per square meter is ₦5,000 – ₦6,000 in Nigeria.
Swiss roofing sheets have all the amazing and needed qualities of typical roofing material and as a result, it is the most expensive roofing sheet in Nigeria today. Buying it before now requires you to pre-order from importers who will end up inflating the price due to the exchange rate of the Dollar against the Naira. As a result, Swiss Metro tiles Limited now sources these products through their Switzerland factory for nationwide distribution to make them cheaper.
Fibre Cement Roofing Sheet Prices
The name is usually mistaken for the Fibre Britment roofs which have been phased out already. Fibre cement roofing sheets are still in fashion, though demand for it is dwindling as attention is shifting toward their metal counterparts. Although they are easy to break, buyers consider them better than corrugated Zinc roofing sheets in terms of durability.
They have really stood the test of time since they have been in use for centuries. Till today, flat Fibre cement sheets are still one of the best cladding materials while the ones with corrugated finishes are still being used for roofing purposes. In all, the average price of Fibre cement roofing sheet per square meter is ₦4,000 – ₦5,000 in Nigeria.
Roof Light Roofing Sheet Prices
These are transparent or translucent roofing sheets made from raw materials like fiberglass, polycarbonate, plastic, and or dandelion. The best and most popular of these roof lights are the ones made with fiberglass, otherwise called Glass reinforced polyester resin (GRP) or Fibre reinforced polymer (FRP).
These kinds of Roofing sheets are not rampant but are particularly important when you wish to let light into your house without the interference of rainfall. They are usually sold corrugated either plain or colored in various thicknesses like 1mm, 2mm, 3mm, 4mm, and even more. The average price of Rooflight or GRP translucent roof sheet per square meter ranges from ₦5,000 – ₦15,000 in Nigeria.
Types of Roofing Styles in Nigeria
Choosing the right roofing style for your building makes it look more beautiful. There are different types of roofing styles in Nigeria today. Each is designed to suit your taste and lifestyle.
Below are some of the most common types in Nigeria:
Arched roof. It is the most commonly used roofing style in Nigeria.
Pyramid roof.
Flat roof.
Bonnet roof.
Skillion roof.
Hip roof.
Cross gabled roof
Cost of Roofing a 3 Bedroom Bungalow in Nigeria
As we have established above about the cost of roofing a 4 bedroom bungalow in Nigeria. Here is a brief estimate of what it will cost you to roof a 3-bedroom bungalow in Nigeria.
The roofing work will include ceiling (either asbestos or PVC), roofing sheets, and roof truss. The rough total cost should be between NGN800,000 to NGN1,500,000 million naira.