Best Restaurants in Ibadan (Oyo State, Nigeria)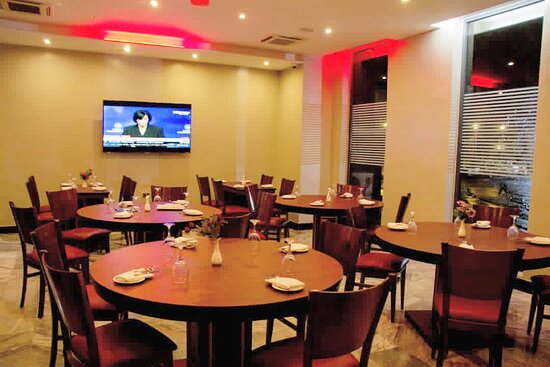 Ibadan is one of the largest and most populous cities in Nigeria. As you probably know, cities with large populations are characterized by a lot of economic activities. This is no different from Ibadan, which hosts a lot of economic activities, including some of the best restaurants in Nigeria. In this article, we'll take you through some of the best restaurants in Ibadan.
Apart from being a populous city, Ibadan, the Oyo State Capital is also known for its low cost of living – housing, food, and other services. If you're living in Ibadan or planning to visit Ibadan, we have highlighted the best restaurants where you can have yummy foods without reaching deep into your pocket.
Ibachi
This is a 5-star restaurant derived from two words "Ibadan" and "China". They serve a variety of exotic wine with Chinese meals. Some of their foods have a touch of American influence. Ibachi dining style has a word-class setting; you can opt for their high chairs or outdoor seats.
They also offer varieties of exotic wines, which you can order with your meal, or you can settle for their incredible cocktails instead.
Ibachi is situated at #1 Theophilus Akinyele Way, Ibadan, a very classy area in this city. Less traffic, beautiful surroundings, and it's easy to navigate the route.
Wimpy
If you want to treat yourself to pastries served with well-spiced sauce, then Wimpy should be your top choice restaurant. You should try out their burgers, fish 'n' chops, mixed grills, and so on. They're fantastically prepared, and the aroma alone is enticing.
For Lebanese or Mediterranean dishes, they also offer a variety of them in their menu. You can tailor your choice to Halal meals or vegetarian-friendly meals. And either you choose the indoor or outdoor seating the atmosphere is still conducive for a great meal.
Wimpy is located at Onireke Road, Ibadan. It's effortless to spot because it's by the roadside.
Latitude Café and Lounge
The atmosphere here is cozy. It's a great place to wine and dine with friends and family. And it's much more splendid if you visit at night. Latitude Café and Lounge has a play section for kids to have a slice of the fun too. They offer international cuisine and well-mixed cocktails. There is also a section where you can get beers.
This restaurant is located at V2/V3 Ventura Mall, Sango-Ojoo Road, and it's one of the best restaurants in Ibadan to have a splendid meal and fun-filled night.
Adis Hotel Restaurant
This is a hotel with a restaurant on its premises. It is one of the best restaurants in Ibadan to get Indian, International, African, and European cuisine at an affordable rate. Besides, they serve each cuisine as a particular meal course.
For breakfast, they offer Nigerian, American, and English meals. For lunch and dinner, you can choose from a variety of foods on their menu. Also, they offer late-night dishes for those who close late from work.
You can also hold private events here like cocktail receptions, business lunches, dinners, get-togethers, and so on. During the night time this restaurant is usually filled up, it's better to make a reservation beforehand.
Addis Hotel Restaurant is at located #1 Akinsehinwa Street Off Favos / Mr. Biggs Junction, New Bodija, Ibadan, Nigeria.
Kokodome
Kokodome is also an excellent restaurant for late-night meals. Besides, it's one of the oldest and the best restaurants in Ibadan up till today. They offer African, Lebanese, and Mediterranean meals. You can also visit their bar for well-mixed cocktails that will excite your taste buds.
This restaurant also takes into consideration the accessibility of people in a wheelchair into their restaurant. They have a wheelchair accessible carpark, entrance, seats, and toilet.
Kokodome is at situated on Liebu Bypass, Ibadan
Martha's
This restaurant will give you a homely feel with its dining seat style. The Interior decor and cozy ambiance is enticing and would make you feel at ease. Beautifully framed images also adorn the wall. Everything in this restaurant is aesthetically splendid, and it's undoubtedly one of the best restaurants in Ibadan.
They serve only international cuisine, and their seafood is worth trying out. Also, their soups are well prepared and garnished with varieties of vegetables. They open very early, and it's a great place to have breakfast and brunch. This restaurant is located at #3-52 Sabo-Onireke Road, Ibadan
Also, they offer private dinner reservations. This is preferable if it's just an individual or a small group of about four people you want to have dinner with and a great time.
Chicken Chaos
If you can't find a KFC fast food outlet nearby, then stop by Chicken Chaos if you're around or a few streets away from IITA Entrance Rd, Ibadan.
Chicken Chaos has the best chicken around; well prepared! You can request for chips, sauce, or vegetables alongside the chicken. Moreover, it is prepared in a barbecue-style – you can request for a soft drink or beer to go alongside the meal.
Chicken Chaos have nice; the seats are made from wood, and they're not polished, giving it an old-fashioned look but very pleasant to the eyes
Paris Bakery
Paris Bakery has a variety of flavors for every pastry and ice cream they offer. Their grilled meals are also served in a variety of ways. You can order your grilled meals with sauce, vegetables, chips, cream, and so on.
They open a bit late, so you can only have your lunch or dinner here. And for lunch, you can only get pastries. For dessert, you can request for their varieties of cakes. Paris Bakery is beside First Bank, Adeoyo Junction, MKO Abiola Way, Oluyole, Ibadan.
Kountry Kitchen
This is one of the best restaurants in Ibadan to get affordable meals. They offer Rice dishes, local dishes, continental cuisines, grabs, grills, and barbecues. It's a beautiful place to have your breakfast, lunch or dinner if you're on a budget.
You can also order soft drinks or just bottle water to complement the meal. They have a kid's menu and also offer special vegetarian foods. Kounty kitchen is located at Adekunbi Layout, Ibadan.
Cafe Chrysalis
This is a nice restaurant with minimalist interior decor and a cozy atmosphere. It's one of the best restaurants in Ibadan to choose for a date. The lights are always dim at night, and this sets a romantic mood. They offer a fusion of meals, mostly pastries with local or continental meals. Their cocktails are great too. The staffs are courteous and always available to meet your needs.
Cafe Chrysalis is located at New Gra, Ibadan, in a very serene environment.
In Conclusion
Ibadan is an ancient city, and most of the historical sites in this city are still present today. It's a favorite spot for tourists, and on this list of best restaurants in Ibadan, we featured some of the best restaurants you'll find not too far away from these historic sites.