How To Make Puff Puff With Pepper and Onions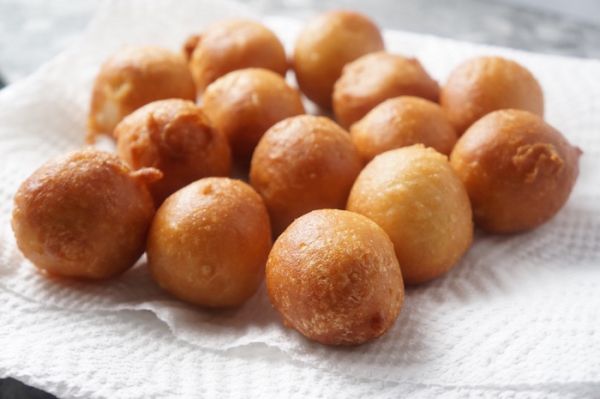 Puff puff is an African favorite; popular in Nigeria and Ghana. It is round, spongy, and soft. No Nigerian party is complete without puff puff.
It is easy to make and is made only with flour, yeast, sugar, and spices.
You can enjoy them with warm milk, ice cream, fruit smoothies, yogurt, tomato sauce, or pap.
In this article, I'll give you an easy recipe to make a savory, mouthwatering puff puff with onions and pepper.
How to make Easy Puff puff
Ingredients
3 cups plain flour
1 cup sugar
4 teaspoons yeast (instant or fast action)
1 small ball of fresh habanero pepper or chili
1 onion
Pinch of ground nutmeg
Pinch of salt
2 cups of lukewarm water
2 cups vegetable oil for frying
Direction
Mix the yeast and sugar with a half cup of warm water and set aside (to allow proofing and dissolve the sugar).
Sift flour into a shallow bowl to loosen it.
Combine flour, salt, and nutmeg with the yeast mixture.
Gradually add the remaining warm water and mix the batter till it is well combined (the batter should not be too thick or runny).
Cover the bowl with a plastic foil or towel and place in a warm place for 45 minutes or till the batter doubles in size.
When the batter has doubled in size, add the finely chopped or grated pepper and onions. Mix till well combined.
Pour the oil into a shallow pot and allow it to heat up.
Test that the oil is hot enough by dropping a pinch of batter into the oil. If it sizzles and bounces back up to the surface – the oil is ready.
Using your palm, a spoon, or an ice cream scoop; scoop up small bits of batter into the hot oil.
The batter should form round balls once it comes in contact with the oil.
Fry on medium heat and avoid overcrowding the pot. Flip to allow frying on both sides.
Once the balls are golden brown, take them out and place them in a sieve lined with paper towels.
Serve up your yummy puff puff balls and enjoy!
How to scoop puff puff with palms
To scoop the batter with your palms into the oil for frying:
Wet your hands with water before scooping the batter.
Drag the stretchy batter from the bowl towards yourself to separate it.
Squeeze the batter in between your finger and palm into the oil.
Can I make a puff puff without yeast?
No, you can't. Yeast gives puff-puff that unique taste. You can try making buns with baking powder. It is also delicious and easy to make.
How to make the puff puff
This involves the whole process of how to make a puff puff.
First, of all, I had to weigh out the all-purpose floor in order to know how many grams will be needed.
So in the video below, I used 309 g of all-purpose. After weighing it out using the mixing bowl, I placed the scale out of the way and added other ingredients to the mixing bowl.
These ingredients are 2 tbsp of yeast, 6 tbsp of sugar, and 2 pinches of salt. If you like pepper in your puff puff you can also add to it, it's optional.
After adding the whole dry ingredients, use your hands to mix the dry ingredients together, then begin to add in water little by little till you make a perfect batter.
After making the batter, place it aside and cover for 40 minutes. After 40 minutes, the batter should have risen.
Lit the oven or cooker, put a small pot on it, pour in some vegetable oil, and allow it to heat.
When the oil is hot, dip your hands into the mixing bowl, cut some batter, and form a round-shaped small ball with it and press it into the oil and allow it to fry.
Make sure to keep turning in order for the whole puff puff to turn fully brown.
When the puff puff has fully turned brown, take a cooking spoon and gently take them out of the hot oil.