Peugeot 206 Specification & Price In Nigeria
Peugeot 206 price in nigeria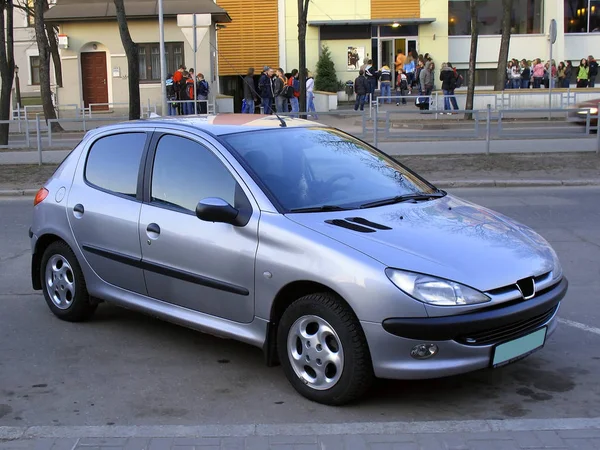 The Peugeot 206 is a supermini car that is produced by the French manufacturer Peugeot from May 1998 to the present day. Peugeot 206 had a tough act to follow. Its predecessor, the 205, had dominated supermini sales in the Eighties and really proved difficult to replace.
Peugeot had hoped that the 205 would not need to be replaced, and could be phased out slowly, while customers who would normally plump for the 205 would continue to have a choice with either a smaller or larger car. This strategy did not work. With the 205 phased out, other superminis like the Ford Fiesta and Volkswagen Polo continued to sell well and increased in popularity, and without a direct competitor to these cars, Peugeot was losing sales fast. A new supermini was required, and the 206 was launched in 1998 as a somewhat belated replacement for the 205. Peugeot hired the services of world-famous Italian designer Pininfarina to make it the most beautiful of its competitors.
Peugeot 206 Model
Models Covered: (3 DR 2.0 [GTI, GTI180]/ 3 & 5DR/SW 1.1 [L, LX, STYLE, S]/ 1.4 [LX, GLX, ROLAND GARROS, S, SE, QUICKSLIVER, URBAN, VERVE]/ 1.6 [XS, GLX, ROLAND GARROS, XSI, SE, SPORT]/ 1.9D [L, LX]/ 2.0HDI [D TURBO, LX, GLX, ECO, XSI, S, SPORT] 1.6HDI [HDI GTI] 1.4HDI [STYLE, S, SE, URBAN, VERVE])
Things you would like about Peugeot
It comes in both diesel engines 1.4 (50 kW; 67 hp)- 2.0(130 kW; 175 hp) litres.
Its spare parts are also widely available in the market, so you need not worry much about the car's maintenance. It is a sports car with speed, good for occasions and it is very classy on its own.
It comes in very classy designs and nice interiors as well as a dual airbag for safety.
One thing users will enjoy would be its ability to be able to run long miles, as enshrined in the design for the car. However, the Peugeot brand is always known for its durability.
The 206 is mechanically sound. It's cheap to run and doesn't give you too much stress, as where to find brand mechanics or parts because of the popularity of the brand..
What You should know about the Peugeot 206
Officially launched in September 1998 in hatchback form; followed by a coupé cabriolet (the 206 CC) in September 2000, a station wagon (the 206 SW) in September 2001, and a sedan version (the 206 SD) in September 2005.
The 206 has a sporty look that is very catchy and commands a high level of attention; it appeals to the eyes of most young people. Some models have red lighting behind the buttons which gives the interior a unique look.
They come in both petrol engines and diesel engines.
It also can be automatic or manual based on the customer's preferred option.
It is the best-selling Peugeot model of all time with 8, 358,217 cars sold as at 2012, It is still the top 10 most used car in the UK.
What you may not like about the Peugeot 206
The Peugeot 206 is a small car. Although it has a comfortable design, it does not take as many people as some other cars. The design of a sports car makes it look small in size.
The portability of the Peugeot 206 is amazing no doubt. However, it has a challenge with adjusting the seat for easy driving.
Some of the engines can be described as sluggish. The Diesel engine has better advantages. Some of the problems include Engine stalling, engine misfiring, and a few times, loss of power.
How much is Peugeot 206 prices in Nigeria 
| Model years | Price |
| --- | --- |
| 1998 Peugeot 206 prices | ₦830,000 – ₦880,000 |
| 1999 Peugeot 206 prices | ₦870,000 – ₦980,000 |
| 2000 Peugeot 206 prices | ₦720,000 – ₦1,300,000 |
| 2001 Peugeot 206 prices | ₦1,600,000 – ₦1,700,000 |
| 2002 Peugeot 206 prices | ₦560,000 – ₦1,500,000 |
| 2003 Peugeot 206 prices | ₦790,000 – ₦970,000 |
| 2004 Peugeot 206 prices | ₦540,000 – ₦1,500,000 |
| 2005 Peugeot 206 prices | ₦630,000 – ₦1,650,000 |
| 2006 Peugeot 206  prices | ₦630,000 — ₦730,000 |
| 2007 Peugeot 206 prices | ₦830,000 – ₦1,300,000 |
| 2008 Peugeot 206 prices | ₦830,000 – ₦1,400,000 |
| 2009 Peugeot 206  prices | ₦1,500,000 – ₦1,800,000 |
In Conclusion
Though not the overall class leader that the 205 was, the 206 is a strong contender in the crowded supermini sector. The build quality of the 206 is strong, it's good to drive and one of the most inexpensive cars to own, especially in diesel form.