Toyota RAV4 2010 Specification & Price In Nigeria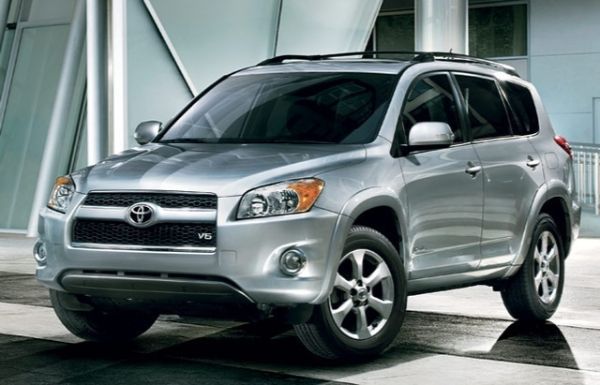 Like most other Toyota, The RAV4 models, 2010 verison is available in three main trims: The base trim, the Sports version and the Limited model. The midsize SUV offers seating for seven and cargo capacity comparable to most other vehicles in its category. It has amazing acceleration and relatively easy to manoeuvre in tight spaces. It also comes with a choice of front-wheel drive or four-wheel drive.
All the trim levels are available with full-time all-wheel drive. Also all the trim levels feature a 269-hp, 3.5-liter V6, and five-speed automatic transmission and they all come with Downhill Assist Control (DAC) and Hill-start Assist Control (HAC).
All available trim levels boasts lovely standard features that include air conditioning; cruise control; AM/FM/CD stereo with six speakers, MP3/WMA capability, integrated satellite radio, and supplementary input jack; power windows; power foldable mirrors; keyless-remote locking; 60/40 split second-row seats with manual recline and for-and-aft adjustment; tilt-and-telescope steering wheel; three 12-volt power outlets; and auto-off headlights. The base four-cylinder RAV4 has P215/70R16 tires on steel wheels with hubcaps. The V6 is upgraded with P225/65R17 tires on styled steel wheels.
The base trim offers options that include a third-row that comfortably accommodates 2 more passengers. While this offers a boast to the number of people the SUV can convey, the third row, like in Highlander, is tight and can be uncomfortable for adults.  There are also options of six-CD changer, a collection of 17-inch wheels, both styled steel and aluminium; a roof bracket with crossbars; back privacy glass; a cargo concealment; daytime running lights; and a towing bundle for the V6 that includes a heavy-duty radiator fan coupling, transmission oil cooler, and 150-amp alternator. This tow package increases the vehicle's towing capacity from 2,000 to 3,500 pounds.
Toyota Rav4 2010 trims & features
The 2010 Toyota RAV4 comes in different trim levels of limited, sport and base levels. The compact crossover SUV also gives users the choice of a V6 or 4 cylinder engine. All trim levels also come in 4-wheel and front-wheel drives – as against the standard all-wheel drive the RAV4 is generally known for. And all trim levels give you an option of rear view camera and third row seats.
Base trim
The base trim level is the smallest with:
16 inch wheel,
an option of 17 inch wheels if you go for the all-wheel drive,
an upgraded CD player with auxiliary audio jack and 6 speakers,
driver seat that allows you adjust the height, tilt and telescoping steering wheel,
key-less entry,
adaptive cruise control

All trim levels give you an option of rear view camera and third row seats
Limited trim
The Limited trim level comes with
a 6-CD changer,
satellite radio,
dual zone automatic climate control system,
key-less ignition and entry,
heated mirrors that work with sensors,
automatic headlights,
great suspensions,
17 inch wheels and
a spare tyre cover
Sport trim
The 2010 RAV4 sport trim level on the other hand, comes with
an 18 inch wheel,
adaptive heated side mirrors,
steering wheel wrapped in pure leather,
sporty suspensions,
an option of adaptive headlamps
Toyota Rav4 2010 fuel economy and performance
On fuel economy, the 2010 Toyota RAV4 doesn't entirely do badly. The all-wheel drive comes with up-to 27 miles per gallon on the highway and 24 mpg in the city. The front wheel drive comes with 28 mpg on the highway and 22 mpg in the city. Generally, the version has a 4-speed automatic transmission with 5-speed options. They also have 25 liter inline 4 cylinder engine which puts out into 172 lb-feet of torque. But you also have an option of getting a 3.5 liter V6 that puts out almost twice the amount of torque and horsepower you will find in the standard RAV4.
Toyota Rav4 2010 safety features
Toyota took time to upgrade the driver assistance and safety system of the 2010 RAV4 with top notch tech features. The vehicle comes with
uphill and downhill assist controls,
full length side curtain airbags,
front seat side airbags,
traction control, and
anti-lock disc brakes
The body in charge of highway traffic and safety in the United States of America IIHS carried out accident tests on the vehicle and it earned a whopping five stars. When in collision with a vehicle from the front or the side, occupants are likely safe due to how strong the metals are and the other safety systems. All in all, the vehicle showed the promise of being able to handle a level of impact.
Toyota Rav4 2010 gets a 5 star IIHS test
Toyota Rav4 2010 common issues and maintenance
It's worthy to note that the 2010 Toyota RAV4 might have road noise issues when it gets older, but wind noise isn't a problem. What's most important is maintaining the vehicle and ensure you carry out routine maintenance after every 8,000 kilometers covered.
How much is Toyota Rav4 2010 prices in Nigeria (new, tokunbo and Nigerian used)
You can get a new Toyota Rav4 2010 for NGN7,800,000 while used ones are priced from NGN2,800,500 . Cost of clearing the 2010 Toyota RAV4 in Nigeria in case you buy a tokunbo one from abroad is NGN960,000 naira!
How much is Toyota Rav4 2010 prices in Nigeria for clearing: NGN960,000
| | |
| --- | --- |
| MODEL                            2010 Toyota RAV4 prices in Nigeria | Prices in naira |
| New Toyota Rav4 2010 | NGN7,800,000 |
| Tokunbo/Foreign used Toyota Rav4  2010 | NGN4,500,000 – NGN5,900,000 |
| Nigerian used/Locally used Toyota Rav4  2010 | NGN2,800,500 – NGN3,900,000 |
Conclusion
The 2010 Toyota RAV4 is an outstanding option if you are in the market for a lovely compact SUV. The RAV4 rates greatly for dependability and crash safety. It is available with refined four- and six-cylinder engines. The RAV4's spacious cargo area can effortlessly fit bulky items, and the SUV can even seat seven passengers with the availability of an optional third row in some trims. Although it is not the only good option in its class, it rates among the very best.
The Toyota Rav4 2010 is a good choice for a compact SUV. It has decent fuel economy, easy to maintain with affordable and available parts. If you are going to drive a small or medium size family, Toyota Rav4 2010 is worth your consideration.