Mikano Generator Specification & Price in Nigeria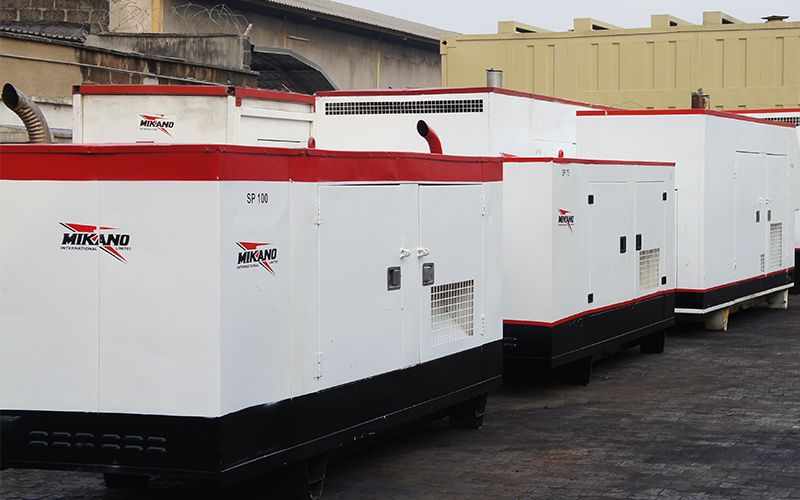 Mikano Generator was established in Nigeria in 1993 at 35 and 35 Acme Road, Ogba, Ikeja Lagos State. Mikano Generator is owned and operated by various groups of investors. Still, the company's most widely known important person is the chairman, CEO, and Mofid Karameh Mofid karameh, a Lebanese businessman.
Mikano company is focused on maintaining and selling high-quality power generators to various corporate and private individuals.
Mikano entered the Nigerian market through the power generation sector's most vital position, which is classified into three segments: gas, diesel, and rental generators.
Mikano is considered the biggest Generator manufacturer for power generation of the most renowned generator manufacturers in the Stamford/Meccalte alternator UK. In addition to Perkins UK, they are always offering quality generators that can range from 9 KVA up to 5000 KVA for all industries and houses.
Mikano Company is involved in construction, steel fabrication, and real estate.
In a country like Nigeria, where the need for electricity far exceeds its supply, it's been a must to find a different source of energy generation.
Since the beginning of time, Generators have created personal power generation through their easy but highly technical ability to convert the energy of mechanical processes into electricity.
Mikano is among the top companies to consider if you're looking for an industrial generator.
Mikano Nigeria entered the market and established itself as a leader in power production. Its three significant segments include gas, diesel, and rental generators.
Mikano generators make up the biggest manufacturer of power generation sets made by renowned Generator manufacturers. Perkins UK and Stamford/Meccalte alternator UK have high-quality generator sets from 9KVA to 5000KVA for households and industrial applications.
Mikano has been operating with a variety of operational solutions, like Compressed Natural Gas (CNG) Generator sets in areas where there isn't a gas pipeline and can provide at least 50% running cost savings; Bi-fuel generation sets that run using 70% gas and 30 percent diesel as well as IPP-powered power plants utilizing gas/diesel power generation.
Prices of Mikano Generators Nigeria (Brand New)

| Generator Model | Open Type | Sound-proof |
| --- | --- | --- |
| | | |
| --- | --- | --- |
| Soundproof Generator 9KVA from Mikano. [Perkins 403D11G[Perkins 403-D11G] | N5.5m – N5.5m | N6.3m – N6.5m |
| The 13KVA soundproofed Mikano is a Perkins 403-15G[Perkins 403-15G | N5.4m – N5.7m | N6.7m – N6.9m |
| 15KVA soundproof Mikano generator, [Perkins 403-15G215KVA Mikano soundproof generator [Perkins 403-15G2 | N5.6m – N5.8m | N6.9m – N7.1m |
| 15KVA Mikano soundproof generator (Yorc15KVA Mikano soundproof generator [Yorc | N4.5m – N4.8m | N5.6m – N5.8m |
| 20KVA soundproof Mikano generator [Perkins 442-22G20KVA Mikano soundproof generator [Perkins 404-22G | N5.9m – N6.2m | N7.2m – N7.5m |
| 20KVA Mikano soundproof generator (Yorc20KVA Mikano soundproof generator [Yorc | N4.6m – N4.8m | N5.7m – N5.9m |
| Soundproof maker 30KVA, Mikano. [Perkins 11103-33G[Perkins 1103-33G | N6.9m – N7.1m | N8.5m – N8.8m |
| 30KVA Mikano Soundproof Generator [Yorc30KVA Mikano soundproof generator [Yorc | N5.4m – N5.6m | N6.6m – N6.9m |
| soundproofed 40KVA, Mikano [Perkins 1103-3TG1[Perkins 1103-33TG1 | N7.9m – N8.1m | N9.6m – N9.9m |
| 40KVA Mikano soundproof generator (Yorc40KVA Mikano soundproof generator | N6.3m – N6.6m | N7.7m – N8m |
| The 50KVA soundproofed Mikano is a Perkins 11103-33TG1[Perkins 1103-33TG1 | N8.3m – N8.5m | N10.1m – N10.4m |
| 50KVA Mikano soundproof generator (Yorc50KVA Mikano Soundproof Generator [Yorc | N6.6m – N6.8m | N8m – N8.2m |
| 60KVA soundproof Mikano generator, [Perkins 1103-3TG2[Perkins 1103-33TG2 | N8.9m – N9.2m | N10.8m – N11m |
| 60KVA Mikano Soundproof Generator [Yorc60KVA Mikano soundproof generator | N7.1m – N7.4m | N8.6m – N8.8m |
| soundproofed 65KVA, Mikano [Perkins 1104-4TG165KVA Mikano soundproof generator [Perkins 1104-44TG1 | N9.6m – N9.9m | N11.9m – N12.2m |
| soundproofed 80KVA, Mikano [Perkins 11104-44TG280KVA Mikano soundproof generator [Perkins 1104-44TG2 | N10.2m – N10.5m | N12.4m – N12.7m |
| 80KVA Mikano Soundproof Generator [Yorc80KVA Mikano Soundproof Generator [Yorc | N7.9m – N8.2m | N9.8m – N10.1m |
| soundproofed 100KVA, Mikano [Perkins 1104TAG2[Perkins 1104-TAG2 | N11.8m – N12.1m | N14.2m – N14.5m |
| 100KVA Mikano Soundproof Generator [Yorc100KVA Mikano soundproof generator [Yorc | N9.3m – N9.5m | N11.3m – N11.6m |
| 140KVA Soundproof Generator Mikano (Yorc) | N11.6m – N11.9m | N13.9m – N14.3m |
| 135KVA Mikano, a soundproofed [Perkins 11106-TG1One of the most popular soundproof generators | N15.4m – N15.7m | N18.6m – N19m |
| The 150KVA Soundproof Generator Mikano [Perkins 1106TAG2150KVA Mikano soundproof generator [Perkins 1106-TAG2 | N16.9m – N17.3m | N20.3m – N20.7m |
| 140KVA Soundproof Generator Mikano (Yorc) | N13.2m – N13.5m | N15.8m – N16.2m |
| 180KVA Mikano soundproofed Generator (Perkins 1106C-E66TAG4It is | N/A | N/A |
| 20KVA soundproof Mikano generator with 200kVA [Perkins 11106-TAG4[Perkins 1106-TAG4 | N20m – N20.4m | N24.4m – N24.8m |
| Soundproof Generator 200KVA from Mikano. (Yorc) | N16.2m – N16.5m | N20.1m – N20.4m |
| A soundproofer with a 250KVA capacity, the Mikano (Perkins 1306-E87TAG6[Perkins 1306-E87TAG6 | N28.2m – N28.7m | N34.4m – N34.8m |
| 250KVA Mikano soundproofed Generator [Yorc250KVA Mikano soundproof generator [Yorc | N21m – N21.4m | N25.5m – N25.9m |
| 30KVA soundproofed Mikano generator [Perkins 1606A–E93TAG5[Perkins 1606A] | N33m – N33.5m | N40.7m – N41.4m |
| A soundproofed with a 350KVA capacity, Mikano. (Perkins 2206A-E13TAG2[Perkins 2206A-E13TAG2 | N37m – N37.5m | N45.2m – N45.7m |
| 35KVA soundproof Mikano generator (Yorc) | N29.1m – N29.5m | N35.6m – N36m |
| 40KVA soundproof Mikano generator (Perkins 2206A-E13TAG3[Perkins 2206A E13TAG3 | N40m – N40.5m | N48.4m – N49.3m |
| soundproofed 500KVA from Mikano. (Perkins 2506A-E15TAG2[Perkins 2506A-E15TAG2 | N43.5m – N44m | N52.5m – N53m |
| 500KVA Mikano Soundproof Generator [Yorc500KVA Mikano soundproof generator [Yorc | N36.7m – N37.2m | N44.4m – N44.9m |
| The Mikano-powered 650KVA soundproof generator (Perkins 2806A-E18TAG2[Perkins 2806A-E18TAG2 | N61.1m – N61.6m | N73.6m – N74.1m |
| 650KVA Mikano soundproofed generator (YorcA 650KVA Mikano soundproof generator | N48.6m – N49.1m | N58.6m – N59.1m |
| 800KVA Mikano soundproofed Generator [Perkins 4006-23TAG3A[Perkins 4006-23TAG3A] | N88.8m – N89.4m | N111.1m – N111.7m |
| The 800kVA soundproof Mikano generator (Yorc) | N69.1m – N69.7m | N88.8m – N89.4m |
| 1,000KVA soundproof Mikano generator (Perkins 4008-TAG2A[Perkins 4008-TAG2A] | N122.7m – N123.7m | N163.8m – N164.8m |
| 10,000KVA soundproofed Generator Mikano (Yorc) | N98.7m – N99.7m | N141.4m – N142m |
Mikano generators are available online or offline. There are two options for owning a Mikano Generator. One option is to purchase it for yourself. Another option is to lease it. Generators for gas and diesel with capacities that range between 20KVA and 2000KVA are available for rental.
However, rentals are available only to those who require a generator for a specific period and are contingent upon your functional capacity. Require. Mikano's rental department offers more than 120 generators for customers to hire from.
Fairly Used Mikano Generators in Nigeria & Prices
20kVA – 40KVA: up to 2,500,000

50KVA – 80KVA: starting at 8,900,000

100KVA – 400KVA: From 12,700,000

500KVA – 800KVA starting at 19,400,000
The prices used for Mikano (and other models of noise proof) generators are determined by the amount of time they've been running, not by how long they've been in use. The hours' count is the most accurate measure as it tells you how much work the generator has performed. A generator purchased 10 years ago and then used for only 500 hours is superior to those purchased 2 years ago that has been used for 22,000 hours.
However, used soundproof is generally considerably cheaper than brand new models. Based on the number of hours they run, the cost of used generators usually begins at around 50% off the price of new ones and drops to approximately 20 percent.
Mikano Generators in Nigeria: Your Options
Mikano has a variety of top-quality generators, and there are various choices to pick from depending on your needs and personal preferences.
Soundproof against. the open-type
Suppose you're not worried about the significant noise created by the generator of the open type. In that case, you could choose this model, as it is significantly less expensive than the soundproof version with the same power output. If you are opposed to sound, you'll be more comfortable with the soundproof model, which is protected by the appearance of a canopy, which blocks the emission of noise.
Perkins engine vs. York engine
Perkins is a UK company that makes high-end engines for generators and other industrial equipment. Over time, Perkins has built up an image of quality and durability.
Perkins engine
On the contrary, York is a Japanese company that is also an expert in heavy-duty generators. But their offerings are not as popular as Perkins products but are not necessarily less efficient. Mikano generators with York engines are less expensive than ones with Perkins engines — not because Perkins is superior in any way or anything, but because York is a relatively new company that is still struggling to create a market for them. They are offering discounted costs to help break into the market quicker.
Your engine
Diesel-powered vs. gas powered
Suppose you own a business with no tolerance for sudden power outages and power outages. In that case, you're better off with a gasoline-powered generator (natural gas, not petrol). Suppose you're like most others with corporate or individual customers. In that case, you'll be fine using a diesel generator that is less expensive as well as easier to use and maintain.
Mikano generators: Factors responsible for price differences
Generally speaking, the cost for generators within Nigeria is based on the amount of energy they can provide. There is a possibility that a power generator with 650VA could cost as little as N15,000, while a 250KVA generator may be as high as N6.5m. Generator prices are not fixed nor unchanging since they could fluctuate with the influence of factors like the change in the exchange rate of currency market demand, the price of generators, the power they provide (KVA), and the place of purchase and power generator's capabilities. Set.
The cost of a Mikano generator is contingent on the degree of personalization. A soundproof generator is more expensive. Automation is another factor that adds to the price.
Advantages of Mikano Generators
Different capacities: Mikano generators are suitable for industrial and home use. Diesel generators suited for residential use have power capacities ranging between 9KVA and 150KVA, while industrial diesel generators can provide 150KVA up to 2000KVA. It is also possible to choose a gas-powered Mikano Generator with a capacity between 350KVA and 1250KVA.
A tropical adaptation: Generators from Mikano are Perkins generators (made in the UK). They have water-cooled engines and an adaptable radiator for our tropical climate.
Custom-made alternatives: If you'd like, Mikano can customize your generator to meet your individual needs. For instance, you could make your Mikano soundproof generators. A start/stop automatic feature and an automatic switchover to the system could also be included. If you need a synchronized method, Mikano will also assist with this.
Support after sales: Training could also be provided to the operators on Mikano Generator. Mikano Generator. Parts for service and spare parts are not a problem since they are readily available.
Things to take into consideration before purchasing a Mikano Generator
The model is the most crucial thing to consider when buying a suitable generator. But there are many other essential things to consider that could assist you in making an informed decision when buying.
Installation is simple:

The generator's location is crucial in determining which generator to buy. It is essential to inquire about where the generator would be placed. Is it used at church, home, hotel, office, or shop?

Capacity:

 The site of the installation will determine the power capacity that must be considered. What KVA is needed to fulfill the need for the installation? The KVA required for a business or hotel could differ from that needed for residential homes. In the case of low, medium, or large electronic generator sets, Mikano Generators meet all energy requirements.

Features:

 Knowing the specifics of a generator is essential before investing. Also called Generator rating, knowing these properties and how they impact their performance is critical in deciding on the right generator for the intended purpose. These ratings comprise output power, voltage, maximum power, the measured output frequency, type of fuel and recommended engine oil excitation technique, and many more.

Reviews and user feedback:

 You must conduct thorough market research before purchasing. Be aware that the more well-known an item is, the greater the number of impressions they are likely to receive.

Sellers who are authorized:

 Make it as easy as possible to purchase the Mikano Generator from reputable and reliable retailers with the receipt and warranty card to prevent purchasing imitation Mikano generators. If you buy or rent a used generator, ensure that you try it at the place of sale. Remember to keep track of any issues and ask the questions you need to ask.

Financial:

 The most significant element that determines your purchase choice is the purchasing power of your budget. What amount of money do you have to pay to purchase Mikano Generator? Mikano Generator? This can significantly assist in aiding you in making an informed purchase decision.
Prices of Other Generators in Nigeria
10KVA Generators & Prices

Jubaili Bros Generators

CAT Generators & Prices

Diesel Generators & Prices
60KVA Mikano Generator price in Nigeria
The current 60KVA Mikano Generator is priced from N4.9m between N4.9m and N5.2m (for models with the Perkins engine model) or N4.1m to N4.4m (for models based on the York engines model).
27 KVA Mikano Generator
There are currently no 29KVA generators from Mikano. The closest thing to a 27KVA generator is the 30-KVA Mikano generator. This is available for sale at N3m to N3.2m (for an engine option called the York engine choice) in addition to N3.5m and 4m (for the Perkins engine option). Perkins engine selection).
Mikano Generator Price (Jumia, Konga, etc. ): How Reliable?
Most Mikano generators and other accessories listings are available on Nigerian marketplaces online, like Jumia and Konga, our third-party suppliers. There's a good chance that you won't receive the most competitive prices from these vendors. If you want to get Mikano Generators for sale at the most affordable price (sometimes discounted), your best option is to contact Mikano directly.
Mikano Generator Spare Parts
Although Mikano generators are constructed of components that can last sufficiently to endure for long time without needing to be repaired, the truth is that they're not guaranteed to stay for a long time. To continue enjoying the benefits of your Mikano generator, you'll need to replace damaged parts as you need to. For high-quality Mikano generator spare parts, make contact directly with the manufacturer. Do not purchase spare parts from third-party sellers since you could buy an original product.
Mikano Generators Owner
An investor group likely owns Mikano. However, the best recognized key figure in Mikano is the Chief Executive Officer, Mofid Karameh, who is a Lebanese entrepreneur.