Industrial Sewing Machine Specification & Price in Nigeria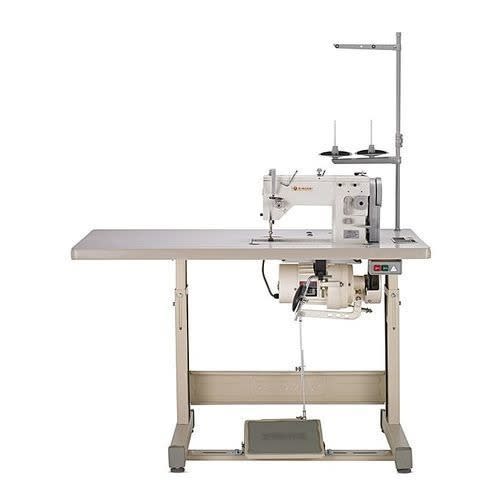 Since their introduction into the Nigerian Market, they've proven to be an effective machine for sewing clothes of different designs. It's no wonder why most pro fashion designers in Nigeria make use of industrial sewing machines; they make sewing faster, less stressful, easier, more cost-effective and can make better designs than any other methods of sewing.
The success encountered with the industrial machines in the fashion design market has attracted many sewing manufacturers. With regards to this, Nigeria is regarded as one of the largest sewing markets for sewing machines in Africa. Aside from the creativity of most Nigerian fashion designers, the industrial machine is to credit for the honorable position of Nigeria as the country with the best sets of fashion designers in Africa.
The interesting thing about these machines is that they are available in different size, styles, quality, prices, functionality, and, of course, specifications to cater to everyone including yourself. It doesn't matter whether you're just a beginner or already a pro, there's always a machine to meet your needs, skills, and budget.
With the huge number of industrial sewing machines on the market, this post aims at showcasing the specifications of the best industrial sewing machines so far to enable you to make the right choice.
Industrial Sewing Machine Specification & Price in Nigeria
Nigeria has one of the largest markets for industrial sewing machines in Africa, thanks to the constant huge demand. There are various types and classes of industrial sewing machines in the market today. While some are quite expensive, some others are relatively affordable.
When it comes to buying industrial sewing machines, your best bet is to go for a brand-new unit. It gives you peace of mind and establishes this freshness and ease in its operations. Most manufacturers even offer a warranty on their products, so you can easily return yours whenever you have issues with it.
Here, we will take a look at the prices of some popular brand-new industrial sewing machine brands in Nigeria.
Twolion industrial overlocking machine model TL 737 /747/757 == ₦155, 000 – ₦170, 000
Hudong industrial overlocking machine Model HD 737/747/757 == ₦160,000 – ₦170, 000
Emel industrial overlocking machine model EM 737 /747 /757 == ₦185,000 – ₦200, 000
Xiantypical direct drive overlocking machine model 737D/747D /757D == ₦165, 000 – ₦175, 000
Hudong direct drive industrial overlocking machine model HD 737D/747D/757D == ₦165, 000 – ₦175, 000
Emel industrial straight sewing machine model EM8500 == ₦160, 000 – ₦165, 000
Twolion industrial straight sewing machine model TL8500/8700 == ₦150,000 – ₦155, 000
Hudong industrial straight sewing machine model HD8500/8700 == ₦150,000 – ₦155, 000
Twolion Direct Drive industrial straight sewing model TL 9901D == ₦165, 000 – ₦175, 000
Twolion industrial coverstitch /taping machine modelTL500-2 == ₦235,000 – ₦245,000
Twolion industrial shirt buttonholing machine model TL781 == ₦550, 000 – ₦570, 000
Twolion industrial button attaching machine model TL373 == ₦230, 000 – ₦240, 000
Protex TY3300 heavy duty leather sewing machine == ₦200, 000 – ₦210, 000
Hudong industrial walking foot sewing machine model HD0303 == ₦190, 000 – ₦200, 000
Prices of Used Industrial Sewing Machines in Nigeria
The durability and ruggedness of industrial sewing machines make used versions of the sewing machine a safe option for buyers that cannot afford the brand new. Although you shouldn't expect perfect sleekness and freshness, you can still be guaranteed smooth operation and quality functionality.
Here are the prices of used industrial sewing machines in Nigeria. It should be noted that the condition of the sewing machine plays a huge part in the variation of the prices.
Twolion Direct Drive Industrial Sewing Machine === from ₦120,000
Sumo Premium Industrial Straight Machine === from ₦70,000
Emel Industrial Straight Sewing Machine === from ₦80,000
Twolion Industrial Straight Sewing Machine === from ₦85,000
Hudong Industrial Straight Sewing Machine === from ₦90,000
Brother Industrial Straight Sewing (Used) === from ₦90,000
Things to Consider When Buying Your Industrial Sewing Machine
After you must have concluded the type of sewing machine that best fits your needs, the next step is to choose how many and which type of feed mechanism you should purchase. Of course, industrial sewing machines that deliver numerous feed capabilities are more expensive than those that produce less. Here are the main types of feed mechanisms.
Drop Feed: Here, the feed mechanism lies below the machine's sewing surface and this type of mechanism is probably the most common type of feed mechanism.
Needle Feed: For this, the needle itself acts as the feed mechanism, which minimizes slippage and allows users to sew multiple layers of fabric at a time.
Walking Foot: Here, the immobile presser foot is replaced with a foot that moves with the feed. This allows for easier performance on thick, spongy, or cushioned materials.
Puller Feed: Here, the machine grips and pulls straight-seemed material as it is sewn. It can be performed on large heavy-duty items such as canvas tents.
Manual Feed: For this, you as the worker control the feed and you may decide to do delicate, personal work such as shoe repair, embroidery, and quilting. In fact, it is sometimes necessary to remove the feed dogs to obtain manual feed on industrial sewing machines.