How to Migrate to Mtn Yafun Yafun
Mtn Yafunyafun Sim Offer: Meaning, Benefits, Tariff and Dialing Codes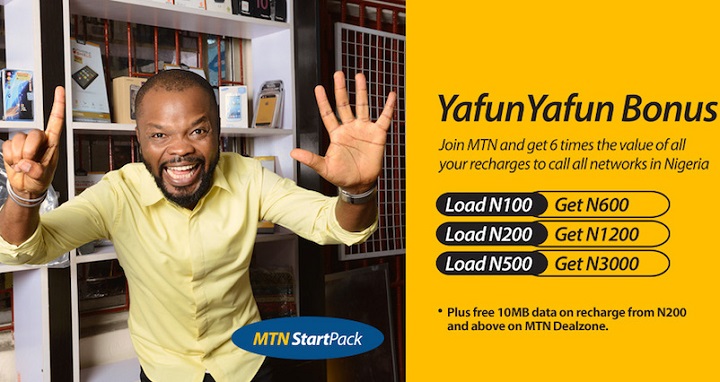 MTN has launched and introduced another offer called "MTN YAFUN YAFUN" that allows users to access free WhatsApp weekly Plus 8 times the recharge value. In addition, MTN YafunYafun SIM offer is a unique tariff plan that allows New MTN customers to enjoy the following benefits after registering and activating a new SIM:
Enjoy the MTN Yafun Yafun bonus when registering and activating your new SIM. Get a 700% bonus from every recharge from N100 above, a free N1000 voice and data bonus when you purchase a SIM, and more
Benefits Of Mtn Yafun Yafun
700% bonus on EVERY recharge of N100 and above.
Plus, free access to WhatsApp weekly
You can call, text, connect, and chat with the SIM. The SIM has much to offer regarding calling, especially when you are a frequent recharge customer.
The minimum recharge is N100; any recharges lower than that won't give any bonus. When you recharge N100, you get free N800 as credit plus free WhatsApp for that week.
What is the call rate for MTN Yafun Yafun?
Are you curious about the MTN Yafun Yafun plan's call rate? The MTN Yafun Yafun plan charges a 36k/sec call rate from your main account balance and a 77k/sec call rate from your bonus account balance.
You are thus charged;
36 kobo every second from the primary account.

7kobo per second from the bonus account.

SMS charges from the main account are ₦4 per SMS, whereas SMS charges from the bonus sum are ₦12.
Benefits of the MTN Yafun Yafun pricing package
A ₦1,000 SIM activation incentive, divided into ₦200 for data and ₦800 for airtime.

Every three-month data plan you buy comes with 100% data advantages.

A 700% bonus on all recharges of ₦100 or more (a 40% bonus on airtime and a 30% bonus on data).

10MB of additional data is free with the first monthly recharge.
How do I receive the 700% bonus on recharge on Mtn Yafun Yafun?
Recharge from N100 and above airtime value by dialing *555*digits PIN#, and you will automatically receive a 700% bonus credited to a dedicated account.
You can use the airtime bonus to make calls and send SMS to ALL Local Networks in Nigeria. You can browse the internet on the Pay As You GO rate with the airtime bonus.