Complete Guide: How to make Parfait in Nigeria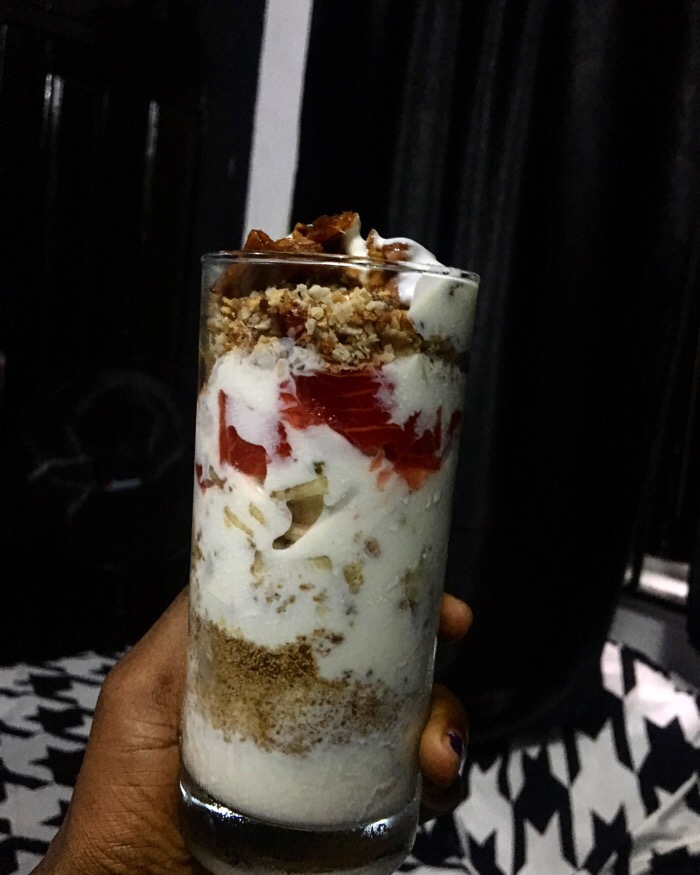 A parfait is a semi-frozen French dish made with boiled cream, eggs, and ice cream, which is then stacked with berries or fruit and sometimes granola.
Parfait is the French word for "perfect," and when you combine whole grains and fruit with yogurt to make a delicious breakfast or snack treat, you are perfecting yogurt's already significant health benefits.
A yogurt ice cream is typically made up of layers of yogurt, grains such as granola or crushed gram crackers, and fruit. It can be a healthy choice at fast-food restaurants and coffee shops if the fat and calories are low.
A breakfast parfait Calories is about 350 on average, with about 40 of those calories coming from fat but it also has 35 grams of sugar, 100mg of sodium, and about 66 grams of carbohydrates.
Complete Guide: How to make Parfait in Nigeria
This simple recipe can be made at home. The fruits used can be changed to suit your tastes, as can the quantities. This recipe can be topped with spiced nuts and dates for added sweetness and crunch.
Ingredients:
2 apples
1 cup of pineapple juice
1 pack of strawberries
1 cup granola
3 cups of yogurt
Honey (to keep it healthy) or sugar – optional
Parfait Recipe Method
Chop all of the fruits
add honey/sugar to the chopped fruits to make them sweeter.
To keep the granola crunchy, start with granola at the bottom and alternate each fruit (ingredient) to the top.
Add the granola to the bottom of each tall cup,
begin a new layer with followed by 1/3 cup of yogurt
Fill each cup halfway with granola, strawberries, and other fruits.
The crunch of each layered granola is best enjoyed once the parfait is made.
Nutritional Value of Parfait
A cup of parfait contains:
Calories——————157
Carbohydrates———-35g
Sugar——————–25g
Total Fat—————–1g
Fiber———————2g
Protein——————5g
Parfait and Weight Loss – Are parfaits good for weight loss?
That "healthy" yogurt parfait has enough sugar to last an entire day.
This fiber/protein combination provides a longer-lasting energy boost and helps to prevent hunger, making it ideal for weight loss because you won't be starving an hour after eating, as you would if you only eat carbohydrates, such as a bagel.
Healthy Parfait Recipes
Below is a list of 5 healthy yogurt parfaits:
Classic yogurt and mixed berry combination
Pineapple-coconut-Greek yogurt parfait:
Kiwi & Peach vanilla Yogurt parfait:
Citrus, berries & granola yogurt parfait:
Mango-papaya-ginger Yogurt parfait.
Healthy Parfait Recipes for Weight Loss
These 5 Parfait Yogurt Recipes are all packed full of protein and under 130 calories. These healthy parfaits are rich in protein and low in calories and good for weight loss.
Apple pie parfait
Kiwi banana parfait
Tropical coconut mango parfait
Strawberry yogurt parfait
Banana yoghurt parfait
Health Benefits of Parfait
Parfait is healthier when it contains no added sugars and is low fat or fat-free. Adding fruits, whole grains, honey, and other healthy ingredients will also increase the nutritional value of your parfait:
High protein content: Protein is required to maintain good health. It is required for cell division, muscle development, and tissue repair. Furthermore, protein is essential as you age because it helps maintain healthy skin and fight illness.
Parfait is a great way to increase your protein intake without eating a lot of meat.
High in vitamin B12: Parfait contains a lot of vitamin B12, which is necessary for energy and proper brain function. Many people take vitamin B12 supplements, but parfait is an effective and natural alternative.
Furthermore, because vegetarians frequently lack B12, which is found primarily in meats, parfait is an excellent meat-free way to supplement your diet.
High in potassium: 100 grams of yogurt parfait have 282 mg of potassium in them. Potassium is a vital mineral that plays an important role in the body. It assists in the regulation of fluid balance, muscle contractions, and nerve signals.
Consuming a high-potassium diet, such as parfait, can help lower blood pressure and water retention, protect against stroke, and lower the risk of osteoporosis and kidney stones.
The ideal post-workout beverage: Parfait can be a nutritious and enjoyable post-workout treat. It not only keeps you going until your next meal, but it also contains protein, which can aid in the repair of exercise-related damage.
Iodine-rich food: Greek parfait yogurt is high in iodine. Thyroid function is iodine dependent, so the thyroid is required for a healthy metabolism.
Other health benefits of parfait include:
Strawberry parfait is also high in vitamin C, which helps the immune system.
Parfaits are high in probiotics, which are microorganisms that support the digestive system.
Consuming parfait can help to reduce fat development in the body by introducing extra calcium into your diet.
Health benefits of Greek yogurt parfait
Both yogurts promote intestinal health, bone strength, and immunity but Greek yogurt contains twice as much protein as regular yogurt. Greek yogurt contains a lot of protein, which helps you feel full.
Other benefits of Greek yogurt parfait:
Less sodium
Fewer carbohydrates
Easy on the stomach
It is more useful
Less calcium.
Side Effects of Parfait
Although the ingredients in a parfait are generally nutritious, this drink contains a lot of needless sweets. Restaurants add sugar to enhance the flavor of a parfait.
The main ingredient; the yogurt: When it is fat-free and low in sugar, yogurt is a healthful and low-calorie food. However, the parfait you buy may be made with a creamy yogurt that tastes great but is high in fat, sugar, and calories.
Examine the fruit in your parfait more closely: You're good to go if it appears to be fresh. If it is swimming in a liquid, it is likely that sugar and syrup were added to flavor the fruit.
The crunchy, delectable topping: granola: Granola is made from nuts and grains; however, these healthy ingredients are commonly combined with sugar and high fructose corn syrup.
All of these can cause the following side effects:
Consuming two to three containers of yogurt each day might add 500 calories and over 100 grams of sugar to the daily diet. This can result in unwelcome weight gain and raise the risk of diabetes.
Past outbreaks of gastroenteritis have been linked to the usage of unpasteurized milk in yogurt.
Those who are allergic to milk may be unable to digest milk sugars, resulting in bloating, cramping, and possibly a skin rash.
FAQS
Is parfait healthy for pregnancy?
Yogurt can help with constipation, which is a common pregnancy side effect." A one-cup serving of yogurt also provides nearly half of your daily calcium needs; choose low-fat varieties to avoid extra calories.
For breakfast, lunch, or a midday snack, make yogurt parfaits with cut fruit and granola.
What is parfait made of?
In France, where the dish originated, parfait is made by heating cream, egg, sugar, and syrup together to make a custard-like puree.
The American version is composed of layers distinguished by the inclusion of ingredients such as granola, nuts, yogurt, and liqueurs, and is topped with fruits or whipped cream.
Are parfaits healthy on Reddit?
It appears to be quite good. A good source of protein, some fat (from the granola), and carbohydrates.
A parfait can easily contain 800 calories, making it unsuitable for weight loss. If you simply want to eat "healthier" and are replacing Pancakes,
Are parfaits healthy for you?
Yogurt parfaits can be a great source of energy for both your body and mind. Protein, fiber, natural sugars, and healthy fats keep you moving throughout the day.
Are parfaits healthy for breakfast?
Yogurt Parfaits are an excellent choice for a quick and healthy breakfast! They're high in protein, and delicious, and you can make them however you want.
Are Greek yogurt parfaits healthy?
Yogurt ice creams can be a great source of energy for both your body and mind. Protein, fiber, natural sugars, and healthy fats keep you moving throughout the day.
Are publix parfaits healthy?
Liberte employs whole milk yogurt in nine enticing flavors. The live, active cultures add a layer of depth to the flavor, which is punctuated by bold, real fruit.
Liberte also does not use gelatin, sugar substitutes, or preservatives. It is also free of gluten.
Are strawberry parfaits healthy?
For a quick breakfast, combine fresh strawberries, Greek yogurt, and crunchy granola.
A parfait can be as healthy as you want it to be! It all depends on what you're putting in your parfait recipe. A parfait's main ingredients are yogurt and granola.
Are granola parfaits healthy?
Fiber foods include yogurt and granola. It has a high fiber content, which provides numerous digestive benefits. As a result, it is the best way to maintain rapid digestion and avoid fat formation in the body.
Are McDonald's parfaits healthy?
Yes, it is. The Fruit cream is probably one of McDonald's healthiest menu options. This 150-calorie parfait is made with layers of low-fat vanilla yogurt, fresh blueberries and strawberries, and low-fat granola.
Are Starbucks parfaits healthy?
Yes, try Starbucks' berry trio parfait. For 240 calories and no saturated fat, top nonfat vanilla yogurt with sweet fresh berries and crunchy honey-oat granola.
The 2 grams of fiber and 14 grams of protein will also help you get through the morning.
Are yogurt parfaits healthy?
Yogurt ice cream is high in protein, low in cholesterol, and a good source of vitamins A, C, D, and B-12. Iron, calcium, and magnesium are also found in yogurt parfaits.
According to some studies, calcium from yogurt may be better absorbed by your body than calcium from other sources.
Are fruit parfaits healthy?
Yogurt ice cream is high in protein, low in cholesterol, and a good source of vitamins A, C, D, and B-12. Iron, calcium, and magnesium are also included in yogurt parfaits.
Are homemade yogurt parfaits healthy?
Yogurt ice creams can be a terrific source of energy for both your body and mind. Protein, fiber, natural carbohydrates, and healthy fats keep you moving throughout the day!
Discuss which foods are good for fuel as a family and devise a plan to incorporate them into your mealtimes.
Are breakfast parfaits healthy?
Yogurt ice cream can be a terrific source of energy for both your body and mind. Protein, fiber, natural carbohydrates, and healthy fats keep you moving throughout the day.
How many calories are in a fruit parfait?
Nutrition Information
Total Calories 379
Total Fat          9 g
Saturated Fat 2 g
Cholesterol 5 mg
How many calories are in a cup of parfait?
There are 332 calories in 1 cup of Fruit Parfait.
Is Greek yogurt good for weight loss?
Despite its high protein content, eating Greek yogurt alone is unlikely to increase calorie burn.
However, consuming Greek yogurt as part of a well-balanced diet rich in protein, fiber, and healthy fats may help with weight loss and metabolism.
Is parfait good for dinner?
This yogurt ice cream is a terrific after-school snack, but it's also a nice nutritious dessert option for after dinner. It's light, fresh, and packed with fruit, and you'll adore the crunch of toasted nuts in every spoonful.
How many calories are in a yogurt parfait with granola and fruit?
A 1 item (149.000g) serving size of Yogurt ice cream low-fat, with fruit and granola, contains 125 calories.
Are parfaits good for diabetics?
Ice creams, in particular, create a satisfying, nutritious lunch or snack that can be customized to be diabetes-friendly.
Most parfaits are constructed with layered yogurt, granola, and fresh or dried fruit, but they can also include nuts, seeds, spices, and chocolate nibs.
What is the serving size for a parfait?
Keep servings to less than 1 cup each serving. Make use of your favorite fresh fruit. If possible, avoid canned fruit because it might be heavy in sugar and low in fiber.
Is Chick-fil-A parfait healthy?
The Greek Yogurt ice cream has 110 calories per serving and is topped with fresh strawberries and blueberries. Chick-fil-A® is improving one of its most nutritious menu options.
In Conclusion
One of the primary advantages of yogurt ice cream is that it provides a portable and, most importantly, balanced mini-meal that is simple to make or purchase.
Much of the dish's health benefits stem from the fact that it is totally customizable, with your choice of yogurt, grain, and fruit.
Yogurt parfaits are healthy in part because they are simple to prepare. If you're short on time, toss in some unsliced blueberries or raspberries and enjoy them on the go.