Hisense, LG, Samsung, Sony, Sound Bar Specification & Price In Nigeria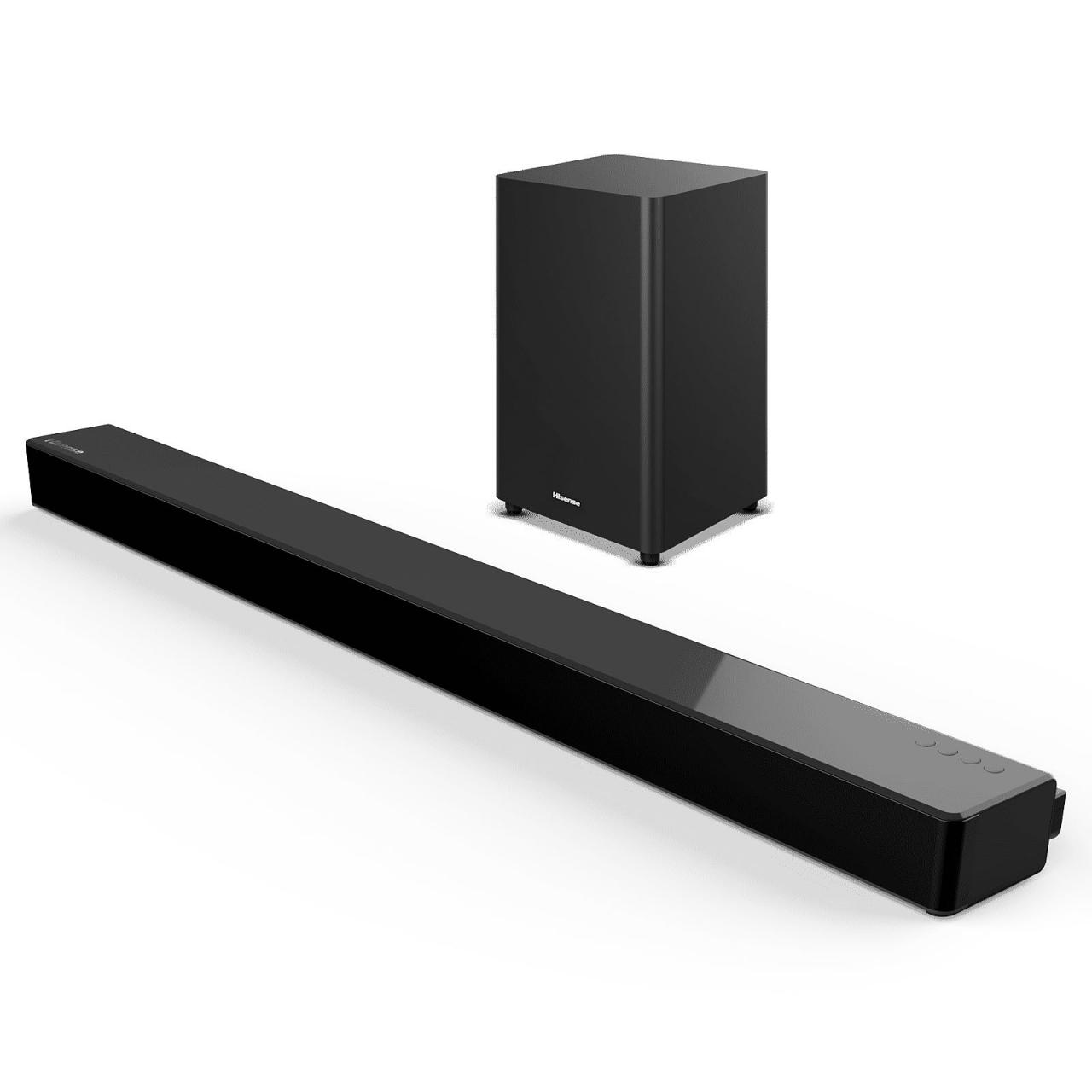 If you're looking for the current prices of soundbars in Nigeria, here's the right page. We'd be looking at various soundbars by different brands and what they presently sell for in the Nigerian market. More importantly, this post details the top soundbar brands in the market that you won't go wrong with. Read on to learn more.
Soundbars are becoming more and more popular in Nigeria due to the increasing rate at which Nigerians are buying flat screens (LED, OLED, 4K, etc.) TVs. One major downside of these televisions is their not-so-impressive sound output — no thanks to the flat panels, which cannot accommodate robust speakers.
With a soundbar connect to your TV, you can enjoy outstanding audio quality. Some soundbars even mimic 3D and surround sound.
Now, let's look at the current prices of soundbars in Nigeria.
How much is Hisense, LG, Samsung, Sony, Sound Bar  Price In Nigeria
Sony HT-CT80 Soundbar & Home Speaker == NGN140,000 – NGN145,000
Sony HT-CT290 Ultra-slim 300W Soundbar == N190,000 – NGN195,000
Sony 2-Channel Single Soundbar with Bluetooth == N118,000 – NGN130,000
Sony HT-RT3 Real 5.1 Channel Dolby Digital Soundbar == N260,000 – NGN270,000
LG 2.1 Channel Bluetooth Soundbar (with wireless subwoofer) == N68,000 – NGN75,000
LG 360W Wireless High Resolution Soundbar (with subwoofer) == N98,000 – NGN120,000
LG Audio SK5R Soundbar == N170,000 – NGN195,000
LG SJ9 5.1.2 Channel High Resolution Soundbar == N270,000 – NGN290,000
LG 5.1.2 Channel 500W High Resolution Audio Soundbar == NGN355,000 – NGN380,000
LG SK9Y 5.1.2 Channel 500W Audio Soundbar == N220,000 – NGN250,000
Samsung 2.1 Channel 200W Wireless Soundbar (2017 model) == NGN130,000 – NGN150,000
Solo 5 TV Soundbar System == N180,000 – N190,000
Scanfrost Soundbar SFSB3100P/LY (with subwoofer) == NGN45,000 – N48,000
Scanfrost Soundbar SFSB3100C/LY-S201 == N22,000 – N25,000
Anker Infini Wireless Soundbar == N110,000 – N120,000
Hisense Soundbar (2.0 Channel, HDMI, Bluetooth, etc) == NGN119,000 – NGN130,000
Hisense HS201c1 Soundbar == NGN32,000 – NGN45,000
Hisense Bluetooth 2.1 Channel Soundbar == N70,000 – NGN85,000
XGODY Slim TV Speaker Soundbar == NGN12,000 – NGN15,000
Havit Bluetooth Soundbar & Speaker == NGN34,000 – NGN40,000
F & D T180x Wireless Bluetooth Soundbar == NGN57,000 – NGN65`,000
F & D t388 Soundbar & Bluetooth Speaker == NGN85,000 – NGN135,000
Best Soundbar Brands to Choose From
LG Sound Bar 
LG is one of the top market players when it comes to soundbars. The Korean giant offers a wide range of models that are generally pocket-friendlier than equivalent offers by other major brands. LG soundbars come packed with DTS Virtual X, which almost perfectly simulates 3D sound in a 2.1 speaker arrangement.
LG's 2019 line-up of soundbars is even more impressive than the brand's previous models. The SL9YG and SL10YG won the 'Best of Innovation' award at CES 2019. Designed in collaboration with Meridian Audio, these latest LG soundbars can mix two-channel audio to multiple separate channels and still maintain tonal balance without distorting the output. They support both DTS:X and Dolby Atmos.
Another impressive aspect of LG's latest soundbars is that they come with AI smart connectivity and built-in Google Assistant for voice recognition. So, you can control them with your voice without moving an inch.
Samsung Sound Bar  Specification 
Samsung is a widely known brand for everything that reeks of top quality and innovation. Although the South Korean brand are more popular for their smartphones and TVs, they also have a good number of soundbar models to their credit. And as is expected, their soundbars are great!
Samsung soundbars are available in 2.1 and 5.1 varieties. While some of them come with a wireless subwoofer, others come with their subwoofers built in.
Sony Sound Bar Specification 
Although the Japanese tech giant Sony hasn't really enjoyed much recognition in the soundbar market (probably due to their huge prices), those in the know would always acknowledge that the brand has mastered the art and science of creating impressive sound systems.
While Sony soundbars are usually feature-packed, they come at far higher prices than equivalents offers by the competition. But one thing is certain — you'd get more from them than their monetary value. One of the brand's finest soundbars is the Sony HT-ST5000, which once won a 'What Hi-Fi' award for its features and superb output.
Yamaha Sound Bar Specification 
Chances are you've seen Yamaha's keyboards and other products in their range of musical instruments. The company has transferred its huge experience with sound production devices into the production of high quality soundbars. Yamaha soundbars come at different price points ranging from a few hundred thousand naira to over NGN450,845 This explains why there's a Yamaha soundbar to go with any type of TV.
The Yamaha YAS-207 is one of the brand's finest soundbars. Its wide acceptance in the market drives home the fact that Yamaha isn't just about musical instruments.