Hisense 43 Inch Tv Specification & Price in Nigeria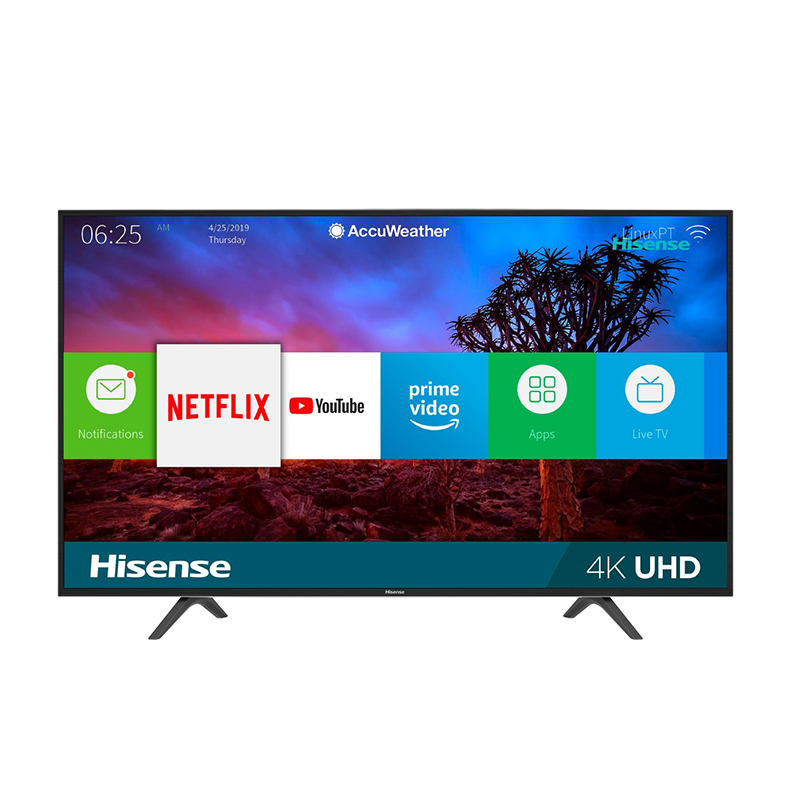 Hisense might not be the first name on your list regarding standout television brands, but it surely rates among the best. Amazingly, the relatively new electronic brand has competed with the heavyweights in the market and has successfully established itself among the best. Talk about excellent picture quality; talk about the brilliant sound output. Hisense has so far proven to be worth the hype.
Hisense introduces a brand of classy and high-tech TVs that offer almost everything you'd want in a television. They are reliable and strong and, if maintained properly, can be used to the highest efficiency for a long time. Style is one thing you cannot take away from this brand. Their constant creativity and innovation have been widely accepted in the Nigerian market. Although you still can't place them in the bracket of the LGs and Samsungs of this world in terms of market, Hisense TVs are gradually building their market and working their way into the hearts of gadget lovers. With their output quality and lovely designs, it is only a matter of time before they are regarded among the top brand's TV brands in Nigeria.
Here, we will look at the prices of the brand's 43 inches televisions and why they rate among the best in the category.
Hisense 43 inches TV prices in Nigeria
Like many other top-rated brands, Hisense Televisions are available in different types. They range from basic LED TVs to more sophisticated Smart TVs with varying viewing experiences. They come in Full HD, UHD, 4K TV, and many more.
Based on the current valuation of televisions in the Nigerian market, the basic Hisense 43 inches LED television can be purchased for anything between NGN120,000 and N140,000. In comparison, the 43 Inches smart TV version goes for anything between NGN130,000 and Ngn185,000 depending on the place of purchase and, in some cases, the purchase period.
Hisense 43 inches LED TV: NGN120,000 – N140,000
Hisense 43 inches Smart TV: NGN130,000 – NGN180,000
Due to the global unease due to the pandemic, which has limited the rate of importation of gadgets into the country, one should expect a slight increase in the prices of some of these products. However, as highlighted above, we do not expect the price variation to be significant.
Hisense 43 inches televisions can be purchased from various Hisense outlets and electronic gadget stores across the country. For ease, one can also purchase the gadgets from various eCommerce websites within and outside the country. If you are ordering online, you can expect delivery within 5 to 20 working days, depending on where you are ordering from.
Things you will like about Hisense 43 inches TV
Brilliant Picture Quality: Hisense entered an already competitive electronic market with one clear objective – to manufacture top-class products that compete with the heavyweight and ensure that they are cheaper than the big names. One of the easiest ways to achieve this was to launch televisions with brilliant picture quality that are among the best in the market. The 43 inches TV offers an even better viewing experience than many others, mainly because of its commanding presence and overall view. You can sit anywhere in the sitting room and watch the television easily; of course, it feels even better with the great picture quality.
Startling Sound Quality – Generally, a bad sound quality nullifies the effect, and positivity great picture qualities bring, except you are using an external speaker. In fact, the overall viewing experience is incomplete without a great sound output quality. Another notable advantage of the Hisense 43 inches TVs is that the gadgets feature great sound quality that delivers smoothly without external sound systems.
Relatively Affordable: When it comes to top-class televisions, Hisense products are among the most affordable. It is important to note that while Hisense televisions are not the most affordable in the gadgets market in Nigeria, they rate among the best-priced products when one compares the quality and overall delivery to the prices. Compared with LG and Samsung, Hisense televisions, especially the 43 inches televisions.
Energy Saver: One advantage Hisense televisions have over most other TV brands is that most of their televisions are energy savers. Unlike other televisions, putting on the TV and leaving it on does not significantly tell the power consumption rate as they are largely ignorable regarding power usage. This helps further cut power usage costs.
Durable: One of the main reasons brands like Samsung and LG are among people's top choices is that their products are very reliable and can be used for a long time. Hisense has joined this lane as its products have also been tested and trusted. You can use the TVs for a very long time without any issues, provided they are maintained well.
Things you may not like about Hisense 43 inches TV
Limited Application Support – There is not much application support for smart TVs, unlike many other Smart TV brands like Samsung and LG. While apps like the popular Windows Media Player are only marginally supported, some apps might not work so well on television. This is a big letdown, as loads of customers and fans would have expected more. In fact, launching some of the applications that are not totally supported might result in the TV to stutter, which will affect the delivery and functionality of the application.
No Super-fast Processor – While the processor is relatively okay, it is not super-fast enough to compete with other highly rated smart TV brands. Due to this, the overall experience might be largely based on the type of application you are running on the television at that particular time.
Wi-Fi Difficulty – Some customers have complained that the Hisense 43 inches smart TV can sometimes be challenging when connecting with Wi-Fi. It can be difficult to connect to external Wi-Fi, which can be a problem for users looking to connect their Smart TVs to the internet.
The Hisense 43-inches televisions are among the best in their respective categories in the TV industry today and serve as great alternatives to more expensive brands.