Bedside Mini Fridge Specification & Price in Nigeria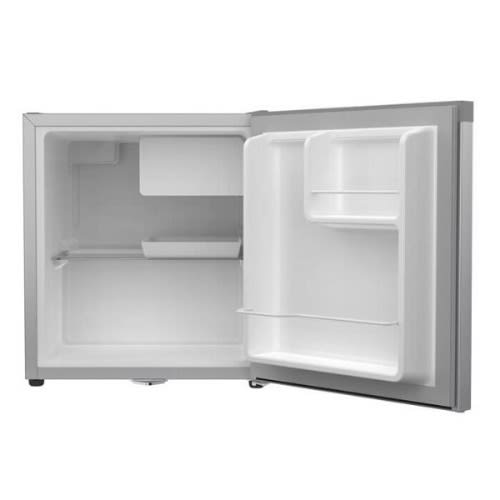 What are the best Mini Refrigerators and their prices in Nigeria?
Food preservation is essential in today's world. It is also important to drink cold water on hot days. We'll show you the best  Bedside Mini Fridges and refrigerators you can buy in Nigeria.
A mini refrigerator has many benefits. It doesn't take up much space. They can be placed on tables, which is why they are called tabletop refrigerators. It consumes less energy than other types of fridges.
These Articles will show you a list of mini refrigerators in Nigeria and will show you the benefits and disadvantages of each model. This will allow you to make informed decisions when buying your bedside Mini Fridge.
25 best Bedside Mini Fridge Specification & Prices in Nigeria
Bruhm Mini Refrigerator BRS 50 – Silver
Polystar SMALL REFRIGERATOR PVSF-176WL
Midea Single Door Refrigerator HS-65L(BF 17)
Samsung Single Door Fridge(RR21J3146VL)
Midea Table Top Single Door Bar Fridge – 65Litres
Bruhm Refrigerators 100 Litres – BRS C100 Red
Hisense Single Door Fridge – 100L – REF100DR
Restpoint Ice Cream Display Freezer RP-150SDC
Polystar Bedside Mini Refrigerator – PV-T78LB
Polystar Refrigerator (PV-T78LB)
LG One Door Refrigerator REF 051 SA
HISENSE 45L Refrigerator REF 046 DR
Syinix Single Door Refrigerator – FD065AF0
Nexus NX-65 Mini Single Door Fridge
Syinix 93Litres Single Door Bedside Refrigerator FD120AF01
Restpoint Table Top Fridge RP-137
Skyrun BD155HW Chest Freezer – 155Litres
Samsung Single Door Fridge Metal Graphite 212 Ltrs RR21J3146SA
Skyrun Super Fast Freezing Bed-Side Refrigerator BCD 50MY 50L
Freezeclime Bedside Refrigerator
LG Single Door Refrigerator GC-131S
Haier Thermocool HT REF 1DOOR DCOOL 107- SLV
Nexus Fridge Double Door NX-130 87Ltr
Scanfrost Single Door REFRIGERATOR SFR 50
Scanfrost SFR92 Single Door Fridge GREY
Syinix Single Door Refrigerator – FD065AF0

Price
₦ 39,500
Color
Silver
Refrigerator Type
Chest Freezer
Energy Rating
5 Star
Capacity
48 Litres
Weight
20 Kilograms
Door Lock
Yes
Temperature Control
Yes, Knob
Warranty
1 Year
Other Features
Convenient lock and key, LED Interior lighting, Fast action
Pros
Energy Efficiency, Affordable
Cons
NA
Nexus NX-65 Mini Single Door Fridge

Price
₦ 38,480
Color
Wood Finish and Silver
Refrigerator Type
Mini Single Door
Energy Rating
4 Star
Capacity
48 Litres
Weight
14 Kilograms
Door Lock
Yes
Temperature Control
Yes, Knob
Warranty
2 Years
Other Features
Sleek Design, Interior LED Lamps
Pros
Low power usage
Cons
NA
Syinix 93Litres Single Door Bedside Refrigerator FD120AF01

Price
₦ 58,200
Color
Silver
Refrigerator Type
Single Door Fridge
Energy Rating
4 Star
Capacity
93 Litres
Weight
15 Kilograms
Door Lock
Yes
Temperature Control
Yes, Knob
Warranty
1 Year
Other Features
Convenient Wheels, Lock and Key
Pros
Energy Efficiency, Mini Freezer Zone, Interior Light
Cons
NA
Restpoint Table Top Fridge RP-137

Price
₦ 65,400
Color
White
Refrigerator Type
Single Door Mini Fridge
Energy Rating
5 Star
Capacity
133 Litres
Weight
20 Kilograms
Door Lock
Yes
Temperature Control
Yes, Knob
Warranty
1 Year
Other Features
Interior Lighting
Pros
Low power use, Large capacity
Cons
NA
Skyrun BD155HW Chest Freezer – 155Litres

Price
₦ 71,000
Color
White
Refrigerator Type
Chest Freeze
Energy Rating
5 Star
Capacity
155 Litres
Weight
40 Kilograms
Door Lock
Yes
Temperature Control
Yes, Knob
Warranty
1 Year
Other Features
Anti rust protected, Low noise operation
Pros
100 hours freezing capacity
Cons
None
Samsung Single Door Fridge Metal Graphite 212 Ltrs RR21J3146SA

Price
₦ 145,000
Color
Silver
Refrigerator Type
Energy Rating
5 Star
Capacity
212 Litres
Weight
25 Kilograms
Door Lock
Yes
Temperature Control
Yes, Knob
Warranty
1 Year
Other Features
Anti-fungal door gasket, LED lighting, Rust resistant body
Pros
Stabiliser free operation, Toughened glass shelves, Direct cooling
Cons
NA
Skyrun Super Fast Freezing Bed-Side Refrigerator BCD 50MY 50L

Price
₦ 38,000
Color
Wood Finish
Refrigerator Type
Mini Bed Side Fridge
Energy Rating
5 Star
Capacity
50 Litres
Weight
16 Kilograms
Door Lock
Yes
Temperature Control
Yes, Knob
Warranty
3 Years
Other Features
Super fast freezing,
Pros
Low energy consumption, Anty-rust body
Cons
NA
Freezeclime Bedside Refrigerator

Price
₦ 37,100
Color
White
Refrigerator Type
Single Door
Energy Rating
5 Star
Capacity
50 Litres
Weight
15 Kilograms
Door Lock
Yes
Temperature Control
Yes, Knob
Warranty
1 Year
Other Features
Adjustable feet, Adjustable thermostat
Pros
Maximum Utility, Energy Class A
Cons
NA
LG Single Door Refrigerator GC-131S

Price
₦ 48,950
Color
Silver
Refrigerator Type
Single Door Fridge
Energy Rating
4 Star
Capacity
100 Litres
Weight
25 Kilograms
Door Lock
Yes
Temperature Control
Yes, Knob
Warranty
1 Year
Other Features
Polyurethane-insulated cabinet, Built-in freezer compartment
Pros
Ice-tray, Low Power Consumption
Cons
NA
Haier Thermocool HT REF 1DOOR DCOOL 107- SLV

Price
₦ 49,700
Color
Silver
Refrigerator Type
Single Door Refrigerator
Energy Rating
5 Star
Capacity
90 Litres
Weight
18 Kilograms
Door Lock
Yes
Temperature Control
Yes, Knob
Warranty
1 Year
Other Features
Anti Rust
Pros
Low energy use
Cons
NA
Nexus Fridge Double Door NX-130 87Ltr

Price
₦ 73,000
Color
Black
Refrigerator Type
Mini Double Door Fridge
Energy Rating
5 Star
Capacity
87 Litres
Weight
25 Kilograms
Door Lock
Yes
Temperature Control
Yes, Knob
Warranty
1 Year
Other Features
Easy to clean interior, Fast Freezing Function, Separate Chillar Compartment
Pros
High Efficiency Compressor, Mechanical Temperature Control
Cons
NA
Scanfrost Single Door REFRIGERATOR SFR 50

Price
₦ 45,470
Color
White
Refrigerator Type
Single Door Fridge
Energy Rating
5 Star
Capacity
50 Litres
Weight
16 Kilograms
Door Lock
Yes
Temperature Control
Yes, Knob
Warranty
1 Year
Other Features
Lockable with key, Reversible Door, Direct Cool Refrigerator
Pros
Affordable price, Electricity use
Cons
NA
Scanfrost SFR92 Single Door Fridge GREY

Price
₦ 59,600
Color
Silver
Refrigerator Type
Single Door Fridge
Energy Rating
4 Star
Capacity
92 Litres
Weight
22 Kilograms
Door Lock
Yes
Temperature Control
Yes, Knob
Warranty
1 Year
Other Features
SEPARATE VEGETABLE TRAY, Inbuilt Interior Lighting
Pros
Cheap Price, Low Energy use
Cons
NA
Bruhm Mini Refrigerator BRS 50 – Silver

Price
₦38,000
Color
Silver
Refrigerator Type
Mini Single Door
Energy Rating
4 Star
Capacity
47 Litres
Weight
10 Kilograms
Door Lock
Yes
Temperature Control
Yes, Knob thermostat
Warranty
1 Year
Other Features
Adjustable Legs, Mechanical Control
Pros
Low power use, Direct Cooling
Cons
None
Polystar SMALL REFRIGERATOR PVSF-176WL

Price
₦ 55,000
Color
White
Refrigerator Type
Singe Door
Energy Rating
4 Star
Capacity
176 Litres
Weight
21 Kilograms
Door Lock
Yes
Temperature Control
Yes, Knob
Warranty
1 Year
Other Features
LED Lighting, Fast Freeze
Pros
Low energy usage, Stylish Design
Cons
NA
Midea Single Door Refrigerator HS-65L(BF 17)

Price
₦ 45,000
Color
Silver
Refrigerator Type
Single Door
Energy Rating
4 Star
Capacity
50 Litres
Weight
15 Kilograms
Door Lock
Yes
Temperature Control
Yes, Knob
Warranty
1 Year
Other Features
Reversible Door, Energy Saving, Interior Light, Adjustable Leg
Pros
Low power usage, Good design
Cons
NA
Samsung Single Door Fridge(RR21J3146VL)

Price
₦ 86,000
Color
Pebble Blue
Refrigerator Type
Single Door
Energy Rating
5 Star
Capacity
192 Litres
Weight
28 Kilograms
Door Lock
Yes
Temperature Control
Yes, Knob
Warranty
2 Years
Other Features
tempered glass, stabilizer free
Pros
Low power usage, Premium design, Affordable price
Cons
None
Midea Table Top Single Door Bar Fridge – 65Litres

Price
₦ 45,000
Color
White
Refrigerator Type
Mini Table Top Fridge
Energy Rating
4 Star
Capacity
65 Litres
Weight
20 Kilograms
Door Lock
Yes
Temperature Control
Yes, Knob
Warranty
1 Year
Other Features
Mechanical Temperature Control, Recessed Handle, Adjustable Leg, Attractive Finishing
Pros
Low energy use, Premium design, Anti rust
Cons
NA
Bruhm Refrigerators 100 Litres – BRS C100 Red

Price
₦44,660
Color
Red
Refrigerator Type
Single Door Mini Refrigerator
Energy Rating
4 Star
Capacity
100 Litres
Weight
35 Kilograms
Door Lock
Yes
Temperature Control
Yes, Knob
Warranty
1 Year
Other Features
Hidden Hinges, Integrated Door
Pros
Modern Design, Low Power Consumption, Defrost Button
Cons
Some people might not like color red
Hisense Single Door Fridge – 100L – REF100DR

Price
₦ 48,300
Color
White
Refrigerator Type
Single Door Fridge
Energy Rating
5 Star
Capacity
100 Litres
Weight
36 Kilograms
Door Lock
Yes
Temperature Control
Yes, Knob
Warranty
1 Year
Other Features
Manual defrost adjustment, Enviroment-Friendly
Pros
Low Noise
Cons
NA
Restpoint Ice Cream Display Freezer RP-150SDC

Price
₦ 94,800
Color
Blue
Refrigerator Type
Ice Cream Display
Energy Rating
5 Star
Capacity
150 Litres
Weight
29 Kilograms
Door Lock
Yes
Temperature Control
Yes, Knob
Warranty
1 Year
Other Features
UNIVERSAL CASTOR, BIG TOP LAMP
Pros
KEY & LOCK, Toughened Glass, Cheap Price
Cons
None
Polystar Bedside Mini Refrigerator – PV-T78LB

Price
₦ 38,890
Color
Black
Refrigerator Type
Mini Single Door Fridge
Energy Rating
4 Star
Capacity
78 Litres
Weight
15 Kilograms
Door Lock
Yes
Temperature Control
Yes, Knob
Warranty
12 months
Other Features
Energy Class A, Reversible door (Left or Right swing), Adjustable feet
Pros
Adjustable thermostat, Stylish, Affordable price
Cons
None
Polystar Refrigerator (PV-T78LB)

Price
₦ 39,800
Color
Black
Refrigerator Type
Single Door Mini Fridge
Energy Rating
4 Star
Capacity
78 Litres
Weight
15 Kilograms
Door Lock
Yes
Temperature Control
Yes, Knob
Warranty
1 Year
Other Features
Zintec coated anti-rust, Manual defrost
Pros
Fast Freezing function, fully tropicalized, Affordable price
Cons
NA
LG One Door Refrigerator REF 051 SA

Price
₦ 48,500
Color
White
Refrigerator Type
Single Door Fridge
Energy Rating
4 Star
Capacity
46 Litres
Weight
15 Kilograms
Door Lock
Yes
Temperature Control
Yes, Knob
Warranty
1 Year
Other Features
Ice Tray, Key, and Lock
Pros
Low power use, Premium design
Cons
None
HISENSE 45L Refrigerator REF 046 DR


Check This Latest Price
Price
₦ 46,000
Color
Silver
Refrigerator Type
Mini Fridge
Energy Rating
5 Star
Capacity
45 Litres
Weight
20 Kilograms
Door Lock
Yes
Temperature Control
Yes, Knob
Warranty
1 Year
Other Features
Convenient Wheels, Low noise, No frost, Lock, and Key
Pros
Low Power Use
Cons
None
Bedside Mini Fridge Specification & Price in Nigeria
| Mini Refrigerator | Price |
| --- | --- |
| Syinix Single Door Refrigerator – FD065AF0 | 39,500 Naira |
| Nexus NX-65 Mini Single Door Fridge | 38,400 |
| Syinix 93Litres Single Door Bedside Refrigerator FD120AF01 | 55,500 |
| Restpoint Table Top Fridge RP-137 | 67,000 |
| Skyrun BD155HW Chest Freezer – 155Litres | 69,000 |
| Samsung Single Door Fridge Metal Graphite 212 Ltrs RR21J3146SA | 145,000 |
| Skyrun Super Fast Freezing Bed-Side Refrigerator BCD 50MY 50L | 37,000 |
| LG Single Door Refrigerator GC-131S | 47,650 |
| Scanfrost Single Door REFRIGERATOR SFR 50 | 44,480 |
| Bruhm Mini Refrigerator BRS 50 – Silver | 37,000 |
| Polystar SMALL REFRIGERATOR PVSF-176WL | 49,000 |
| Samsung Single Door Fridge(RR21J3146VL) | 86,000 |
| Midea Table Top Single Door Bar Fridge – 65Litres | 35,000 |
| Bruhm Refrigerators 100 Litres – BRS C100 Red | 39,990 |
| Hisense Single Door Fridge – 100L – REF100DR | 40,700 |
| Polystar Bedside Mini Refrigerator – PV-T78LB | 37,008 |
| LG One Door Refrigerator REF 051 SA | 46,200 |
| HISENSE 45L Refrigerator REF 046 DR | 38,700 |