Ace of Spades Specification & Price In Nigeria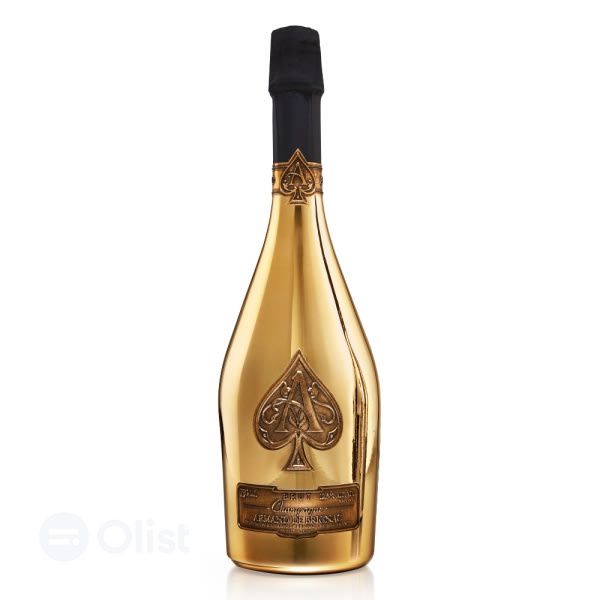 Formally known as Armand de Brignac, the champagne got its "Ace of Spades" nickname from its logo which is the same as the symbol on the playing card. The champagne is a tête de cuvée that comes in opaque metallic bottles, and is strategically marketed to gratify the taste of luxury life
How Much is Armand De Brignac Price in Nigeria
Ace of Spades champagne, also called Armand de Brignac, is an esteemed Cuvee brand. The Armand de Brignac prestige Cuvee labeling is in four different types. However, the two types of commercially available Armand de Brignac Prestige Cuvee in Nigeria are Ace of Spades Gold and Ace of Spades Rose. They are both non-vintage brut champagnes.
Ace of Spades Rose
This luscious champagne has notes of slivered almonds, currants, orange peel, fleur de sel, black cherry fruit, star anise, and strawberry flavor. It has a vibrant and lasting finish. The Ace of Spades Rose is a powerful and elegant blend of 10% Chardonnay, 50% Pinot Noir, and 40% Pinot Meunier. The bouquet is distinct, clear, and fruity.
This champagne is sold in opaque metallic bottles produced by the Cattier house. It is matured over many years on the second lees, thereby creating its intense and well-structured quality.
Average price
Armand De Brignac (Ace of Spade Rose)
Unit Price (one 75 CL bottle): ₦383,260
75CL (x6 Bottles): ₦2,559,570
Like most products, it is cheaper to buy this champagne in bulk.
Ace Of Spades Gold
The Ace of Spade Gold is a blend of 20% Pinot Meunier, 40% Pinot Noir, and 40% Chardonnay. It has flavors of ripe fruit, toast, and matured brioche. It is elegant and fresh to taste, with apple blossom and spice notes. The gold brut has nuanced flavors of spun honey, ripe white cherry, citrus acidity, and whole-grain toast. It is well balanced with the richness of apple and lemon fruit.
The bottle is covered in gold foil and is wrapped in a metallic gold, hand-polished bottle, which enhances its beauty.
Average price
Armand De Brignac (Ace of Spade Gold)
Unit Price (one 75 CL bottle): ₦238,550.00
75CL (x6 Bottles): ₦1,368,980.00
It is also cheaper to buy this champagne in bulk, like most products.
Best Ways to Drink Ace of Spades
Ace of Spades (the Armand de Brignac Champagne) is a product of the Cattier family from France. You can easily spot them in stores by their unique designs with Ace of Spades labels. The Cattier family started the winery and produced a line of products during the 1940s and 1950s.
The Best Ways to Drink Ace of Spade Champagne
There is undoubtedly a conventional way to go about drinking every quality champagne, and the same applies to the Ace of Spades. The Armand de Brignac Champagne manufacturers recommend a serving temperature of 6–8°C. This can be achieved by putting the bottle in an ice bucket for about 30 minutes or in the refrigerator the night before. Use a tulip-shaped glass or flute and ensure it is less than two-thirds full.
Drink with specific dishes
The Ace of Spade champagne is perfect for a wide range of cuisine, from baked desserts to a rack of seared scallops and lamb, spicy foods, and pastries. Each bottle of this brand is ideal for peculiar dishes, from a light dessert to a full-course meal or an appetizer.
Drink at cocktail parties
Ace of Spades Champagne is perfect for cocktail parties. It is a great wine to create your preferred mimosa drink. It is ideal for corporal events and special occasions and is usually opened when celebrating a new milestone, anniversary, or engagement.
Leisure drink
It is an excellent wine to buy and keep in your home cellar for years, especially if you love to invest in a line of champagne products to enjoy in the future.
Perfect for mimosa beverage
The Ace of Spades Gold Brut is one of the best picks for the mimosa beverage. It is the perfect option for your next vacation with family or friends, special occasion, or weekend brunch.
Many prefer to enjoy one of the Ace of Spade's champagne drinks on its own, especially at corporal events. However, you may want to have more than one brand of Ace of Spades for guests to choose their favorite type or create their mimosa.