Infinix Note 8 Price In Nigeria & Mobile Specs
Infinix note 8 price in Nigeria slot is NGN 94,554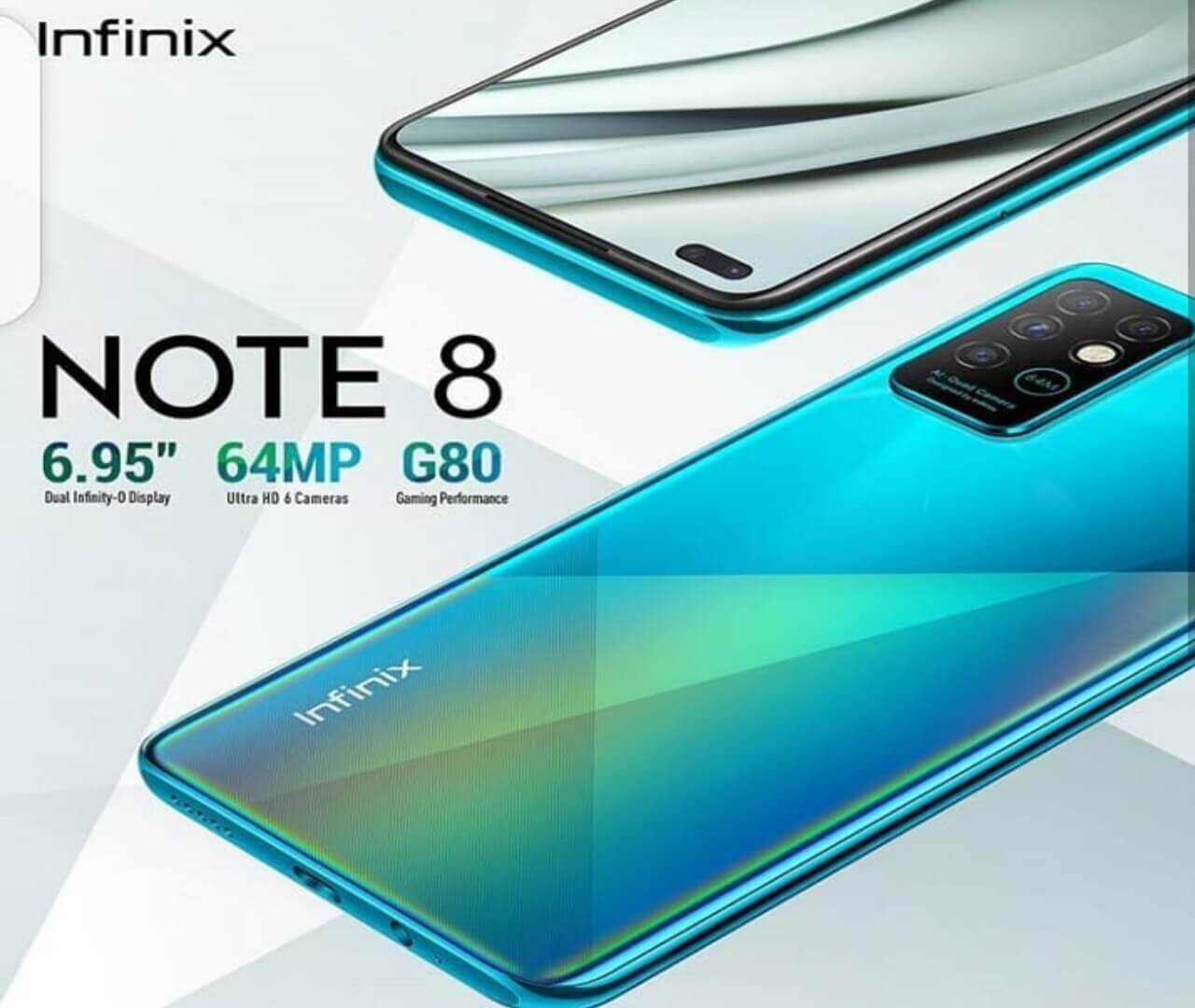 Infinix introduced the successor to its Note 7, the Infinix Note 8, a few months ago. The reasonably priced flagship device aims to deliver quality gaming with a gigantic 6.95-inch display while staying in the budget price range.
With a huge screen, a gaming-centric chipset, AI quad cameras, a large battery and fast charging support, the smartphone sounds like a pretty good package for $200 – on paper. I put the device to the test to evaluate the real-life performance and value of Note 8.
This review shall look at the global variant of the phone. Let's dive into it!
Specs
| | |
| --- | --- |
| Display | 6.95 inches, IPS LCD, 720 x 1640, 258ppi, 20.5:9 |
| Weight | 200g |
| CPU | Mediatek Helio G80 |
| GPU | ARM Mali G52 MP2 |
| Camera | 64MP wide + 2MP AI + 2MP macro + 2MP depth, Front – 16MP + 2MP depth |
| Video capture | 2K at 30fps |
| Dimensions | 175.3×78.76×8.95mm |
| RAM | 6GB |
| Storage | 128GB, expandable up to 2TB |
| NFC | No |
| Ports | USB 2.0 Type-C, 3.5mm audio |
| Battery and charging | 5,200mAh, 18W fast charging |
| Material | Plastic |
| Colour | Blue |
| Price | $150 and NGN 94,554 |
Design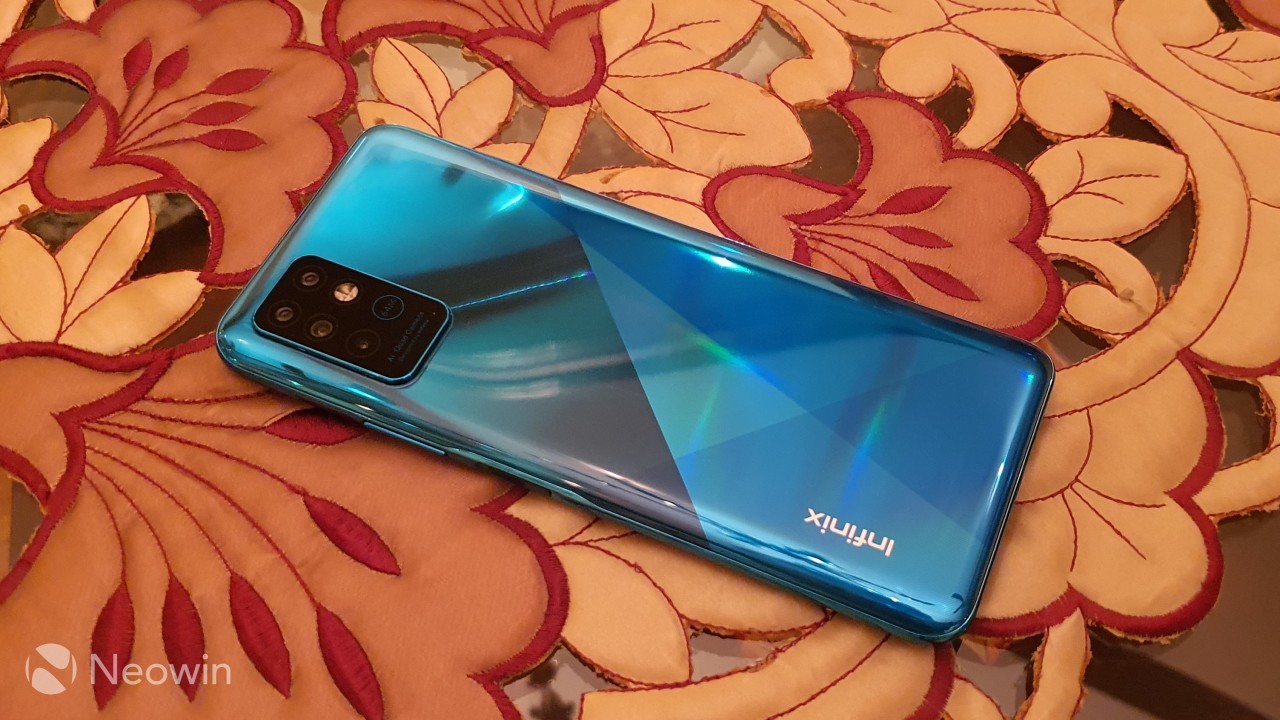 The Infinix Note 8 has a plastic body with a nice, angular design on the back and a holographic finish. Thanks to the design, the plastic material isn't very obvious and unless you touched it, you would assume it had a metal back. It's available in three colours: teal, grey and blue. As you can see, I got the teal variant. I really liked the sharp lines and the play with different shades on the back. There's a transparent silicone case in the box.
The materials and textures of the phone are nice to hold but the glossy back is prone to fingerprint and dust marks which can be a problem for many. I found myself constantly cleaning the phone and eventually gave up and just put it in the silicon case.
On the right side of the phone, there's a side-mounted fingerprint sensor that doubles as a power button and volume controls. The left side of the device houses the SIM tray, with enough space for two SIM cards and also a microSD card at the same time. This was an unexpected feature as most dual-SIM phones don't allow you to use two SIMS and a microSD card all at once.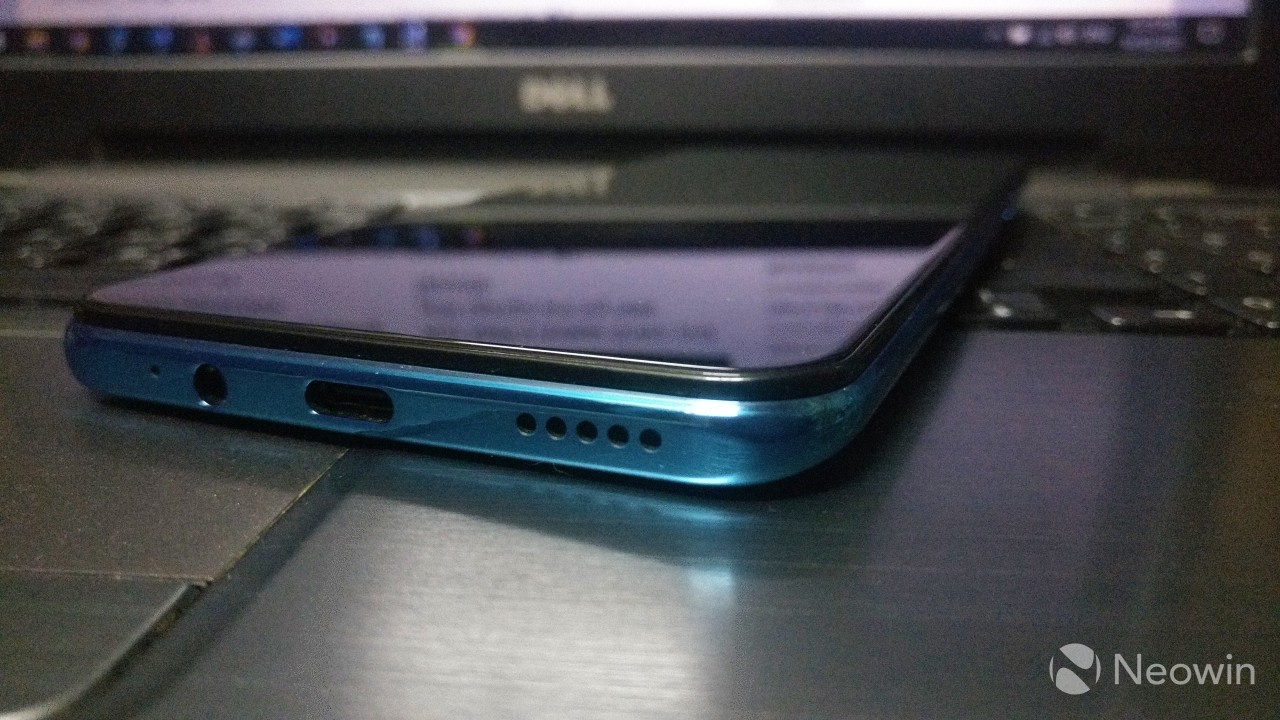 The Note 8 has dual speakers, one on the top and another on the bottom. At the bottom of the device, there is also a USB Type-C charging port and a 3.5mm headphone jack. The front cameras support face unlock but that is horribly slow and unsuccessful nine out of ten times. As a result, I turned it off after two days and stuck with the super-responsive fingerprint reader.
As the phone is so large, it can be a bit of a bother to carry around and use. At 200g, it is also quite heavy but that's to be expected considering the size of the thing. Personally, I don't mind the weight as much but it did take time getting used to.
Display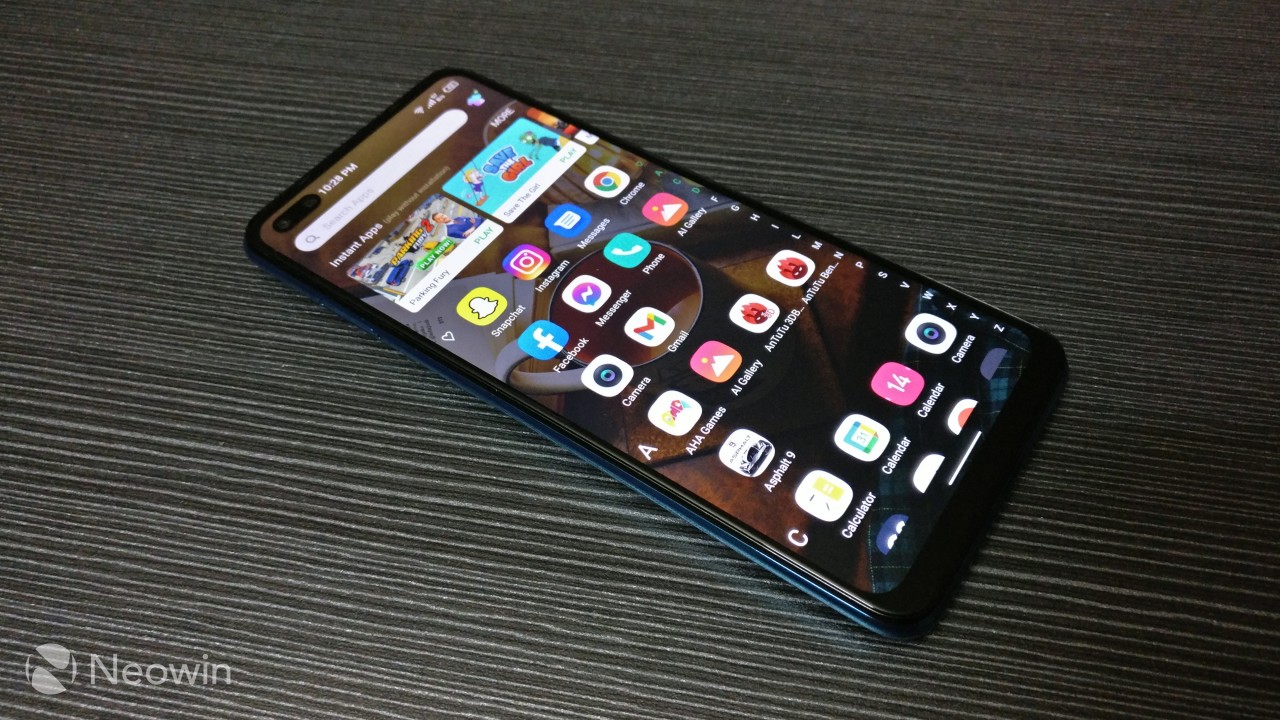 The Infinix flagship has a gigantic 6.95-inch IPS LCD display with a peak brightness of 480 nits and an HD+ 720×1640 20.5:9 resolution with a 258ppi pixel density. The screen has a dual-camera cutout in the upper left corner. This houses the dual 16MP and 2MP front cameras. This might bother some people but personally, I don't mind cutouts so I was fine with it.
Right off the bat, I wasn't very happy with the quality of the display. I did like that it was very large in size and flat in shape, but the quality was quite poor. The brightness is very low even at max settings and the colours appear a bit bland.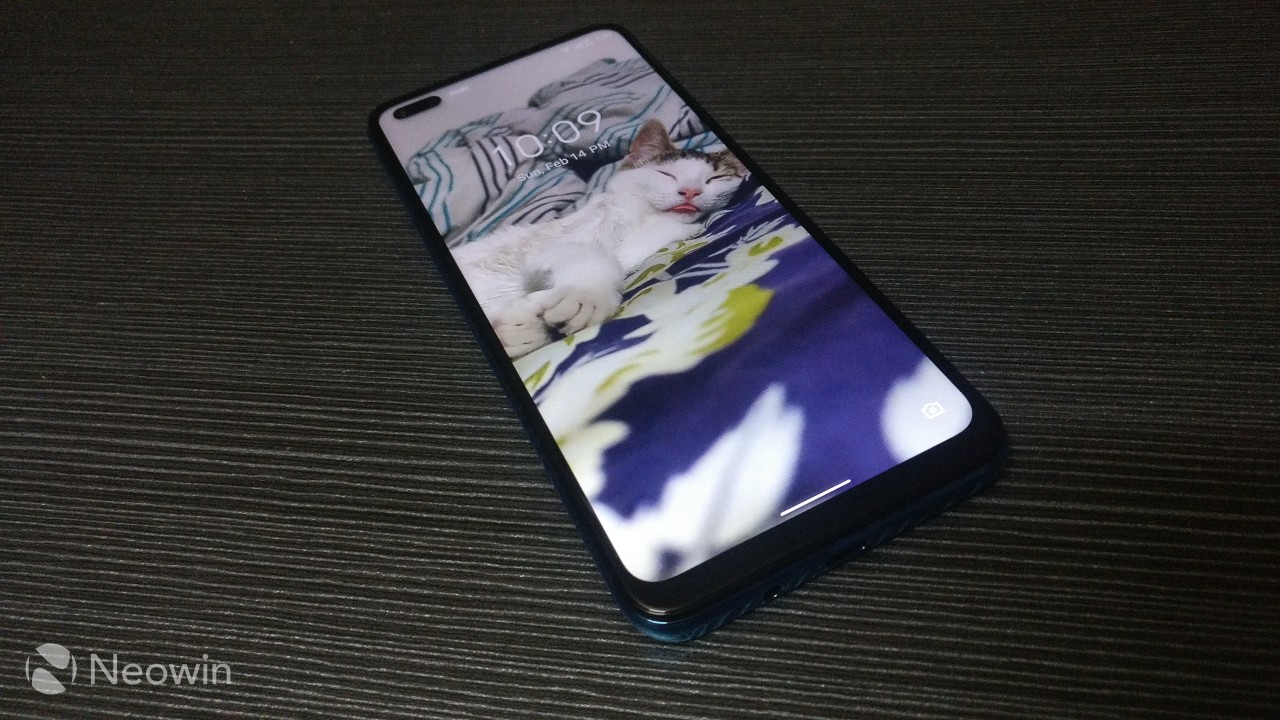 With the Note 8, it seemed obvious that Infinix tried to compensate for the low quality of the IPS panel with its sheer size. But the bottom line is always quality over quantity. Overall, this phone even paled in comparison to the quality of the IPS display of my husband's 2018 Mi Play, and that budget phone came out three years ago.
Camera
The Infinix Note 8 features an AI quad-camera setup on the rear consisting of a 64MP 1/1.73″ 0.8µm main camera, and 2MP macro, depth, and AI sensors. As usual, the 2MP macro and depth sensors are essentially useless and usually included just so a phone can tout quad-cameras. The rear also has quad-LED flashlights. I reached out to Infinix for more details about the AI sensor but unfortunately, I didn't get a response.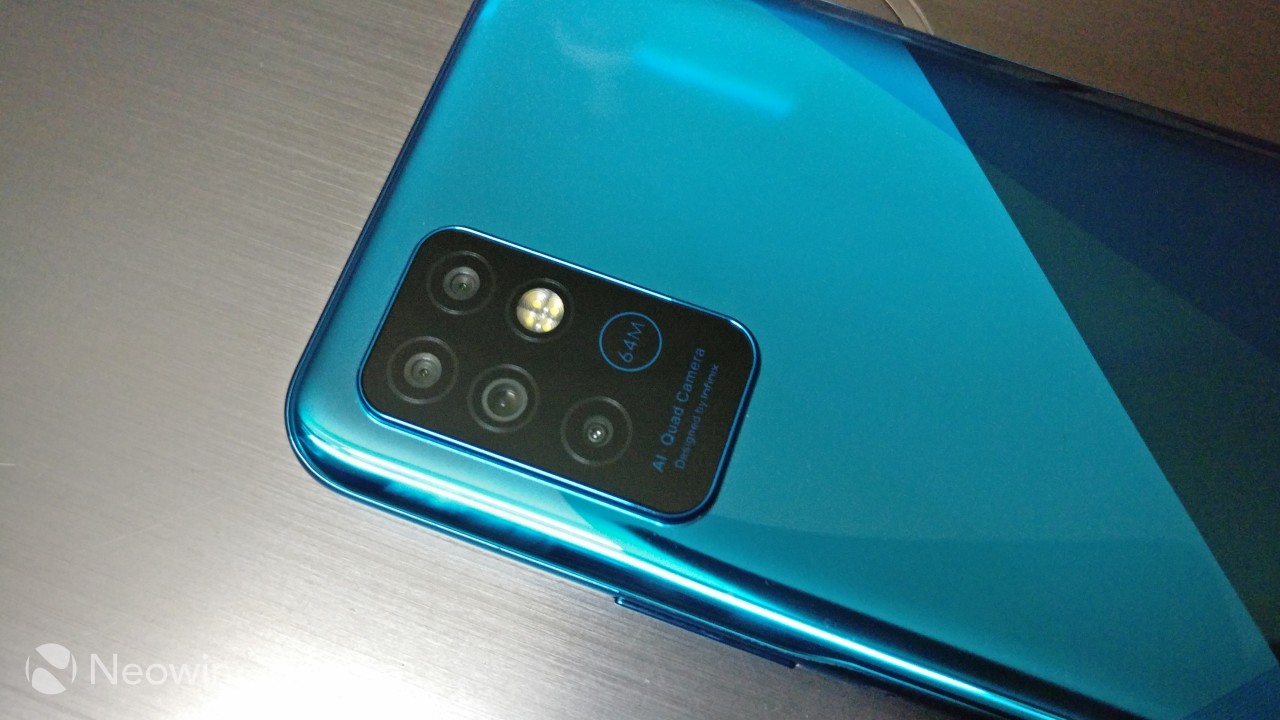 The rear cameras can capture videos at 2K at 30fps. There's also a cool little feature where you can take short 15-second clips with some preset effects and different speeds. There are plenty of camera modes and features for pictures as well such as presets, super night mode, and beautification effects that can enhance or diminish body parts.
On the front, there is a 16MP camera paired with a 2MP depth sensor so you can take portrait shots. It also has dual-LED flashlights that are pretty darn bright. Along with the main camera features, the front camera also has an option called AR shot which automatically detects a face and applies cutesy AR filters such as animals and objects similar to the ones on Snapchat.
As you can see in the samples above, the quality of the pictures is not very consistent. Even in bright daylight, a lot of the images came out quite grainy even with the 64MP camera. The colours do appear vibrant but not as rich and detailed as I would have liked. An area where the phone really struggled was the night mode. The photos in low light came out incredibly dull, blurry, and lacked details.
Since the phone struggles in poor lighting, I can see why Infinix included such powerful flashlights on the rear and front. Although I must say, the selfie camera is outstanding and doesn't need much help. Still, the quad-LEDs on the back and dual-LEDs on the front really help the case.
All in all, I'd say for a $200 smartphone, the Infinix Note 8 does okay. The selfie cameras are excellent and the main cameras are alright, they just need some really good lighting for good results.
Performance and battery life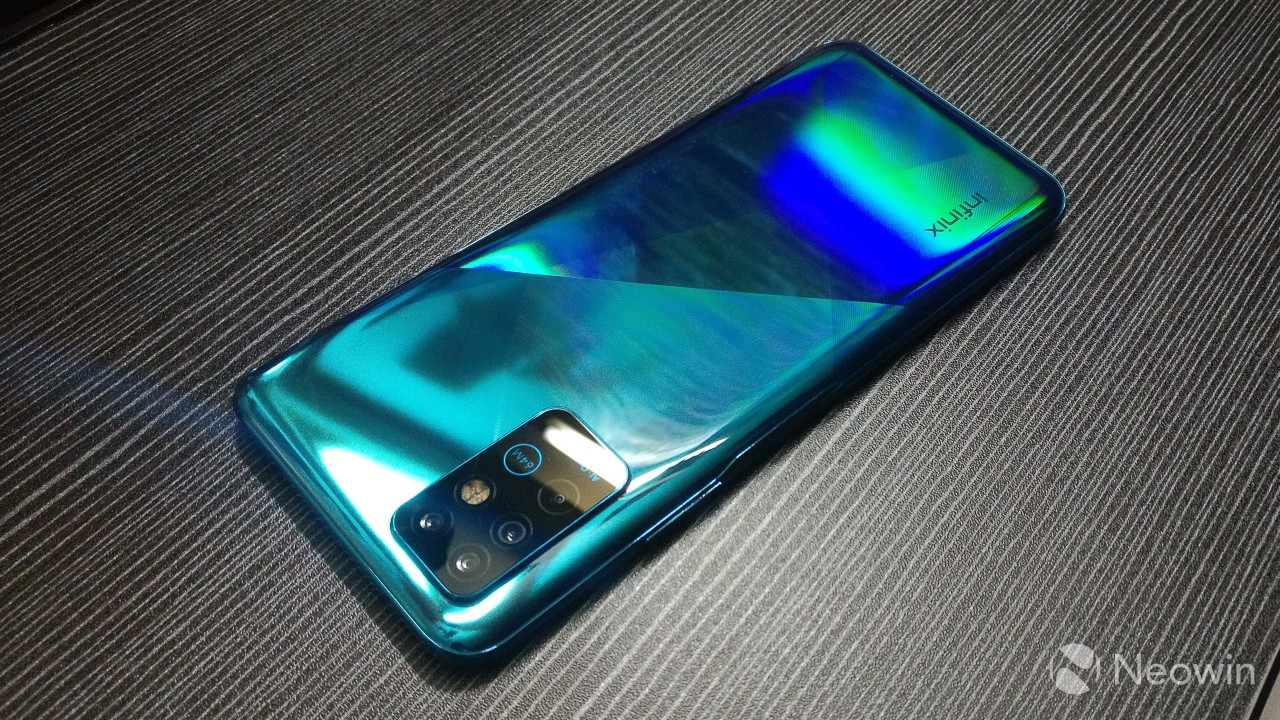 Internally, the Inifinix Note 8 packs a Mediatek Helio G80 12nm CPU paired with the ARM Mali G52 MP2 GPU. It has 6GB of RAM, and 128GB of storage and runs Android 10 with XOS 7.1 layered on top. XOS is Infinix's own Android skin which is an almost exact replica of MIUI. From the layout to the options and their placement, almost all of it looks exactly the same as Xiaomi's skin.
XOS has a ton of very handy features such as an ultra power-saving mode, an app drawer, a split-screen mode, and a small customizable menu that opens up when you swipe from the sides of the display. It also has useful apps for translation, lives transcribing, and one to test out apps without downloading them called Instant Apps.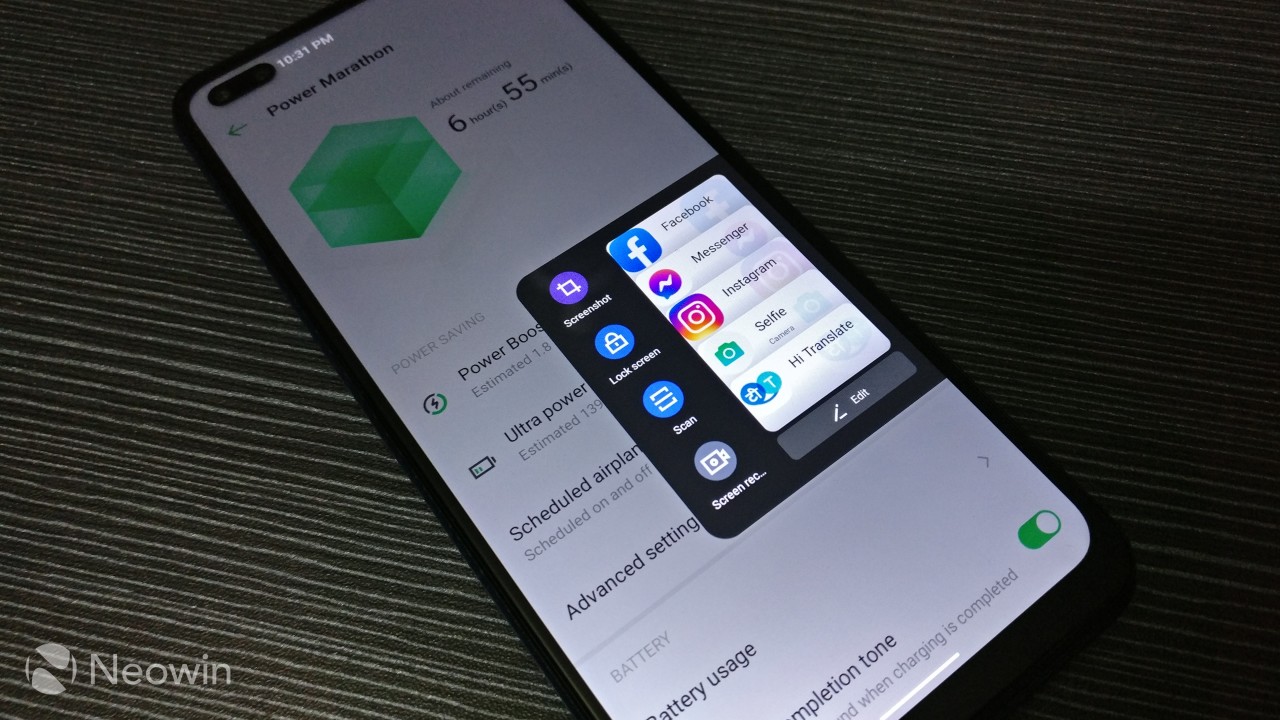 In my testing period which lasted about a month, I never faced any lags or glitches. I was also able to run two apps in split-screen mode for long periods without facing performance issues. Pre-installed bloatware was an issue but I was able to uninstall or disable most of it except for the ads at the top of the app drawer.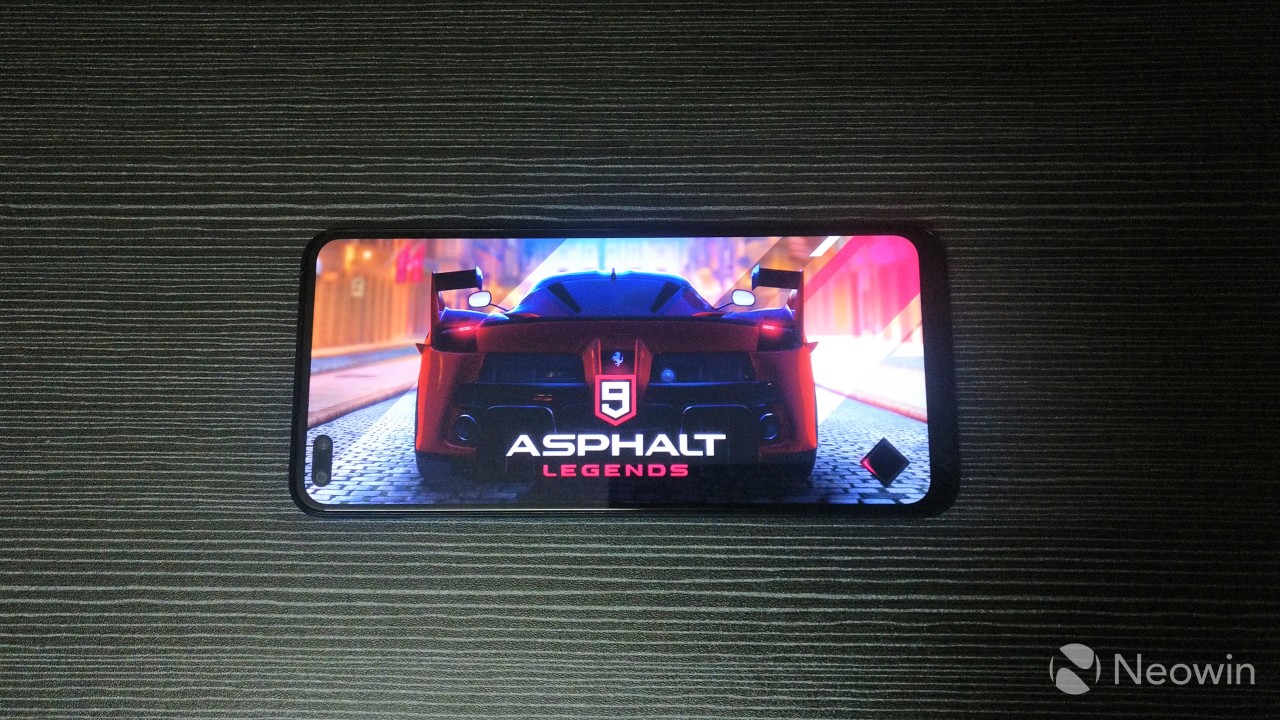 Gaming was another aspect which I really enjoyed. The big screen, loud dual-speakers, and large 5,200mAh battery paired with the gaming-centred Helio G80 delivered pleasing results. I played Asphalt 9, PUBG Mobile, and other games for hours without any slowdowns or performance delays.
Moving on to the benchmarks, I ran Geekbench 5, AnTuTu, and GFXBench. Let's start with Geekbench 5, which tests the CPU.
Battery
Coming to the battery, Note 8 has a superb 5,200mAh one. I was able to use the budget device for two full days with heavy usage without running out of juice. After this initial crash testing phase, I continued the long-term everyday testing yielding even better results. I went on using the phone for three full days and then some at times, often forgetting when I even charged the device last.
The phone also has an ultra-saving mode which turns off almost all functions except for the necessary ones to elongate the remaining battery life as much as possible. With 5% remaining, I turned on this feature and had 16 hours of usage left on this power-saving mode.
As for the charging time, it took me exactly 1hr 44m to go from zero to max battery level with the 18W fast charger that comes in the box. This is nothing mind-blowing but it's certainly not bad.
What is Infinix note 8 price in Nigeria slot
Cureently, Infinix Note 8 price is $150 and in Nigeria 2022, Infinix Note 8 Price is NGN 94,854. Infinix Note 8 smartphone Price in Nigeria
Conclusion
To wrap up, there are many good things about the Infinix Note 8 and there are also many bad ones. A very important component of any modern-day smart device with a screen is definitely the quality of the display. Why wouldn't it be, it's the thing you look at when using the device.
So, I think that the fact that the Inifinix Note 8 has such a disappointingly bad display just cannot be overlooked. I like the gigantic size of the screen, it makes gaming or consuming content more fun. But it also makes it pointedly obvious that the quality of the display is quite poor.
For $150, I think the Infinix Note holds up pretty well as a budget phone. But as a flagship device, the display is disappointing, to say the least.