Hoverboard Specification & Price In Nigeria
Talking about technology, it has gone so far that every activity of man can be effectively carried out by machines. This same technology gave birth to Hoverboards.
A hoverboard is a self-balancing scooter which can be used inside the house and in the public sphere. The hoverboard is a very portable personal transporter which has two motorized wheels lying beneath a pair of footpads, for the rider's feet.
Under the hood of a hoverboard lies a gyroscope and a sensor pad. The size of the wheels can vary between 6.5 inches and 8 inches. This post highlights the prices and other details on hoverboards in Nigeria.
Hoverboards in Nigeria
Although there are negative reviews when hoverboard was first introduced due to the cases of explosions and fire accidents as well as the United Kingdom outlawing it. Surprisingly Nigerians still received it well.
Hoverboards have been in Nigeria for over five years; it has become so popular that the demand for it is on the increase daily. There are numbers of hoverboards available in the market and they come in different built up brands, size, color, and features.
Hoverboards are simply the most enthralling thing ever and it can be used by teenagers or adults regardless of gender. It's designed for everyone
You will place your two feet on the corresponding footpads, power the device and turn it in motion. To control the speed, you lean forward (faster) or backward (slower) while controlling the direction of travel, you will twist the pads.
Also, these boards are capable of becoming your style icon. You ride with it in the park, and all eyes will be on you by balancing yourself on the board.
Determining factors of Hoverboard Prices in Nigeria
Various factors affect the prices of hoverboards in Nigeria and they are listed below
The durability of the model
The maximum bearable  rider's weight
The maximum speed of the model
Maximum distance range
Speed and accuracy of response to control gestures
Brand trust
The strength of in-built rechargeable batteries
Additional features such as Bluetooth speakers, remote control, GPS, a smartphone companion app, etc.
Climbing capacity (30 degrees or more, depending on model)
Size of the wheels
Hoverboard Prices in Nigeria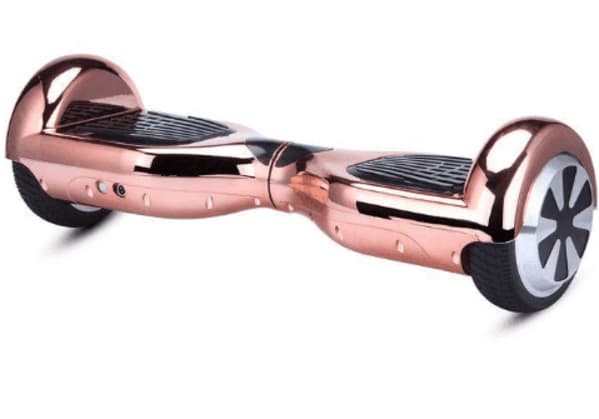 As said earlier, there are various hoverboards in the Nigerian market and they come with different accessories and features which determine their various prices and they are highlighted below :
Self-balancing Electric Hoverboard ( 6.5-inch wheels) is sold around N95,000 – N160,000 Naira
Hoverboard Scooter with Bluetooth ( 8-inch wheels)  goes for about N140,000 – N195,000 Naira
While Hoverboard Scooter with LED Lights is sold for about  N160,000 Naira
Hoverboard Accessories & prices in Nigeria
When using hoverboard, it is important to know the prices of its different accessories in the market so as to have adequate information when the need to fix or change them comes up.
Hoverboard carry backpack is sold around N6,000 Naira
The ones with charger adapter sell within the range of N7,500 – N15,000 Naira
Hoverboard wireless Bluetooth speaker goes for about N8,000 Naira
Those with silicone skin protector is sold within the range of N10,500 – N13000 Naira
Black replacement shell cover for 6.5″ hoverboard goes for about N17,000 Naira
while the Hoverboard motherboard is sold around N28,000 Naira
How Much is Hoverboard accessories & Prices in Nigeria
Black replacement shell cover for 6.5″ hoverboard === (NGN) 18,000 Naira
Hoverboard charger adapter == (NGN) 9,500 naira — (NGN) 17,000 Naira
Hoverboard motherboard == (NGN) 29,000 Naira
Hoverboard carry backpack == (NGN) 8,000 Naira
Hoverboard wireless Bluetooth speaker == (NGN) 11,000 Naira
Hoverboard silicone skin protector — (NGN) 14,000 naira — (NGN) 17,000 Naira
How to choose the right hoverboard in Nigeria
After knowing the factors affecting the price of hoverboards, the factors to consider when choosing hoverboards in Nigeria is also very important as it will assist in picking the right one for you in Nigeria.
When picking a hoverboard in Nigeria, ensure it comes with long battery life as the electric power supply in the country is epileptic so charging frequently is not so sure. You won't like having your hoverboard power off when in use.
Endeavor to go for a hoverboard from a well-known brand over one made by a brand that is not so popular.  As popularity confers a bit of trust on the brand and it implies that the accessories of such hoverboard will be accessible.
When going for hoverboards in Nigeria try and go for those with big wheels as they will still be able to cope with the roughness of Nigerian roads. It is most suitable to go for  8-inch wheel hoverboards.
When you have the mind of using your hoverboard in places where there are steep slopes, then hoverboards with high climbing capacity will be the best to go for. Although, most hoverboards have a climbing capacity of 30 degrees.
Remember to check the maximum bearable weight of any hoverboard before buying it, especially when you are a bit of the high side concerning weight. Try picking a hoverboard with higher weight bearability.
If you're a gadget freak and you like to have your device with all the additional fancy features, such as Bluetooth speaker, GPS, and smartphone connectivity, then check if the hoverboard you want to buy has all these features and check if they are working perfectly.
Maintenance Tips for Hoverboard
Charge Before Use: for a new hoverboard, always try to charge before using to avoid damaging it as the battery may be running out since it was packed for delivery. It is therefore important to charge before the first ride.
Also, avoid storing your hoverboard in places where there are high temperatures and avoid overcharging the battery as the battery can be damaged.
Clean the Wheels Regularly: Wheels are the most important part of your hoverboard, and the motors are embedded in them.
Always check the wheels regularly to see if there is any dust or dirt is stuck in them. Clean the wheels with brush or tools which can reach the middle of the wheels.
Keep the board as clean as possible:  Try and use a soft damp cloth to clean your hoverboard with care but remember to unplug before cleaning to avoid electric shock. Keeping the board shining and the body shell intact is important.
Servicing: Service your hoverboard frequently just as you do your car. Take it for regular expertise care.
Cooling: Always ensure the hoverboard cools down as it tends to heat up often so after use so, let it cool down well before you use again or charge as it will increase its life span.
Storage: Store your hoverboard in a well-ventilated place if it won't be in use for a long period to protect the motherboard and battery from getting moist.

Hoverboard Scooter with Bluetooth, 8-inch wheels — (NGN) 150,000 Naira — (NGN) 185,067 Naira
Self – balancing Electric Hoverboard, 6.5 – inch wheels — (NGN) 100,000 Naira — (NGN) 170,000 Naira
Hoverboard Scooter with LED Lights — (NGN) 160,000 Naira