32 Inch Tv Specification & Price in Nigeria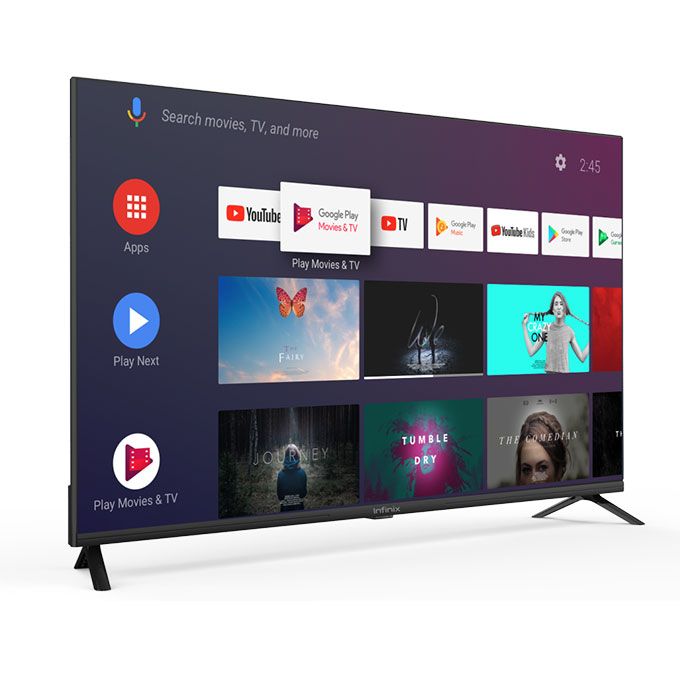 One of the reasons 32-inch TVs are in high demand today is that they fit anywhere. Do you need a best budget 32-inch tv for your living room, bedroom, or maybe an office? Here you will get a buying guide to help you make a choice; that's not all; you will also see the best selling 32 inch TVs from top brands, latest 32 inch TV prices in Nigeria, and where to buy these LED and Smart TVs online.
HDMI Port, Full HD resolution, Dolby Digital Audio, and USB Port are awesome features you get when purchasing a 32 inch tv from a top brand. If you looking for the best-selling 32-inch TV in Nigeria, you'll be glad to know that Samsung, LG, Hisense, Polystar, Sharp, and Polystar are some of the most popular tv brands in Nigeria today. Other brands are also highly recommended, but these brands have the best selling products in the market.
32 Inch Tv Specification & Price in Nigeria
LG 32 INCH FULL HD LED TV (80CM 32LB53) Price in Nigeria
Hisense 32-Inch HD LED TV With USB Video & Free Wall Bracket-HX32M2160H Price in Nigeria
Sharp 32 LED 32LE185M With USB Video Price in Nigeria
Toshiba 32 inches 32P2400 HD Ready LED Television Price in Nigeria
TCL 32-Inch HD TV 50Hz 178 degree Viewing Angle Price in Nigeria
STARTIMES 32 DIGITAL FULL HD LED TV WITH INBUILT DECODER Price in Nigeria
Djack 32 Inches Televison – Full HD LED SCREEN TV
Skyworth 32 HD LED TV With TV Wall Bracket
Samsung 32 INCHES HD LED TV UA32FH4002R Price in Nigeria
Skyworth 32 INCH LED TV 32E3000 Price in Nigeria
Panasonic 32 Inch LED VIERA TV TH-32C400S Price in Nigeria
LG 32"SMART & SATELLITE FULL HD TV-32LJ570 Price in Nigeria
Eurosonic 32 Inches TV +Free Wall Bracket And TV Guard Price in Nigeria
Hisense 32 HD LED TV – 32N2176H Price in Nigeria
Polystar 32-Inch HD LED Television PV- HD3215DVBT Price in Nigeria
Century 32 Inch LED TV Full HD Price in Nigeria
Panasonic 32"FULL HD LED TV-32C311 Price in Nigeria
Sharp 32" LC-32LE155M Price in Nigeria
Haier 32 HD LED TV LE32B9000T Price in Nigeria
Syinix 32-Inch 400FRA LED TV Price in Nigeria
Scanfrost 32-Inch HD LED TV SFLED32EL + Free TV Guard
LG 32-Inch Full HD Digital LED TV – 32LF54+ Free Wall Bracket
Samsung 32-Inch UA32FH4003 HD Flat TV Price in Nigeria
Sony LED Bravia 32inch Full HD LED TV 32R302E Price in Nigeria
Sony KDL-32R300C 32 720p 60Hz LED TV Price in Nigeria
Djack 32 Inches Televison – Full Hd Led Screen Tv

Price
₦ 52,900
Display Size
32 inches
Resolution
1366 x 768
Digital TV
Yes DVB-T2
Smart TV
No
HDMI Ports
2
USB Ports
1
Refresh Rate
60Hz
Viewing Angle
178 degrees
Audio
5 x 2 watts
Weight
7 kgs
Pros
Screen, Sound
Cons
NA
Skyworth 32 HD LED TV With TV Wall Bracket

Price
₦ 63,500
Display Size
32 inches
Resolution
1366 x 768
Digital TV
Yes DVB-T2
Smart TV
No
HDMI Ports
1
USB Ports
1
Refresh Rate
60Hz
Viewing Angle
178 degrees
Audio
6 x 2 watts
Weight
6 kgs
Pros
Price, Design, Audio
Cons
Ports
Samsung 32 INCHES HD LED TV UA32FH4002R

Price
₦ 73,000
Display Size
32 inches
Resolution
1366 x 768
Digital TV
Yes DVB-T2
Smart TV
No
HDMI Ports
2
USB Ports
1
Refresh Rate
50Hz
Viewing Angle
178 degrees
Audio
8 x 2 watts
Weight
7 kgs
Pros
Audio Quality, Display
Cons
NA
Syinix 32-Inch 400FRA LED TV

Price
₦ 72,000
Display Size
32 inches
Resolution
1366 x 768
Digital TV
Yes DVB-T2
Smart TV
No
HDMI Ports
2
USB Ports
2
Refresh Rate
60Hz
Viewing Angle
178 degrees
Audio
8 x 2 watts
Weight
12 kgs
Pros
Picture Processing, Price, Warranty
Cons
Weight
Scanfrost 32-Inch HD LED TV SFLED32EL + Free TV Guard

Price
₦ 66,999
Display Size
32 inches
Resolution
1366 x 768
Digital TV
Yes DVB-T2
Smart TV
No
HDMI Ports
2
USB Ports
1
Refresh Rate
60Hz
Viewing Angle
178 degrees
Audio
5 x 2 watts
Weight
7 kgs
Pros
Low power consumption, Good Audio, Fair Price
Cons
NA
LG 32-Inch Full HD Digital LED TV – 32LF54+ Free Wall Bracket

Price
₦ 59,500
Display Size
32 inches
Resolution
1920 X 1080 Pixels
Digital TV
Yes DVB-T2
Smart TV
No
HDMI Ports
2
USB Ports
1
Refresh Rate
50Hz
Viewing Angle
178 degrees
Audio
5 x 2 watts
Weight
12 kgs
Pros
Stereo, Screen, Size
Cons
NA
Samsung 32-Inch UA32FH4003 HD Flat TV

Price
₦ 65,390
Display Size
32 inches
Resolution
1366 x 768
Digital TV
Yes DVB-T2
Smart TV
No
HDMI Ports
1
USB Ports
1
Refresh Rate
60Hz
Viewing Angle
178 degrees
Audio
5 x 2 watts
Weight
5 kgs
Pros
Size
Cons
Audio
Sony LED Bravia 32inch Full HD LED TV 32R302E

Price
₦ 94,000
Display Size
32 inches
Resolution
1366 x 768
Digital TV
Yes DVB-T2
Smart TV
No
HDMI Ports
2
USB Ports
1
Refresh Rate
60Hz
Viewing Angle
178 degrees
Audio
5 x 2 watts
Weight
8 kgs
Pros
Motionflow XR100, Price
Cons
None
Sony KDL-32R300C 32 720p 60Hz LED TV

Price
₦ 135,400
Display Size
32 inches
Resolution
1366 x 768
Digital TV
Yes DVB-T
Smart TV
No
HDMI Ports
2
USB Ports
2
Refresh Rate
60Hz
Viewing Angle
178 degrees
Audio
5 x 2 watts
Weight
10 kgs
Pros
Price, Energy Use, Display
Cons
None
LG 32 INCH FULL HD LED TV (80CM 32LB53)

Price
₦ 77,000
Display Size
32 inches
Resolution
1366 x 768
Digital TV
Yes DVB-T2
Smart TV
No
HDMI Ports
1
USB Ports
1
Refresh Rate
60Hz
Viewing Angle
178 degrees
Audio
6 x 2 watts
Weight
8 kgs
Pros
2 Years Warranty, Display, Performance, Picture Engine
Cons
None
Hisense 32-Inch HD LED TV With USB Video & Free Wall Bracket-HX32M2160H

Price
₦ 59,950
Display Size
32 inches
Resolution
1366 x 768
Digital TV
Yes DVB-T
Smart TV
No
HDMI Ports
2
USB Ports
1
Refresh Rate
200Hz
Viewing Angle
178 degrees
Audio
10 x 2 watts
Weight
10 kgs
Pros
Aquomotion Lite, Antenna booster technology, X-Gen Panel Technology
Cons
NA
Sharp 32 LED 32LE185M With USB Video

Price
₦ 58,200
Display Size
32 inches
Resolution
1366 x 768
Digital TV
Yes DVB-T
Smart TV
No
HDMI Ports
1
USB Ports
1
Refresh Rate
200Hz
Viewing Angle
178 degrees
Audio
8 x 2 watts
Weight
4.7 kgs
Pros
Screen Quality, Design
Cons
None
Toshiba 32 inches 32P2400 HD Ready LED Television

Price
₦ 80,500
Display Size
32 inches
Resolution
1366 x 768
Digital TV
NA
Smart TV
No
HDMI Ports
1
USB Ports
1
Refresh Rate
100Hz
Viewing Angle
178 degrees
Audio
5 x 2 watts
Weight
6 kgs
Pros
CEVO ENGINE, Audio
Cons
NA
TCL 32-Inch HD TV 50Hz 178 degree Viewing Angle

Price
₦ 109,980
Display Size
32 inches
Resolution
1366 x 768
Digital TV
Yes DVB-T
Smart TV
No
HDMI Ports
2
USB Ports
1
Refresh Rate
50Hz
Viewing Angle
178 degrees
Audio
5 x 2 watts
Weight
8 kgs
Pros
Price, Quality
Cons
NA
STARTIMES 32 DIGITAL FULL HD LED TV WITH INBUILT DECODER

Price
₦ 61,000
Display Size
32 inches
Resolution
1366 x 768
Digital TV
Yes DVB-T2
Smart TV
No
HDMI Ports
1
USB Ports
1
Refresh Rate
60Hz
Viewing Angle
178 degrees
Audio
8 x 2 watts
Weight
10 kgs
Pros
2 Year warranty, Low Power Consumption, 5 sound modes, Sleek & Compact
Cons
NA
Skyworth 32 INCH LED TV 32E3000

Price
₦ 64,000
Display Size
32 inches
Resolution
1366 x 768
Digital TV
Yes DVB-T
Smart TV
No
HDMI Ports
1
USB Ports
1
Refresh Rate
60Hz
Viewing Angle
178 degrees
Audio
5 x 2 watts
Weight
6 kgs
Pros
Display, Sound
Cons
Ports
Panasonic 32 Inch LED VIERA TV TH-32C400S

Price
₦ 85,800
Display Size
32 inches
Resolution
1920 X 1080 Pixels
Digital TV
Yes DVB-T
Smart TV
No
HDMI Ports
2
USB Ports
1
Refresh Rate
60Hz
Viewing Angle
178 degrees
Audio
10 x 2 watts
Weight
6 kgs
Pros
Price, Design, Screen
Cons
Warranty
LG 32"SMART & SATELLITE FULL HD TV-32LJ570

Price
₦ 95,000
Display Size
32 inches
Resolution
1366 x 768
Digital TV
Yes DVB-T2
Smart TV
Yes
HDMI Ports
3
USB Ports
1
Refresh Rate
60Hz
Viewing Angle
178 degrees
Audio
5 x 2 watts
Weight
12 kgs
Pros
Wide Angle, Audio, Price, Design
Cons
None
Eurosonic 32 Inches TV +Free Wall Bracket And TV Guard

Price
₦ 57,500
Display Size
32 inches
Resolution
1366 x 768
Digital TV
Yes DVB-T2
Smart TV
No
HDMI Ports
2
USB Ports
1
Refresh Rate
60Hz
Viewing Angle
178 degrees
Audio
8 x 2 watts
Weight
7 kgs
Pros
Price, Sound, Picture Qualty
Cons
None
Hisense 32 HD LED TV – 32N2176H

Price
₦ 70,000
Display Size
32 inches
Resolution
1920 X 1080 PIXELS
Digital TV
Yes DVB-T
Smart TV
No
HDMI Ports
2
USB Ports
2
Refresh Rate
100Hz
Viewing Angle
178 degrees
Audio
5 x 2 watts
Weight
8 kgs
Pros
Price, Picture Quality
Cons
None
Polystar 32-Inch HD LED Television PV-HD3215DVBT

Price
₦ 48,000
Display Size
32 inches
Resolution
1366 x 768 pixels
Digital TV
Yes DVBT
Smart TV
No
HDMI Ports
2
USB Ports
1
Refresh Rate
60Hz
Viewing Angle
178 degrees
Audio
5 x 2 watts
Weight
8 kgs
Pros
Audio, Picture Quality, Price
Cons
NA
Century 32 Inch LED TV Full HD

Price
₦ 46,100
Display Size
32 inches
Resolution
1920 X 1080 Pixels
Digital TV
Yes DVB-T
Smart TV
No
HDMI Ports
2
USB Ports
2
Refresh Rate
50Hz
Viewing Angle
178 degrees
Audio
6 x 2 watts
Weight
3.9 kgs
Pros
Quality Display, Audio quality
Cons
None
Panasonic 32"FULL HD LED TV-32C311

Price
₦ 64,000
Display Size
32 inches
Resolution
1366 x 768
Digital TV
Yes DVB-T
Smart TV
No
HDMI Ports
1
USB Ports
1
Refresh Rate
60Hz
Viewing Angle
178 degrees
Audio
5 x 2 watts
Weight
7 kgs
Pros
Price, Display
Cons
Ports
Sharp 32" LC-32LE155M

Price
₦ 65,000
Display Size
32 inches
Resolution
1366 x 768
Digital TV
NA
Smart TV
No
HDMI Ports
1
USB Ports
1
Refresh Rate
60Hz
Viewing Angle
178 degrees
Audio
8 x 2 watts
Weight
16 kgs
Pros
4 Picture modes, 4 sound modes, Display
Cons
Weight
Haier 32 HD LED TV LE32B9000T

Price
₦ 60,500
Display Size
32 inches
Resolution
1366 x 768
Digital TV
Yes DVB-T2
Smart TV
No
HDMI Ports
3
USB Ports
2
Refresh Rate
60Hz
Viewing Angle
178 degrees
Audio
6 x 2 watts
Weight
10 kgs
Pros
Price, Design, Warranty, Display
Cons
Weight