Complete Guide: How to Start a Pure Water Business in Nigeria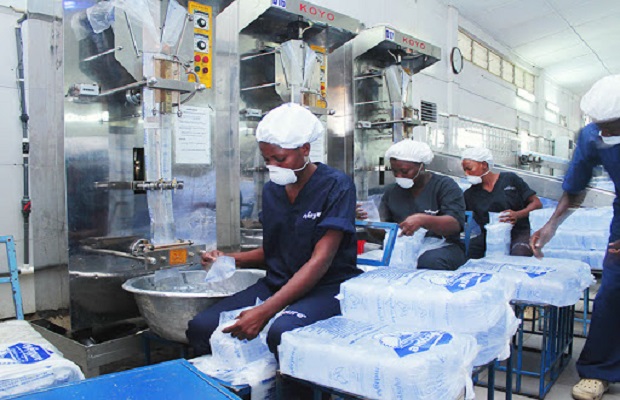 The pure water business is in vogue in Nigeria. With the increasing population, the government's inability to provide clean and affordable drinking water, and, potentially, the fear in the public mind concerning the sugar content in soft drinks makes pure water the only available commodity to quench thirst.
The vast majority of the teaming population drink pure water. I drink it; you drink it. Indeed, the overwhelming majority of people drink pure water. This is why it is one of Nigeria's growing and lucrative businesses besides information technology. The market is available in all the cities and villages, so it does not matter where you are; you can set up a pure water business in any part of Nigeria and be profitable if run properly.
To emphasize the fact that the business of pure water is profitable, notable organizations such as Nigerian Bottling Company, Nestle, May, and Baker, etc., are in the drinking water business, though in the more refined drinking water (table water). So it makes economic sense to go into the business with little passion and the determination to succeed; the sky is just the limit. In this article, I will be tutoring you on how to start a pure water business in Nigeria.
How Much Do You Need to Start a Pure Water Business in Nigeria
Since there are different ways you can approach the business, a lot of people looking to start usually ask – what is the cost of starting a pure water business in Nigeria?
The cost of starting a pure water factory or pure water manufacturing company in Nigeria ranges from 5 million to 50 million Naira. The cost of starting a pure water wholesale business in Nigeria is at least 50,000 Naira, and with 1,000 Naira or less, you can start a pure water retailing/hawking business in Nigeria.
Pure water factory business is the most expensive because you'll need to account for the cost of production, packaging, and sales equipment, although it makes the most money.
Steps to start a pure water business:
Business plan
There is no need for an elaborate feasibility study and report since the demand/market is available and increasing. A business plan is required to help establish the financing of the project from the onset – the amount of money needed. A business plan becomes imperative at this stage because it determines the level of funding required and where it is coming from. The locations of the pure water business can range from using a two-bedroom flat to blocks of flats, depending on which category you are investing in.
Register the business with the Corporate Affairs Commission (CAC) and NAFDAC.
Every business organization must be registered with CAC for accountability, whether a sole proprietorship or limited liability company. Similarly, every business in food and drugs, including drinkables, must be registered with the government regulator. Every business also must register with the relevant tax authority (Federal Inland Revenue or the State Internal Revenue). Alternatively, you can obtain a license from another well-established pure water company in a different part of the country if NAFDAC registration proves difficult or prolonged or if you want to operate on a relatively low scale and do not want to go through NAFDAC protocol.
A befitting place for business (factory site)
You must either lease a suitable accommodation with access to the market or a reasonable accommodation. There might be a trade-off between access to the market and the cost of acquisition. The bottom line is profitability. However, other facilities, such as factory security, power, and access road, must be in place.
Sink a borehole and install tanks overhead.
This ensures an uninterrupted water supply. Selling a borehole can range from ₦200,000 to ₦600,000.
Install a distillation system for water purification.
You may install the full-scale distillation system or the ultraviolet sterilization bulb process depending on the start-up capacity of the enterprise. The cost of the acquisition of distillation equipment may run into millions of naira. The actual cost cannot be estimated with certainty and must be researched as it will be part of the expenditure in the business plan.
Get a sealing machine.
An automatic sealing machine must be in place according to the scale of daily production envisaged. The cost also must be verified before embarking on the project.
Get packaging materials
Rolls of suitable nylon materials, which must be printed with the company's name and the brand name of the pure water, must be procured. The number of rolls procured should be according to the enterprise's capacity.
Staff Recruitment
Recruit staff, ranging from operators of the machines, packagers, a cleaner, drivers, one sales staff, one security personnel, and a supervisor. This will ensure the specific positions are adequately covered.
Electricity
A generator set must also be installed to power the operations. There are different capacities of generators and manufacturers, and it all depends on the ability of the enterprise and the start-up capital.
Acquire a truck for distribution.
The truck must be able to carry reasonable bags of pure water for distribution to a significant number of customers to be profitable.
10. Market Your Business
After producing your pure water and packaging them, to start driving sales, you'll need to market your business.
The pure water business in Nigeria is very easy to market. As a manufacturer, you'll need to approach wholesalers and retail store owners and market your product to them. To get them to buy, you must make sure that your price is cheaper, and your services are way better than your competitors.
In the start, if possible you can sell with little profit and/or offer great discounts just to create awareness, and build a loyal customer base. Then you can regularise your price later on once you have enough customers.
Branding is part of marketing in pure water business in Nigeria. Therefore, it will be ideal to design your truck with your brand colour, business name, and logo.
Conclusion
Starting a pure water business in Nigeria is very lucrative and will require passion, hard work, and a reasonable amount of money.
To start a pure water business in Nigeria, a start-up capital of about three million nairas is needed, and you are good to go.
This is only a guide; the organization's size determines the scale of operations, the investment in cash, human capital, and machines.
Sachet Water Business – FAQs
What does it take to start a pure water business?
To start a pure water business, you need an in-depth knowledge of how the business works, startup capital, setting up a factory, and getting all the needed equipment.
What is the risk in pure water business?
The major risk involved in pure water business in Nigeria includes getting in trouble not registering your business with legal governmental bodies such as NAFDAC.
What are the challenges faced in pure water business?
Challenges faced by in pure water business in Nigeria include unavailability of good water, scarcity of water during the dry season, and bad power supply.
What is the cost of setting up a sachet water factory in Nigeria?
The cost of setting up a sachet water business in Nigeria ranges from 5 million naira to 50 million naira depending on the size.